The oblique butterflfyfish, Prognathodes obliquus is a striking species of marine fish with a very unique pattern and also a true micro-endemic. Like the Clipperton Angelfish we covered last week, the oblique butterflyfish is known only from one group of islands, the archipelago of St. Peter and St. Paul's Rock of Brazil in an isolated part of the Atlantic Ocean.
Micro endemic species are very interesting because since they occur over a very small range, it is possible to study the ecology and life habits of a significant sample of the species population. Where the Clipperton Study was interested in determining the overall population size, a recent research expedition summarized in video below looked at the vertical distribution and feeding habits of the oblique butterflyfish.
This video & study is a very unique look at a fish which virtually no one would ever see otherwise, and it gives us an interesting snapshot at similar species. Of particular interest was the surveys performed at various depth showing the sweet spot of where this species prefers to live – like other Prognathodes this species occurs very deep and peaks at around 200 to 300 feet deep, but it can also occasionally be seen more shallow.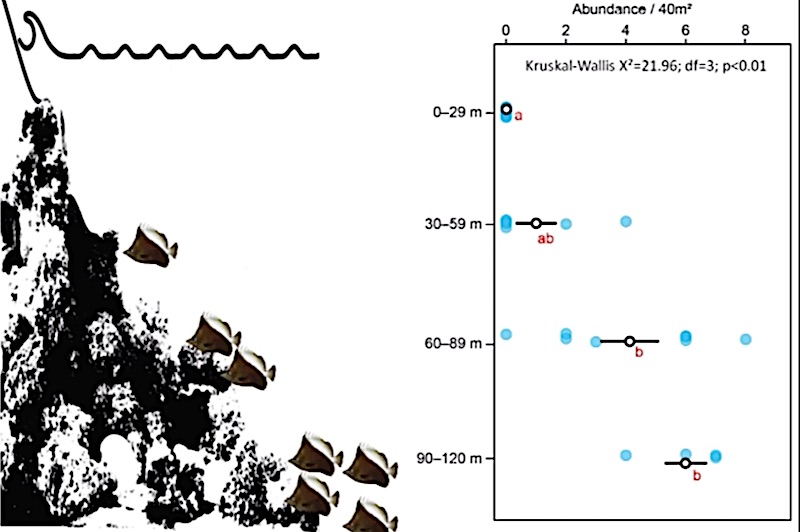 Additionally and perhaps even more informative from this study is the gut content analysis that showed what this species eats in the wild. The diet of the oblique butterflyfish is highly varied but was dominated by polychaete worms, mixed cnidaria and hydrozoa and should reflect the diet of similar deep living species of butterflyfish, especially Prognathodes and Roaps.