The XFLOW Inline Titanium Heater was possibly one of our favorite new devices introduced at MACNA 2019. Heaters are nowhere near as sexy as fancy new LED lights and sleek powerful pumps but managing water temperature is easily one of the most important parameters of keeping all aquatic animals alive; fish and corals will die much faster with temperature that is too high or too low than light, flow or chemistry which isn't in the ideal range.
It's with this relative importance in mind that we've been saying for years that there should be a $200 heater on the aquarium market as so many tank crashes are due to cheap heaters that malfunction – heck even the so-called premium heaters only have a mildly better track record. This is precisely why we were very excited to come across the new XFLO Inline Titanium Heater from RK2 Systems which addresses many of the common problems of 'hobby grade' aquarium heaters.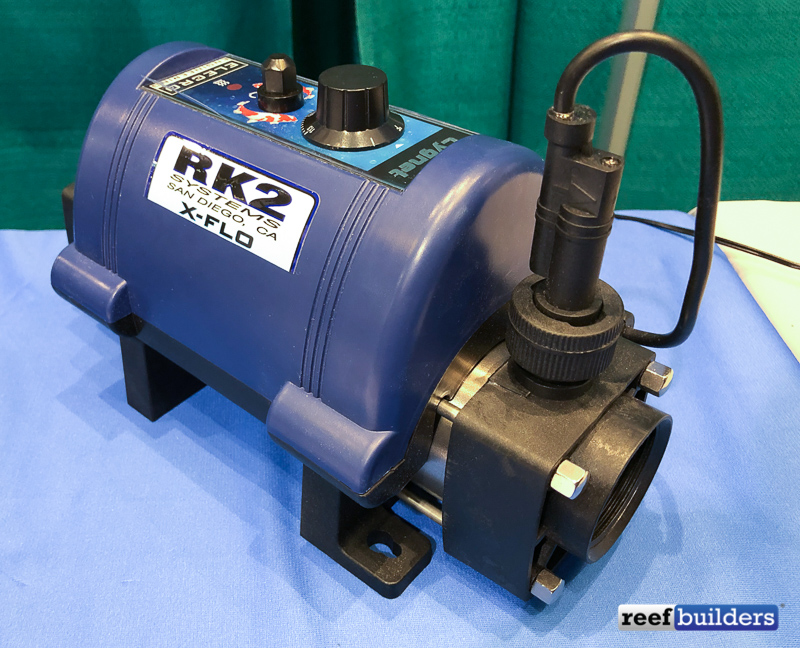 The first big improvement that the XFLO Inline Heater brings is an unbreakable titanium heat exchanger which is in another league compared to the glass ones at most pet stores and LFS. Furthermore, instead of having a heating element just placed randomly or dangling in the aquarium or sump, as the name implies the XFLO Inline Heater is meant to be plumbed into the system, ensuring proper and even heating rate.
Hopefully the XFLO Titanium Inline Heater uses a much improved thermostat and internal temperature sensors but the only thing that seems out of place for a more commercial grade device is adjusting the temperature with an analog rheostat knob. RK2 if you're reading this please develop a future version with an external digital temperature display and controller!
If you think that the XFLO Inline Heater is too big for your tank it probably is because the efficient titanium heating element and tube is probably best used on water volumes of 100 to 150 gallons or more. The XFLO Inline Titanium Heater is a serious heating device for both fresh and saltwater aquarium systems ranging in size from 500watts, 1000 watts and 1500 watts and prices starting at $353. [XFLO]