We've been building out the Reef Builders Studio for well over a year now and if there's one project that has felt like it would be the capstone to the endeavor, it's the water mixing station. When you have a couple tanks floating around the house you don't need anything fancy to purify tap water and mix seawater, but it's a whole different affair when there's a fish store's worth of display aquariums to look after.
We've built dozens of reef tanks in our aquarium career so making a few of those to 'practice' the art of reef keeping was not all that foreign to us. However with so many tanks now full of water, the need for a dedicated water prep and mixing station has never been greater.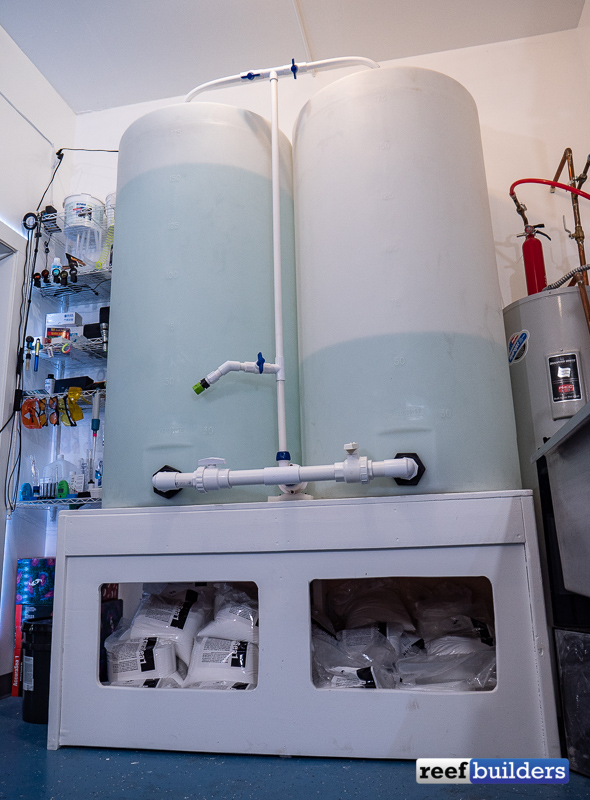 We've always had some kind of water mixing 'area' at home but never more than a couple pickle barrels worth. So it was a completely different affair when we went all in with two 210 gallon tall water vats for use at the Studio. We knew they needed to be tall to save space but two big challenges for building this water mixing station were the construction of the stand, and an elegant solution for mixing, transferring and pumping water to, and from, and between the vats.
My carpentry skills are mediocre at best so I'm definitely not ashamed to say that it took a second revision to the original stand to ensure it has the strength to hold up to 3,500 pounds of water – that's 1,500 Kg or more than one and a half tons! No doubt a lack of confidence n my woodworking abilities caused me to move slowly on building and designing a structure that would be both functional and not an eyesore.
The last major subsystem of the water station was devising a streamlined elegant manner of plumbing and pumping water in and out of the vats. We've worked at and seen many fishstore's water mixing and storage vats throughout the years and virtually all of them are a mess of plumbing and PVC that you would hardly want as a backdrop for reefing videos – that's why they're almost always tucked way in the back of the store.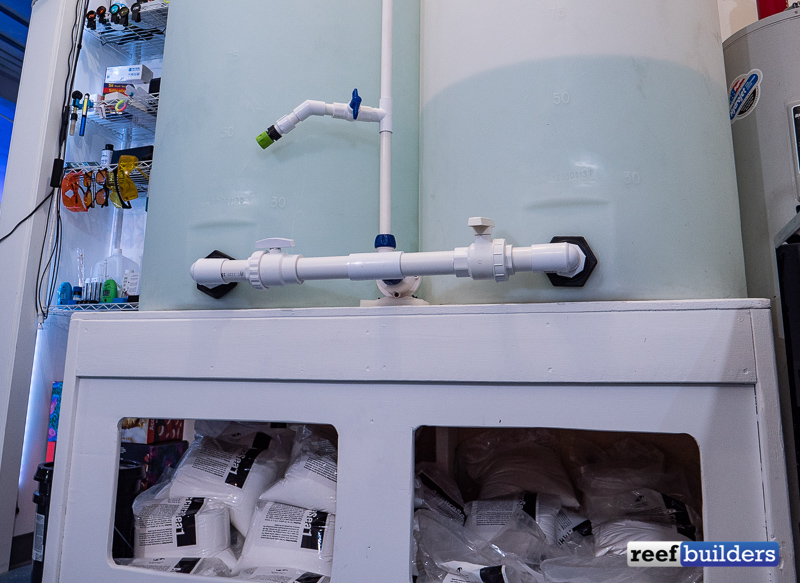 Through months of deliberation we came up with a novel design that uses one pump and a symmetrical layout that is both attractive, efficient, and incredibly functional for all of our water preparation and mixing needs. Having finally completed this crucial component of the Reef Builders Studio we can now say that phase 1 of the build out is complete, and we can begin to dive into the most important purpose of this space, and that is to create LOTS of original and educational reef aquarium videos for you!
Make sure you're subscribed to the official Reef Builders channel because we're about to turn on a fire hydrant of creative reef aquarium adventures.