Meandering Coral Growth Form
Meandering corals are next up on our list of coral growth forms. Meandering is just another word for brain corals as the long meandering walls and valleys looks like a brain!
There are many different species of meandering corals, and learning to spot these corals will help evolve your perception of the underwater world. There are many different species of meandering corals and for the most part meandering corals grow into round dome shape colonies. When living in high flow environments or at the edge of reef walls they can also form plates.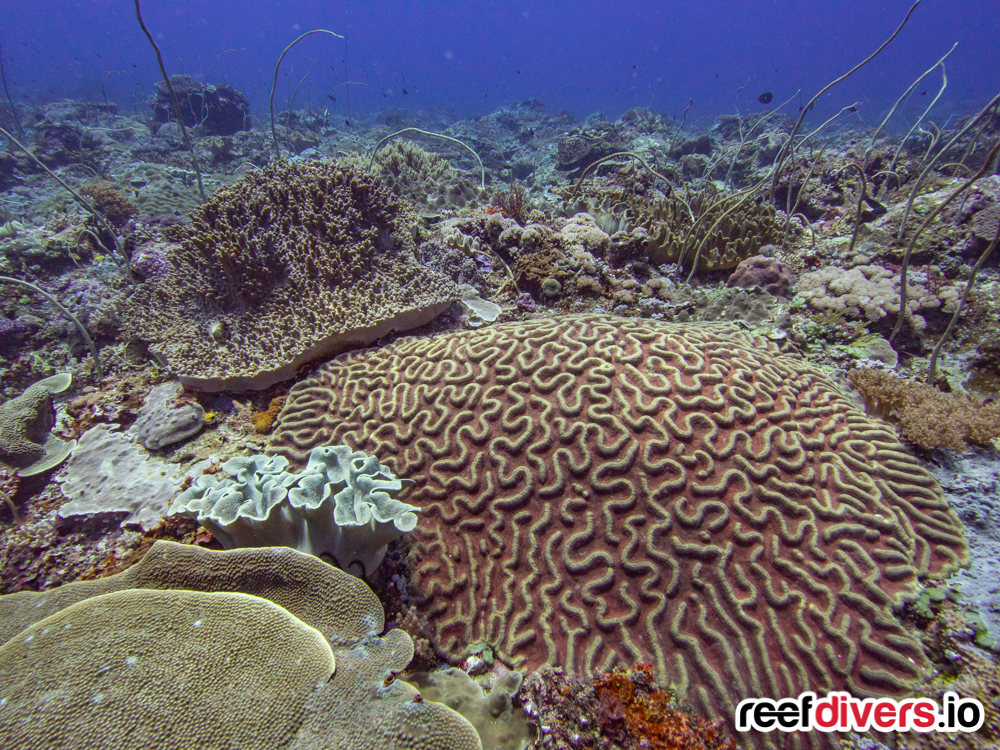 When you are looking at meandering corals you can learn two new terms about coral biology, ridges, and valleys. These terms describe the features of the meandering pattern and can help with more advanced coral identification. For example, when trying to identify between two similar species you might have to measure the distance between ridges or the depths of the valley.
The polyps of meandering corals are located inside the valleys, and depending on the species sometimes these polyps are a different color than the rest of the coral. Polyps of meandering corals are usually hidden during the day and come out at night to feed.
Here are four meandering brain corals you can identify on your next indo-pacific dive.
---
Symphyllia
Symphyllia is a colorful species that makes a dome or plate shape. This is a very common coral and you are almost certain to see one on every dive in the indo-pacific.
Symphyllia grows in a range of colors, however, typically you find this coral in red, yellow, and grey. Often the polyp mouths which are located in the center of the valley are a different color than the coral tissue. Symphyllia has a thick skeleton and puffy tissue. One characteristic of this coral is having one solid skeleton.
But wait there is something we need to throw in here. Back in 2016 all Symphyllia corals have been reclassified as Lobophyllia. This may be confusing as older guide books including Corals of the World still have them as Symphyllia. Nevertheless, if you're interested in this technical detail here is the taxonomy revision article.
To keep things simple we will carry on with the older description of this coral as Symphyllia since this is what you will find in most guide books and older descriptions.
Symphyllia agaricia, Symphyllia hassi, Symphyllia radians, Symphyllia recta, Symphyllia valenciennesi

Lobophyllia
You might notice the similarities between Lobophyllia and Symphyllia, and see why they have now all been classified as Lobos. Lobophyllia corals form thick tissue and large lobes each one looking like it's own little brain!
Each lobe can have a few polyp mouths depending on size and has one stalk which connects at the base of the coral. At night the lobes open and you can see all the tentacles coming out to feed. This is a slow-growing coral that can create huge colonies. You can find this coral in the shallowest parts of the reef. The lobes can be more than 15 cm or 6inches wide.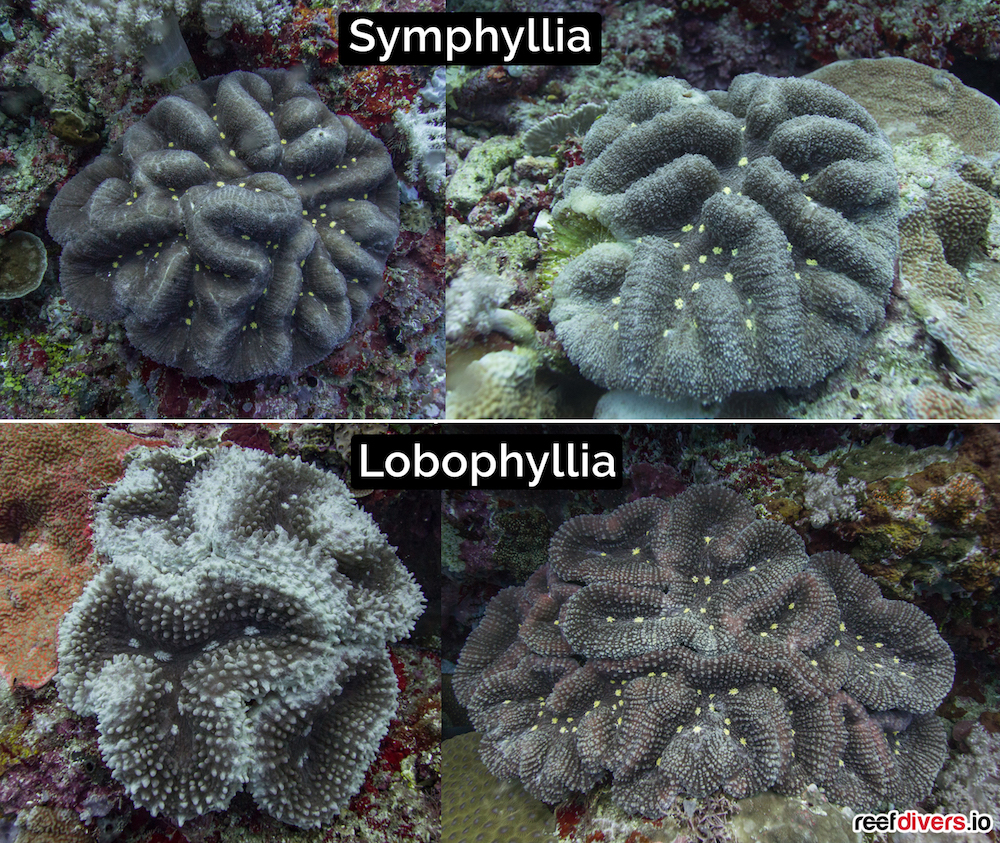 The biggest difference between these corals is how the skeleton grows. As they mature Lobophyllia coral have distinct stalks or lobes that separate from each other. You can see in the image below the color and shape are very similar, it is only the lower species Lobiphyllia flabelliformis which has distinct lobes. Without removing the tissue you can still see this distinctionas the tissue formes around the stalk and is not connected to other lobes, where the Symphyllia is all connected.
Don't be discouraged by this confusion of renaming! Instead, just learn to identify them based on the original more common description, Lobophyllia having Lobes and Symphyllia having one skeleton.
Lobophyllia corymbosa, Lobophyllia flabelliformis, Lobophyllia hataii, Lobophyllia hemprichii, Lobophyllia robusta, Lobophyllia serratus

Platygyra
Platygyra is a common meandering coral that has short compact ridges. Depending on the species the ridges and valleys can be long and continuous of intersect to make little sections. These corals have tightly spaced valleys often less than 1cm wide.
If you look between the ridges you can see the polyp mouths in the center of the valley. There are several species of Platygyra, however, for the most part, the ridges have raised skeleton between corallites giving them a ragged appearance.
These corals can be tricky at first to identify because after being a meandering growth form they can also be plates, domes, or partially encrusting. The key to look out for is the tight winding valleys.
Platygyra contorta, Platygyra daedalea, Platygyra sinensis,

Oulophyllia
Oulophyllia is an uncommon coral with only a handful of species in the genus and only two that make the meandering type. The color is usually a grey, to light green with distinct oral discs. The colonies make dome shapes and have short broad valleys around 2mm wide and walls short uniformed size walls. This is an uncommon coral found mostly in lagoons. We found these two in less than 4m of water.
Oulophyllia crispa

Species linked to Corals of the World. The Corals of the World website is dedicated to providing free access to information about corals: their identification, distribution, biology and conservation status.