It's been really hot in Bali the last couple of months – seems like it would be too hot for fish to spawn, but we were wrong because the broodstock angelfish at Bali Aquarich were going at it pretty hard!
The first ever Centropyge joculator:
Last week we presented you with the first captive bred Centropyge joculator from Bali Aquarich. We finally got to see this Centropyge treasure with our own eyes and we confirm that it's really a beauty! Unfortunately there was only one surviving Joculator angelfish in this batch, so Mr Su will keep it for himself as a future breeder, but we can expect another batch to come very soon as demand is already soaring.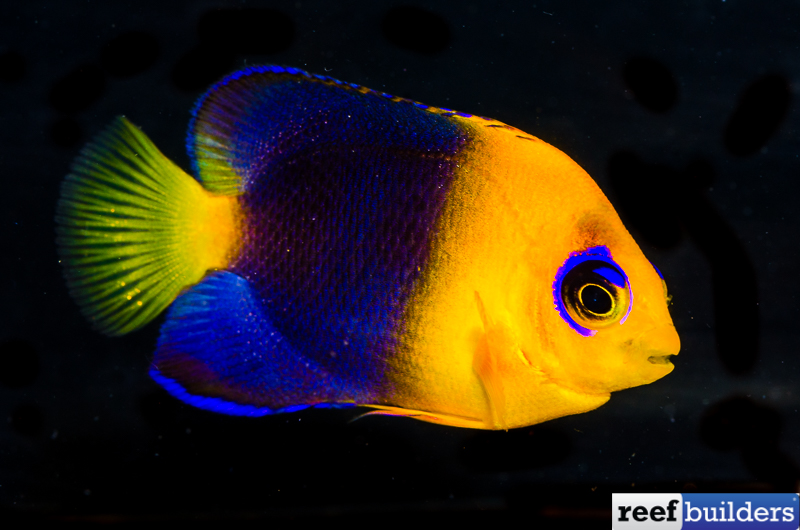 The first ever commercially available Rock Beauty Holacanthus tricolor:
If you thought that was it, Mr Su has some other trick up his sleeve with the announcement of captive bred rock beauty angelfish. Even if it wasn't the first timethat he bred Holacanthus tricolor, this time he managed to raise them to a point where only a big mistake could spoil the surprise.
This tiny little half inch (1,5 cm) long yellow cutie with the black spot on its flank is virtually indistinguishable from a young lemon peel, Centropyge flavissima. These are very active and he's got several batches in several ponds, to not repeat the same mistake twice, so they should should reach market size within a couple of months, so stay tuned for even more exciting announcements from Bali Aquarich.