The Radion Gen 5 LED is right around corner and this time Ecotech Marine is treating us to a whole new version of the celebrated reef aquarium LED light, the Radion Gen 5 Blue. The Radion G4 is still a great light and anyone currently using one shouldn't be too envious, but in the three years since its launch Ecotech Marine has come up with some incredible new changes to virtually ever detail of the successor.
The TL:DR on the Radion G5 is 35% more light coming from over one hundred LEDs, controlled across ten channels, spread out by an improved version of the HEI lenses, and thoroughly cooled with a custom designed fan . . . plus moonlights, two of them.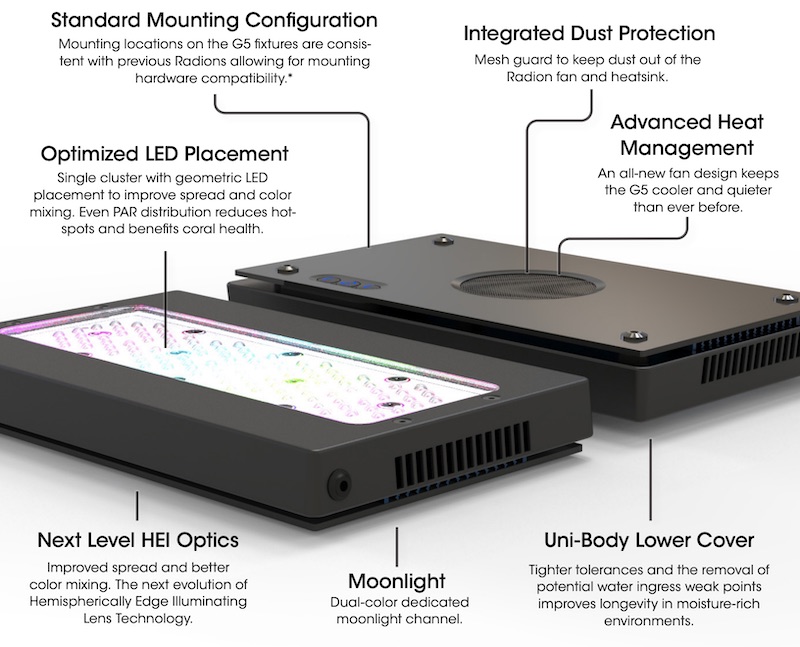 In the past we've had two sizes of the Radion in the form of the XR30 and the XR15, as well as a regular and Pro versions of the 'Ecotech' light. For the fifth generation of their flagship aquarium luminaire Ecotech Marine has designed a new Radion Gen 5 Blue which is sure to make a lot of modern reef keepers very happy.
This new sapphire centric Radion Gen 5 Blue uses only three cool white LEDs in the XR15 and six in the XR30 models, with a giant heap of blue diodes to create the deepwater spectrum. The larger Radion Gen 5 blue is rocking 40 royal blues, 20 blues, 6 violets, 4 x 405nm UV, 4 x 415nm UV, 10 Cyans and all new for Radions is the use of 6 lime light emitting diodes, plus two 'photo' red LEDs because you know, 'balance'.
The overall power consumption is now around 215 watts for the Radion Gen 5 Pro and 205 watts for the Radion Gen 5 Blue, although the latter is sporting a little bit more PAR due to the intensive investments in the blue spectrum. Using over one hundred LEDs in a light the same size as before takes some serious engineering of the thermal management – the cooling fins and custom made fans – but it also required an all new HEI 2 lens cluster.
The Hemispherical Edge Illumination 2 is geometrically identical to the first gen HEI lenses but with a nano texture for very light diffusion and color blending using a spark process. Right out of the box Ecotech Marine's new Radion Gen 5 Pro and Blue light fixtures will have the most uniform light field they've ever created, driving 35% more light into the tank.
The new fifth generation Radions output lower peak PAR as well, so no more 'volcano' style PAR graphs which will be very much appreciated by our SPS corals. But if you want even more diffuse light throughout your tank, you will now be able to add the secondary diffuser without any changes to undercarriages, the current diffuser attaches directly to it with the built in magnets.

Ecotech went above and beyond in squeezing additional functionality from the Ecosmart Live control platform first introduced in 2012, but the future demands next generation features. Another major upgrade which is not so easily seen is that the Radion Gen 5 Pro and Blue will be Ecotech Marine's first LED lights to be accessed exclusively on Mobius, their next generation control platform which launched alongside their all-new Versa dosing pump.
We've already got our hands on one XR15 Radion Gen 5 Pro, and one XR30 Radion Gen 5 Blue so we can't wait to give you some first hand accounts on everything you need to know about them. We'll be paying special attention to how they look, how they make our corals look, and especially how they compare to the Radions we already know and love so be sure to check back soon for the first test drive of the Radion Gen 5 Pro and Blue in the wild.