Indophyllia is a poorly known genus of large polyp stony coral which includes only one, very overlooked species, I. macassarenssis. There's two reasons that Indophyllia is not at the top of many collectors wish list, starting with the competition it has from similar but more common LPS corals, such as Cynarina and Acanthophyllia.
Typical appearance of nice wild Cynarina and Acanthophyllia
Cynarina and Acanthophyllia are fairly common in the right habitats and with greater abundance comes greater chances of seeing and discovering colorful specimens. Normal pink Cynarinas and red & green Acnthophyllia all but overshadow Indophyllia because most specimens don't look much more than a light brown or green and less defined Cynarina.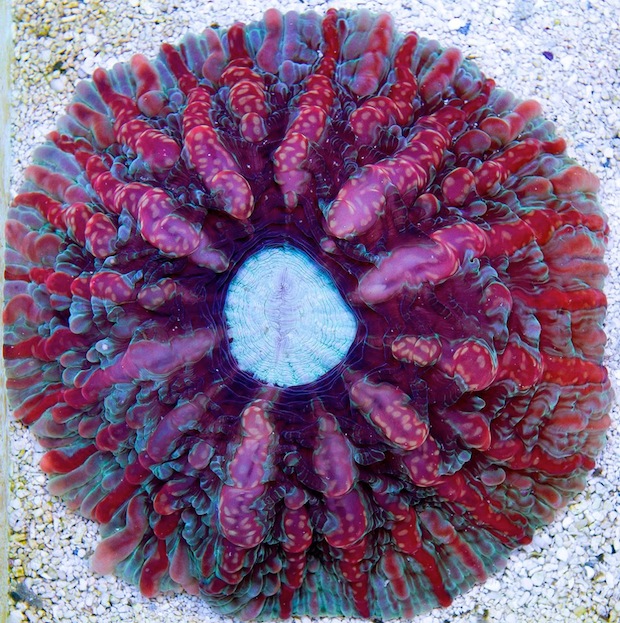 But every now and then, and more now that people are looking, we see an Indophyllia with a combination of colors, patterns and vesicles that makes our jaws drop. This mint green specimen from Reef Raft sports some beautiful light red vesicles towards the margin that enlarge closer to the dark colored mouth.
That alone would be a nice solitary free living large polyp stony coral but it's the pattern of yellow spots and scribbles that is unlike anything we see in any other kind or group of coral. The jaguar spots and squiggles are unique to this species and which we've highlighted in Indophyllia before.
The best part about Indophyllia is that it's one of the easiest corals to keep, requiring low light, low flow, periodic target feeding and some nutrients in the water. Thankfully we have a rare first hand account of I. macassarensis in the wild of Indonesia so you can see exactly what kind of environment shapes this coral, and the other species that might be found in the environment it prefers.