F Aiptasia is a new product that is the latest eradication tool specifically targeting pest anemones like Aiptasia and Majanos. There is no silver bullet when it comes to ridding an aquarium of undesirable hitchhikers like Aiptasia, and whether you're using biological controls, mechanical removal or chemical reactions, each one has its merits and a perfect use case scenario.
Filefish, molly miller blennies or assorted butterflyfish work great for larger Aiptasia, and peppermint shrimp love to devour little ones, while chemical injections have been the preferred method of non-biological controls. In contrast to Joe's Juice, Kalkwasser paste, or sodium hydroxide, F Aiptasia doesn't seem to burn the anemone pests, instead it creates a kind of paste that suffocates pests where they live.
The thick liquid inside is not unlike organic peanut butter and needs to be thoroughly stirred and shaken to become a mixed consistency and it's so viscous that a special wide metal applicator is included. An angled applicator is also included for reaching hard to reach places, as well as applying it on vertical surfaces and even under rocks, which the thick solution is uniquely suited to work on.
We tested F Aiptasia on a large single polyp outside of the aquarium for better viewing, but instructions mention turning off all water flow for around 30 minutes, not unlike other injectable solutions. Our large, one inch diameter test Aiptasia required a lot of the F Aiptasia product to smother it completely with its outstretched tentacles, so we recommend coaxing them to retract so less solution is required.
After 30 minutes the F Aiptasia had indeed formed a thick hard crust where the solution stayed in place, and the anemone never had a chance. We do have some reservations about how much the product sloughed off the rock – in a specimen cup with no fish or movement – considering the VERY prominent warnings against allowing any product to come into contact with living corals.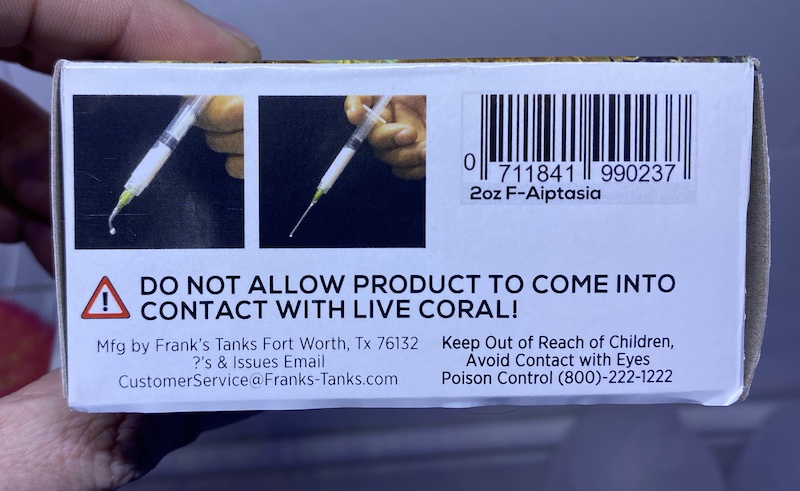 We're curious to see how F Aiptasia will work to kill and eradicate other undesirables such as patches of algae, coating unwanted micro polyps, and maybe even to close off the tube openings of vermetid snails. We don't know what F Aiptasia is precisely, and it seems like it's really meant to smother pests so take care not to inject it the same way you might have with NaOH or Joe's Juice. That being said, the viscous almost sticky product seems to work very well for sticking to vertical surfaces, and will compliment other products depending on where your pest is, and what kind of pest you are trying to eradicate.