As we've seen with the entry level Borei skimmer and the small footprint Akula models, Ultra Reef takes great pride in constantly improving their protein skimmers year over year, and this is especially true of their flagship Typhoon range. The Typhoon protein skimmer by Ultra Reef is the only one specially designed to handle the biggest needle wheel pump Sicce has ever made, the PSK SDC pumps.
Ultra Reef has been making the Typhoon in one form or another for years, four years ago they had the first model running with the then brand new PSK SDC, and two years ago we got some hands on time with a production version of the Typhoon. Although we didn't get a chance to revisit Ultra Reef at InterZoo this year, that doesn't mean we don't have some news on the protein skimmer that is still exclusively running the big boy sizes of the Sicce PSK SDC and it's still a lot more than most aquariums or reefers can handle.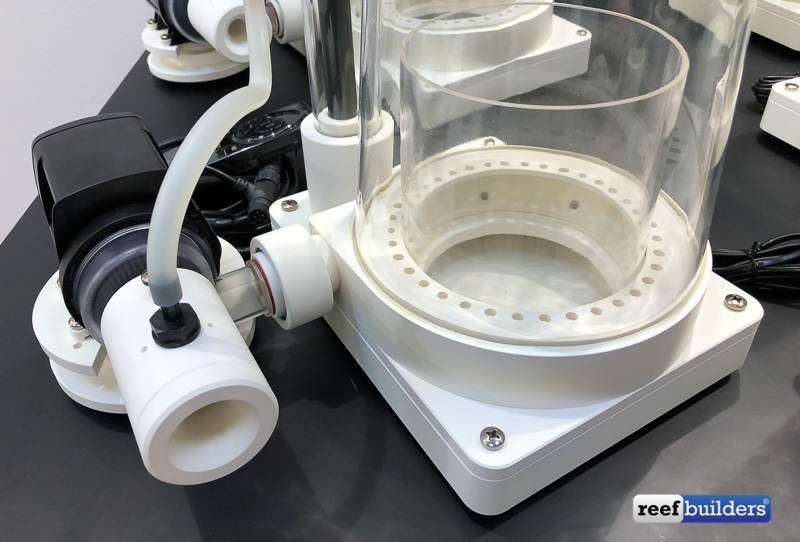 There are two sizes of the Ultra Reef Typhoon UKD as they are officially called – the Typhoon UKD 200 using the PSK SDC 2600 and the UKD 250 using the PSK SDC 4000. Because these are both controllable and programmable thanks to the Smart DC functions of Sicce's PSK needle wheel pumps, the power consumption ranges from 10 to 36 watts for the UKD 200 and 16 to 58 watts for the UKD 250, topping out at 1,500 lph to 2,300 lph of air intake respectively when running at maximum power.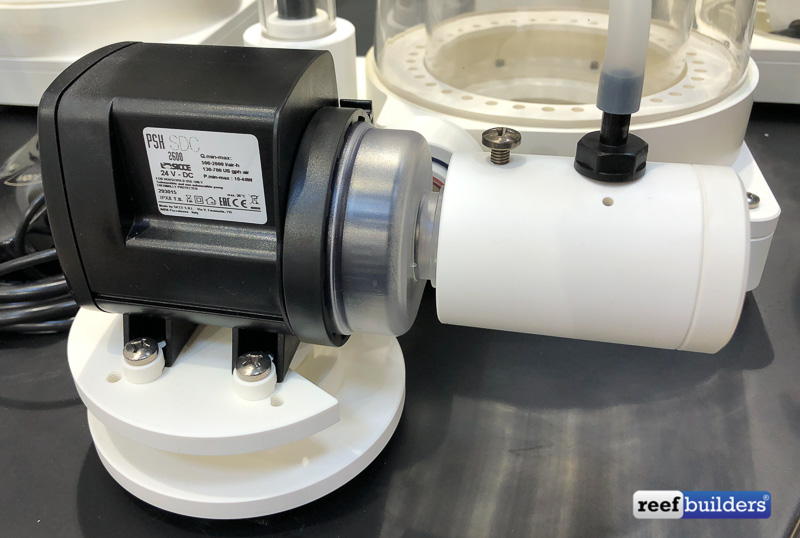 We're already well familiar with the exacting craftsmanship and precision of Ultra Reef products, but the heart of the Typhoons is the Smart DC needle wheel pumps from Sicce that can do more than almost every other needle wheel pump on the market. With this beast of a controllable pump the Typhoon inherits more features and functionality than pretty much all of the best niche and boutique protein skimmers from Europe, Asia and North America.
This massive amount of air injection is really only suitable for some very large reef and saltwater tanks with high bioloads that Ultra Reef very conservatively estimates will top out at around 300 gallons for the UKD 200 and 500 gallons for the UKD 250. However with so much water and air mixing we suspect the Typhoons could handle around 50% more based on their specifications.
You would hope that these flagship protein skimmers from Ultra Reef could process even more water volume than they are rated for at their price which is 1019€ (~US$1119) for the Typhoon UKD 200 and and 1339€ (~US$1470) for the Typhoon UKD 250. Up until now the availability of Ultra Reef protein skimmers (and other gear) has been limited to European aquarists but with the DC-powered Typhoon skimmers, adapting the PSK SDC pumps to other markets should be much easier, and we hope to see these around our local reef tanks very soon. [Ultra Reef]