Tyler aka Inland_Reef on Instagram set up this 42g coastal lagoon Gorgonian tank and you know we just had to learn more. Gorgonians are truly an under-appreciated coral, and it takes a skilled aquarist to make these somewhat dull corals shine.
Tyler started out keeping a smaller 3gallon mangrove reef tank inspired by Julian Sprung's Peninsula tank which led him to start taking a closer look at Gorgonian corals. While we can't speak for Julian, we'd be willing to bet this head-turning coastal lagoon will pique his interest.
Tyler writes "About a year and a half ago, I started seeing Gorgonian corals pop up in my local fish stores and I started collecting (more like hoarding) all of them, at least the photosynthetic ones. They looked great in my reef tanks under blue lights, but they just weren't really given the love they needed. Thus, the coastal lagoon was born!"
Apart from the Gorgonians, Tylers has also added a crocea clam which he said really show off their color nicely under full spectrum lighting. We also find red finger, red ball, orange ball sponges in the tank and a colonial tunicate of some sorts, possibly a botryllus tunicate.
Another feature of this tank that really caught our attention was the modern concrete stand. The stand, built by SR Aquaristik, is made from a revolutionary GFRC (Glass Fiber Reinforced Concrete) that is extremely strong, but still lightweight.
The filtration system for this tank is a XP Aqua Flexi Surface Skimmer & Media Reactor w/ filter floss & carbon, no sump, and a Micro ATO to maintain water levels.
We absolutely love this simple yet elegant reef that pays homage to a natural Caribbean lagoon. Strap on a mask and snorkel and you could easily forget you're at home and quickly be transported to the reef.
Tank and Equipment:
Tank: SR Aquaristik 42.2 Gallon tank (39″ L x 16″ W x 16″ H)
Stand: SR Aquaristik GFRC concrete stand
Lighting: Twinstar 900sp (Full Spectrum Freshwater Planted Tank light) w/ 3rd party controller to have the sunrise/sunset function
Lighting Rack: Painted Steel Pipe attached to a plywood base that runs the length of the stand
Filtration: XP Aqua Flexi w/ filter floss & carbon and a Smart Micro ATO
Pumps: 2 MP10 with Shallow Shields
Heater: BRS 200w Titanium Heater with temp controller
Substrate/Rock: 40lbs Caribsea Fiji Pink sand and 10 lbs miracle mud / ~30lbs dry rock
Fish and Corals:
Fish: Tomini Tang, Orange Skunk Clowns (2), Yellow Coris Wrasse, Talbots Damsels (2)
Coral: Too many gorgonians to write (and I keep getting more haha), Long Tentacle Toadstools (2), Colt coral, and a Platygyra
Sponges & Tunicates: red finger, red ball, orange ball, possibly botryllus tunicate
Macroalgae: C. prolifera, C. paspaloides, Shaving brush, Mermaids fan, G. Hayi, Blue Hypnea, gracilaria hayi algae, and well throw the red mangrove tree under here
Inverts: Conch, nassarius cerith, and trochus snails, hermits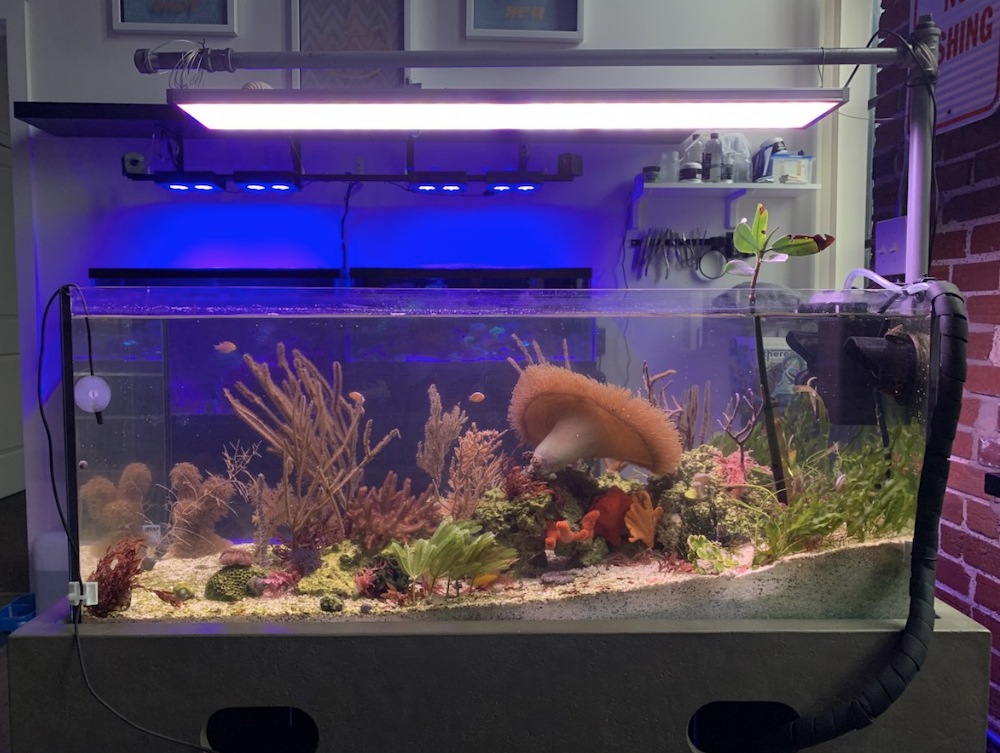 What's not to love about this peaceful coastal lagoon!