Reef Blizzard is Brightwell Aquatics' range of coral foods that offer a wide selection of food types and particle sizes so reefers can fine tune their coral feeding regimen. Earlier this year Brightwell added four interesting new foods to the Blizzard line including ReefBlizzard ZC- zooplankton copepods, ZR – zooplankton rotifers, XC – a color enriched formula, and LPS – a slow sinking soft pellet.
When it comes to coral foods that are manufactured for the reef aquarium, there is a huge range in quality and effort that goes into them. There are many companies that think so little of coral nutrition that they simply package the dust from fish food manufacture, essentially a stale byproduct, as a 'coral food' of dubious nutritional value.
In the coral foods department, Brightwell Aquatics has carved their own path with eight different products that fall neatly along different brackets of particle sizes. These different Blizzard Foods give reefers a choice to accurately match nutritious particles to the size of the mouth and polyps of their corals or reef aquarium animals.
The original Reef Blizzard O, S, A, & L are blends of food particles that fall within a range of particle sizes. But with the new ZC, ZR, XC, and LPS Blizzard foods Brightwell doubles down on segmenting the raw ingredients for precise fine tuning of the animals we are feeding.
If you have a single, basic reef aquarium community of corals you might want to stick with the previous Blizzard blends. But since we really want to optimize our feeding while minimizing waste we've been feeding Reef Blizzard ZR copepods to Xmas tree worms and soft corals, Reef Blizzard ZC copepods to hungry milli acros, and the soft pellet Reef Blizzard LPS to precious Scolies and Acanthophyllia.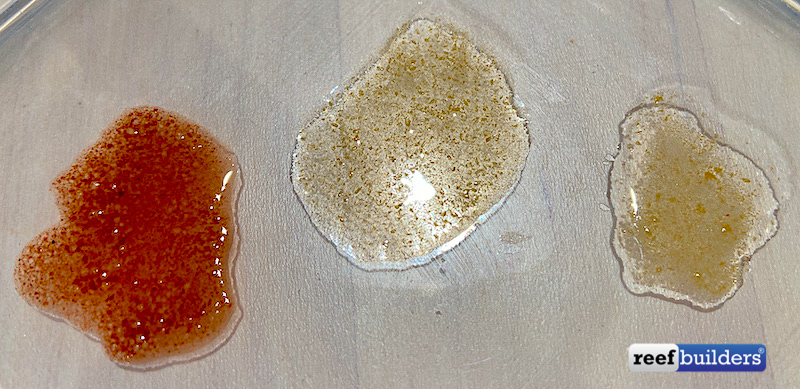 Reef Blizzard XC is a little different since it consists of rich powder dense with biological pigments to enhance red, purple and orange colors. The moment you crack open a can of Reef Blizzard XC it's clear that this dense micro particle coral food couldn't be any further from the typical dry dusty coral foods.
If we were a coral the Reef Blizard XC just looks like a better, tastier food and the mixture rapidly sinks when added to water with almost no floating particles and virtually no discoloration to the water. By contrast the copepod and rotifer blends of Reef Blizzard are neutrally buoyant so they will stay in suspension longer than the XC formula.
It's important to emphasize that if you're not intentionally feeding your corals yet, feeding any coral food is certainly a step up from not feeding at all. But if you're serious about coral nutrition or a particular group of corals, the new Reef Blizzards make it easier than ever to accurately match food particles with your desired coral polyps.