The Maxspect Jump L-165 is a new light fixture that brings together a very rare balance of power, features and performance at a mid-range price point that is often ignored in the aquarium hobby. We've seen a lot of new products from Maxspect in recent years including protein skimmers, water pumps, a whole suite of accessories and a compelling new 2-part epoxy but it's nice to see Maxspect flexing its muscle in the product segment where they originally made their name, aquarium lighting.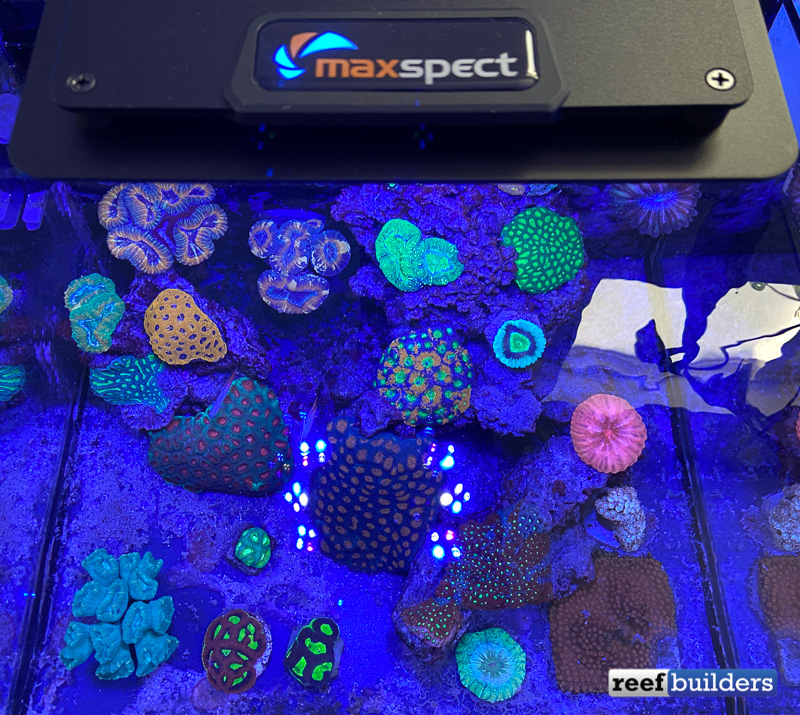 If you are in the market for an aquarium light, the vast majority of offerings will be of two different kinds: the very high end lights with every bell and whistle and a daunting price to match, or very cheap lights that cut corners at every point of the design and manufacture to achieve a bottom dollar price reflective of it's nearly disposable nature. As with many things in life it's much easier to aim for opposite ends of the spectrum but there's a lot more nuance when it comes to creating a compelling product that is neither bargain basement or top shelf.
To this end Maxspect has created the MJ-L165 LED light as part of its more affordable Jump line with the fixture coming in 65 watt of total power and two different fixtures, a normal balanced daylight color spectrum and a blue version, a pre-production version of which is the basis for this review. At only $229 the ML-165 is a full on metal fixture with substantial heatsink and a quiet fan to cool the discrete, high quality diodes with individual lenses to efficiently direct the light down into the aquarium.
Other light fixtures in the 50watt/$200 price range try to save on costs by using multichip LEDs and or a physically smaller fixture as well as cherry picking features like using bluetooth instead of true wireless connection for control and programming. Smaller LED clusters and multichips are fine at producing plenty of light but since they emit from a smaller area, the spread is somewhat lacking and there's not enough overlap of the light field to illuminate 3D shaped corals.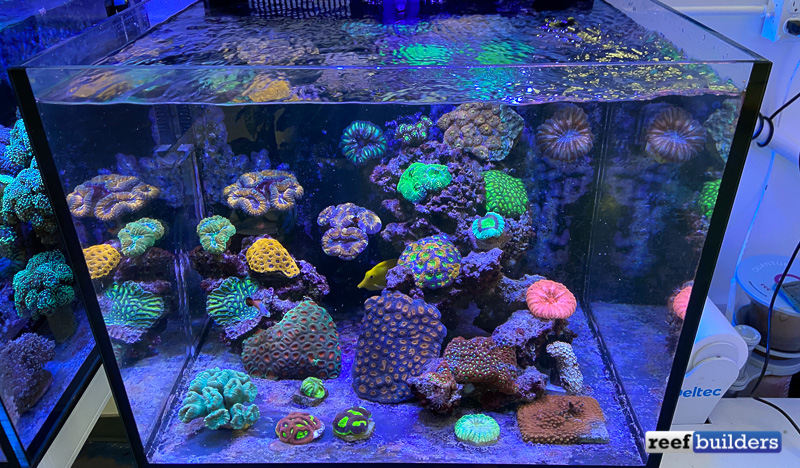 The Maxspect Jump MJ-L165 doesn't make any of these compromises since the LEDs are numerous and widely spaced for better coverage, and there is full wireless connection through your local router to take full advantage of the color control channels and light schedules and programming. The experience of setting up some lights for wireless control the first time can be frustrating at best but thankfully the new Syna-G Cloud app is quite straightforward and also incorporates a novel feature for sharing light schedules and programming by simply scanning a QR code through the app.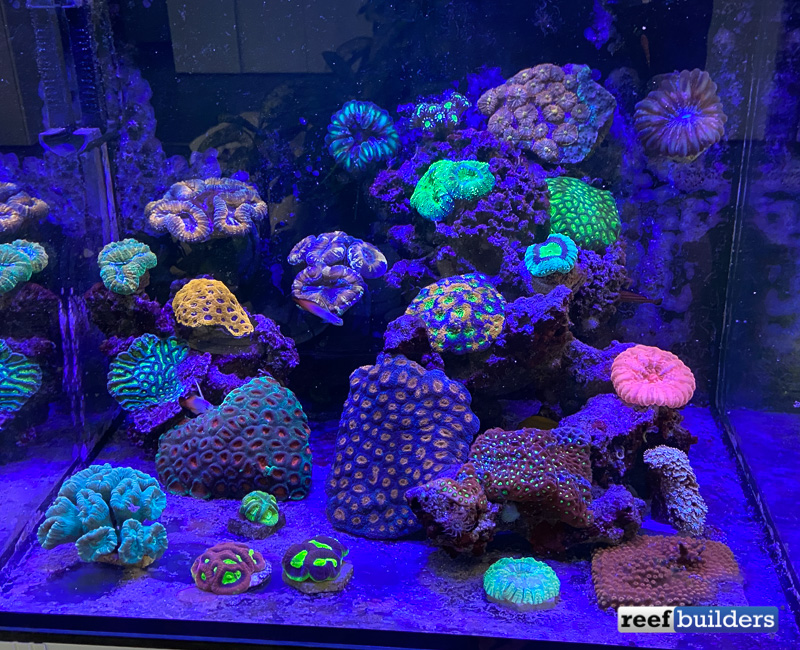 The 65 watts of power of the MJ-L165 Blue is shared among six different color channels which we might describe as three primary and three accessory channels – the accessory colors include green, red and warm white grouped together onto six mini clusters under the same lens for better color mixing. The primary color channels include ultraviolet + violet, regular blue by itself, and lastly royal blue + cool white on the same channel which we believe will become fully royal blue when it launches.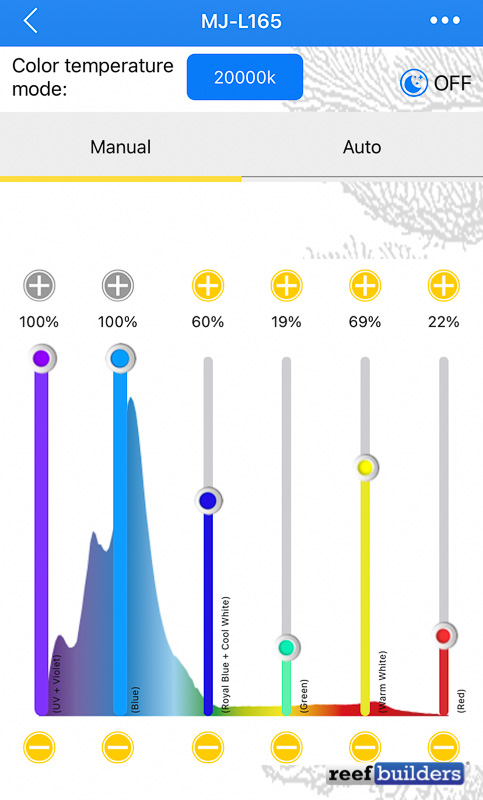 While most LED lights might simply ramp up the color channels a user selects the MJ-L165 has the ability to dynamically redistribute the power of the various LEDs using a color temperature selector which preserves between 90-95% of the overall light output wether you make the light very white or very blue. The spacing of the LEDs combined with the efficient lenses creates a very attractive and uniform light field in a 24 inch aquarium that houses our collection of various LPS corals with excellent color rendition of all the fluorescent pigments.
Dialing in the desired light spread is further aided by a flexible and versatile side clamping metal arm mount which affords users some degree of flexibility as far as how high, and how far from the back the light is mounted. As an added bonus adjusting the dual tightening screws also mediates the angle of the light helping to get the light to shine a little more towards the back – onto the corals and shielding viewers from any potential glare.
Believe it or not, the inclusion of the mounting arm with the MJ-L165 fixture greatly adds to the overall value of this light fixture since other manufacturers charge around $40 or more if you want to use the light in anything other than a hanging orientation. Furthermore, the large and metal construction of the housing makes it possible to rely on some degree of passive cooling, reducing the noise coming from fans running at high speed like smaller fixtures.
Taken altogether the larger fixture, metal housing, snappy app, and range of color control channels that are intelligently managed for maximum performance makes Maxspect's newest LED light in the Jump range a nearly flawless execution for a light fixture of this size and price range. The hobby usually only gets excited about the most powerful and newest 'flagship' light fixtures but we believe that once they see it for themselves, many reefers will truly enjoy the MJ-L165 for a wide range of tanks. [Maxspect]