The MarineScape LED is a new larger LED striplight from AquaLighter, a company known for pushing the boundaries of how tiny they can make LED lights for aquariums. We've featured their nano aquarium offerings many times in the past including the aPump, aFan, and we could never forget their wireless powered aquarium demonstration.
With these remarkable devices in their product catalog, we know better than to judge the MarineScape LED light for its sparse appearance, although that remote is not the usual off the shelf PCB-with-buttons that are included with so many cheap entry level aquarium lights. The output of AquaLighter's new MarineScape LED may not be extreme but light emitting diode technology has gotten so efficient that you don't need a powerhouse of electronics to light up most small and shallow reef aquariums.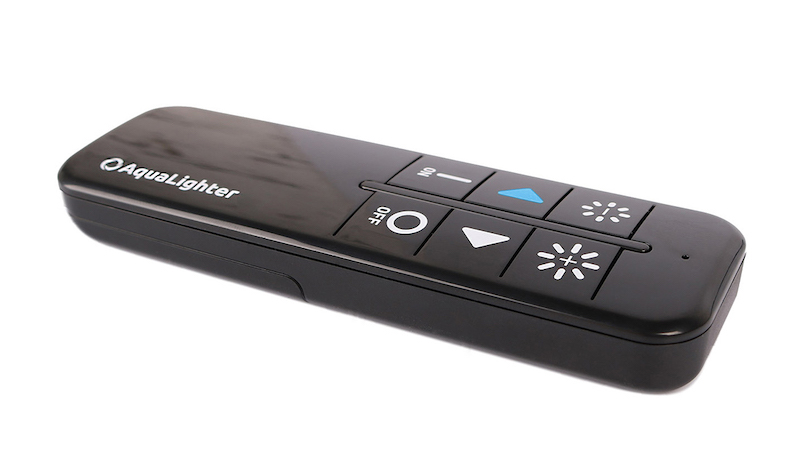 The MarineScape LED uses numerous medium output LEDs with no primary optics for perfect color blending and a very uniform light field to achieve around 10 watts per foot which could make this strip an excellent option for supplemental lighting. There's two colors in the MarineScape including a dual blue with both 450nm and 465nm and a 6500 Kelvin cool white channel but instead of dialing them in separately, the MarineScape takes the 'Tuna Blue' approach to adjust the power from one channel to the other, or a blend of both, to maintain overall intensity of the light.
The listed retail price on the company's direct to consumer website lists the MarineScape as costing $179 for the 30cm strip, $279 for the 60cm and $389 for the 90cm – that's one, two, and three feet for our U.S. readers. These prices seem a little bit on the high side for 10 watts of power per foot but we suspect this might be inflated on the manufacturer's website to give partner retailers some headroom to sell the MarineScape for a lower price and given what we've seen from AquaLighter in the past, there's probably more to this light when actually in use over corals that a sparse product webpage could ever convey.