The reef aquarium hobby has experienced explosive growth in the last couple of years with demand for new and unique strains of tank grown corals going through the roof. One company that has been riding this wave is Top Shelf Aquatics which has made a name for themselves for offering a wide variety of aquacultured corals and especially their sticks or SPS corals.
Many coral vendors have increased their offerings of aquarium grown coral frags by investing in intensive coral farming and Top Shelf Aquatics has built an impressive facility to do just that. We first visited the TSA coral farm a few years ago when the location was just in its infancy but a couple weeks ago we got to see how much this place has grown both in terms of tanks, technology, and especially in their diversity of cultured corals.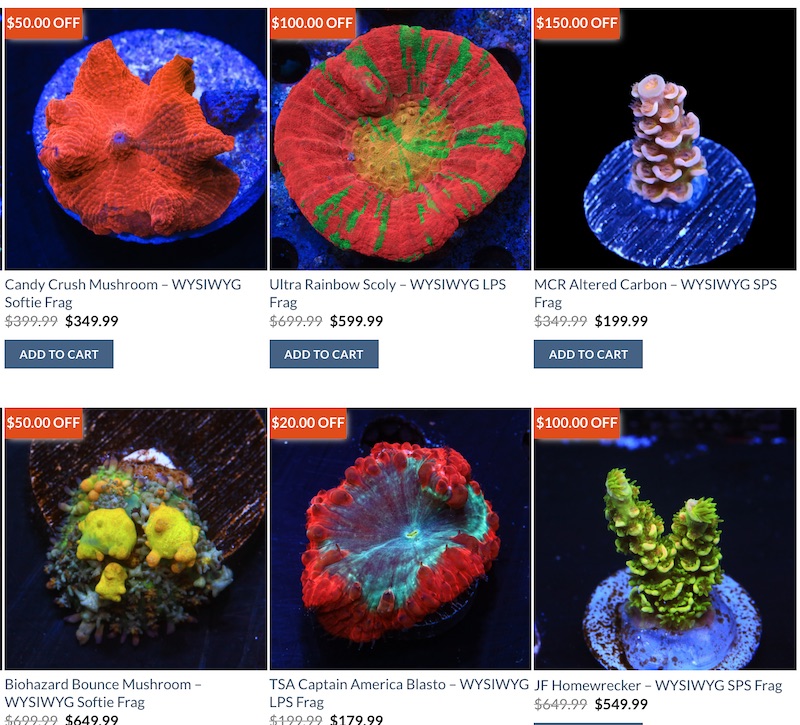 The most striking thing about TSA's coral culture facility is that they don't use any troughs where corals can only be viewed from above, opting instead for large glass aquariums which offer much greater visibility of what TSA is cooking at the farm. Fiberglass troughs may be more durable and economical but large glass display style aquariums certainly makes for a much more impressive presentation, and enables greater observation of the growth rate and condition of the numerous and crowded corals colonies used as the broodstock for producing frags.
The other thing that we really appreciate about TSA's coral farming tanks is that they might rely on a lot of Vortech pumps and Radion lights but there's still a lot of experimentation going on with different kinds of pumps, different kinds of lights, and pretty much every kind of mineral replenishment technique that hobbyists commonly use on their own reef tanks. It might be somewhat surprising to see so many large fish kept alongside the densely packed SPS corals but TSA still has to dose a steady supply of Seachem Synthesis to keep their nitrate levels at a very healthy concentration of 15 to 20 mg/l.
Reef Hobbyists have been trained all their lives to wage war on nutrients and to keep nitrates as low as possible but the fleshy polyps and vibrant colors of TSA's SPS corals, especially Acropora and Montipora, is undeniable. Despite our best efforts to actually feed our own fish and corals to boost nutrients in our own tanks, we've also resorted to actually dosing nitrates and the increased health and growth of our corals has really opened our eyes to the benefits of measurable NO3.
This reef hack for boosting coral growth is just one of the interesting things we gleaned from touring the Top Shelf Aquatics Coral farm but there's a lot more going on under the hood which we learned from a thorough walkthrough with TSA's coral frontman Kevin Burda. Sometimes we like to produce videos about all the pretty shiny coral frags and colonies but this video takes a slightly different turn with a heavy emphasis on reef aquarium techniques and methodology, which in this case is bolstered by the results TSA achieves with their coral farm.
Big thanks to Top Shelf Aquatics for having us take over their coral farm for the better part of a day, and to Kevin for giving us a clear and detailed discussion of how TSA grows their corals.