Christmas has come early for Red Sea aquarium owners with news of the market leader's own make and model of roller filter. Named the ReefMat, this new fleece filter looks to be built from the ground up packing in loads of new and innovative features including easy to replace rolls and integration with the ReefBeat app to notify you of a blockage, daily usage, and how many days of fleece you have left before it runs out.
Two models will launch in Spring 2022 – the ReefMat 500 for systems up to 500 liters (132 gals,) and the ReefMat 1200 for 1200 liter (317 gals,) tanks, covering all current Red Sea Reefer and Max models apart from the Nano. One stand-out stat is the flow rate that the two models can handle at 6000 and 9000lph (1585-2378 gals,) respectively.
The two fleece widths are only just over 4" and 6" wide to keep the models compact enough to fit already populated Reefer sumps, so it looks like Red Sea have managed to achieve such great flow rates with a much more open, non-woven polyester fleece which looks much more fleece-like (and more filter wool-like,) than we have seen from any other roller filter manufacturer to date.
The units can hang on a sump wall or stand up on their own legs and fit straight to both metric and Imperial-sized Red Sea drains by way of a supplied flexy hose and couplings. This makes for speedy retrofitting without the use of pipe weld or having to cut and measure new hard plumbing and elbows.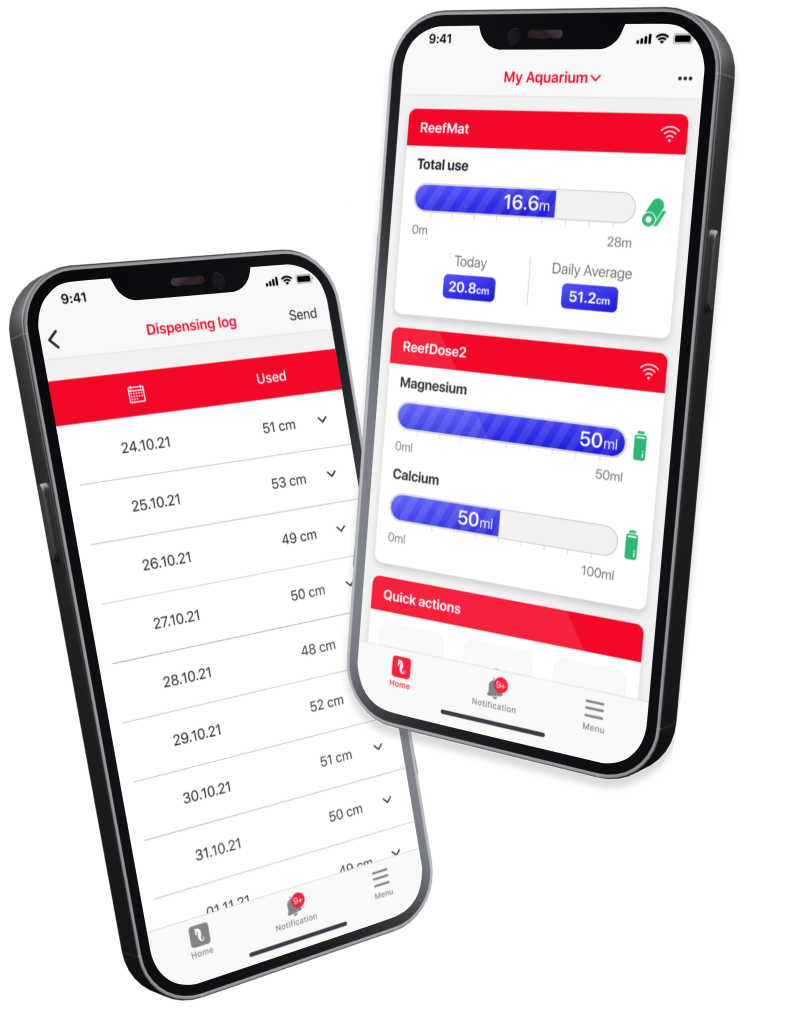 Smart Drive
Smart Drive is both the engine and control box of the ReefMat, receiving notifications from the sensor, turning the roll when necessary, and relaying information to the app. The app displays daily fleece usage, total usage, and how long you have left using the current roll in both statistical and graphical format, and all on the same app as your red sea doser, lighting, and pumps.
It's not the first roller filter we've seen marketed as 'smart' but it's certainly the most user-friendly, and informative while also putting the information you need right in the palm of your hand, from anywhere via Wi-Fi. You can even manually advance the roll via the app too.
Red Sea has also done away with the float switch seen in some other models and opted instead for what they say is a "fail-proof" solid-state level sensor derived from titanium conductivity probes to monitor internal and external water levels and tell Smart Drive if they are in seawater or air, and advance the fleece roll accordingly.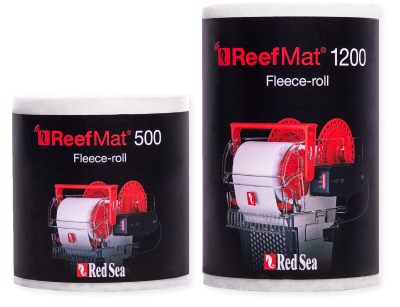 Changing the roll
One of the biggest bug-bares with many rollers is the fiddliness when you come to change the fleece. ReefMat comes ready assembled out of the box and rolls can be changed in-situ by way of a hinged roll holder. For the aquatic retailers out there, changing the roll looks much more akin to changing the roll in a card payment machine, the ReefMat body is tapered to allow you to get your hand in and total replacement should be possible in seconds, rather than minutes. You don't even have to turn the water flow off.
And the icing on the Red Sea cake is the included media basket drawer underneath to fill with chemical or biological media of your choice, and benefit from some free, untapped water flow. The ReefMat looks so different and has so many newly integrated inventive steps, it's no wonder that it's Patent Pending.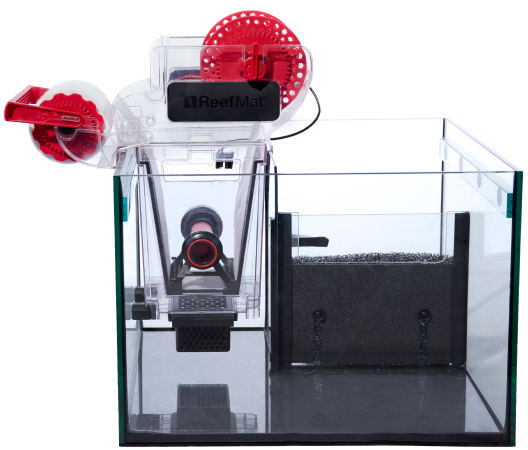 Retrofitting
The overriding question from us however was how the unit is retrofitted into existing Reefer and Max sumps, all of which come with glued-in sock holders and rigid, glass baffles. We've fitted many other makes of roller into Reefer sumps, it involved gloves, knives and even a hammer once or twice, and it's not for the feint-hearted. Get it wrong and we risked cracking the sumps and of course voiding any kind of manufacturer's warranty.
Depending on the aquarium model, the necessary modifications will range from the removal of all internal sump walls to just the socks themselves, but Red Sea told us that as the ReefMat becomes available they will provide a guide for modifying existing sumps to accommodate the ReefMat and that future versions of the Reefer sumps will be modified to enable easy addition of the ReefMat to the system. ReefMat will be added to the "My Reefer" wizard system builder on their website too.
We've always admired how Red Sea can come late to a product party but break something down into its component parts and completely rebuild it the Red Sea way, with loads of rethought, better-managed solutions and always something bolted on that you admit you never thought of. And they've done exactly this with the new ReefMat.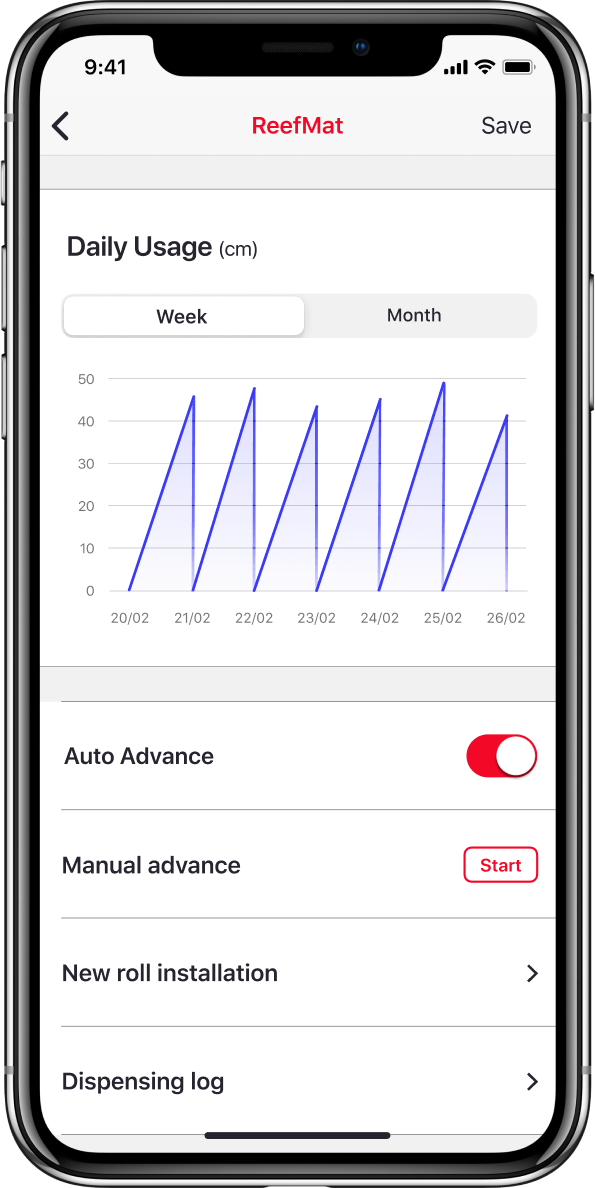 Socks suck
Filter socks definitely have their place in the past, present, and maybe even still in the future of reefkeeping, but for most people they block up way too frequently, never mechanically filter again like they did when they were new, and represent a chore when they need to be cleaned out. We ourselves have been doing it for nearly three decades!
But leave a dirty sock in the system and it brings its own problems, becoming a nutrient reactor and actually hindering, not helping algae control. The only reason that everyone hasn't dumped the socks in favor of roller filters is the entry price and the fact that once running, some rollers are far from user friendly, spending more time alarming than cleaning. And why aren't more new "reef-ready" systems roller-filter ready?
This new fleece filter from Red Sea looks different, operates differently and we hope in a much more user-friendly way. And it's engineered to fit Red Sea tanks, of which there are more of them probably than any other reef-ready system out there. This launch comes as a welcome addition to the Red Sea stable.
Units are $349/£299/€329 for the ReefMat 500, and $399/£329/€349 for the ReefMat 1200. Replacement rolls are $16.95/£10.95/€14.95 for the 500 and $29.95/£16.95/€20.95 for the 1200. Rolls are 28 and 35m (92' and 115',) long, respectively.