Tank manufacturing giant Juwel has released a new underwater camera for aquariums. Named SmartCam, it's a small, waterproof camera that you place in your tank enabling photos, video, live and recorded footage that's viewable on your phone or tablet from anywhere in the world.
The camera itself films in either 360p or 720p and comes fitted with a built-in 120-degree lens. It's designed to be mounted to a tank's internal glass wall and sticks on by way of a sat-nav style suction cup with up, down left and right 180-degree adjustment.
Plug the unit in, download the Juwel Smart App, connect, and you'll have a unique internal view of your tank while you're not there. You can share your login with family members, work colleagues or installers so it may well have its uses for tank maintenance guys, aquatic stores or even public aquaria if valuable livestock needs to be kept an eye on, 24/7, and by multiple staff.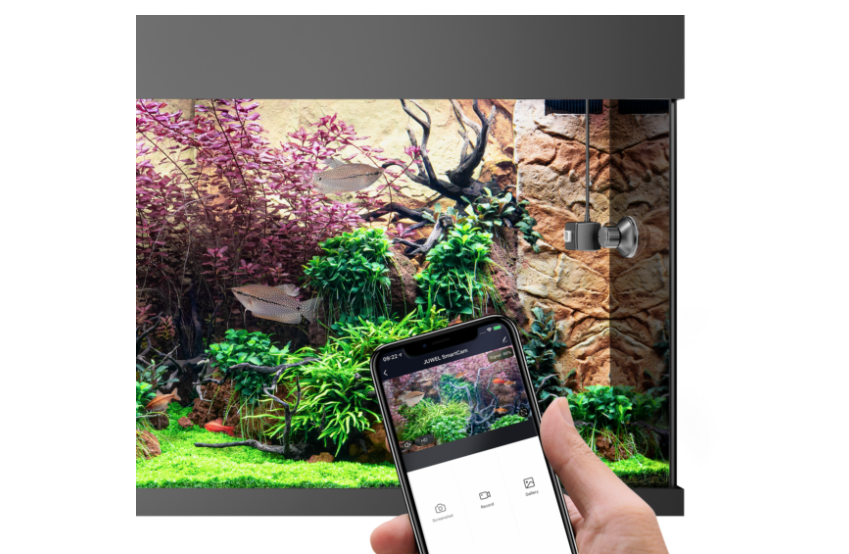 Cam legacy
SmartCam is not the first underwater aquarium camera with TMC's Reef-Cam launching five years ago (IceCap too,) and having both magnet mount and decor mount accessories, although Reef-Cam came then with a web server box and SD card, whereas SmartCam connects straight to your phone.
And although you can manually swivel the camera when it's in the tank, it's not a swanky, motorised, 360-degree camera like that of Felix Smart. It's not full HD either, which may prove a letdown for aquarium YouTubers and Instagrammers who carry much better video capabilities even on their phones, but who want to share the underwater video at high quality on their feeds.
Old continues to clash with new too as this Wi-Fi, app-controlled camera also comes supplied with instructions on a CD! The sucker mount looks sound but we'd prefer a magnet, and what happens with all these cameras when the lens gets covered with algae? 
But SmartCam will no doubt prove useful for viewing how new fish are settling in, coral spawning events or even the simple stuff like if the tank lights have come on at the right time and on the right setting. SmartCam is saltwater safe, comes complete with eight feet of cable and retails at around £150/$200.