Making up for lost water due to evaporation is one of the most important functions required of saltwater aquariums and there's a myriad of ways to accomplish this. AutoAqua is one of the companies that's been the most focused on the Auto Top Off market releasing new devices and machines every few years and their latest is one of our favorite new ATO form factors ever.
The Smart ATO Nano is a mostly hang on back (HOB) design which consolidates nearly all the most important components into a tiny little backpack that is exclusively designed to hang on the edge of a tank wall. Seeing as this is a 'nano' device, it's right there in the name, you won't be hanging the Smart ATO Nano on any thick tank walls or tanks with rims as the device has a maximum clearance of 10 mm or just under 0.4 inches thick.
The centralized HOB is about the size of two decks of cards from which the power supply, level sensor and both the water feed and supply lines originates yet most of the brains and electronics including the LED indicator are located within the magnetically attached level sensor. Since AutoAqua concentrated virtually all the components into this all in one package the Smart ATO Nano is one of the most plug and play ATO offerings we've ever seen.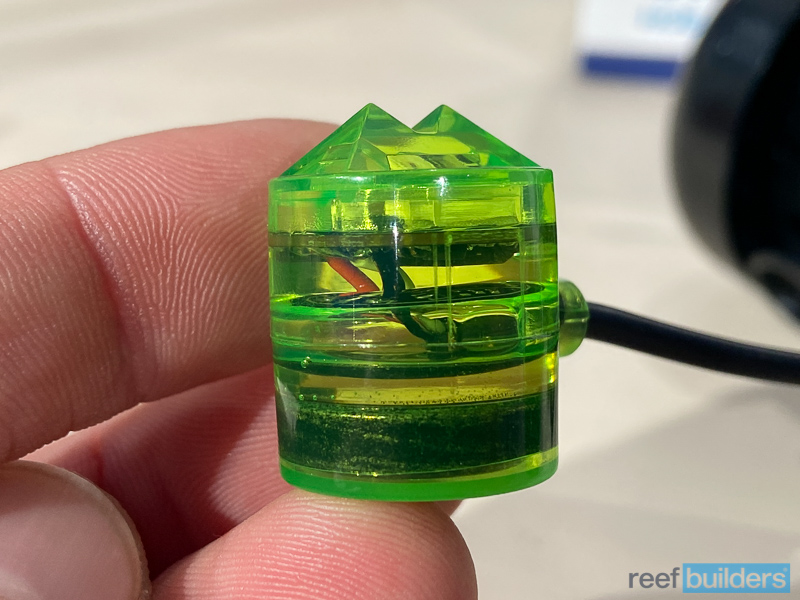 Curiously, the Smart ATO Nano doesn't work with a miniature, external water pump but instead uses a very creative design for a type of diaphragm pump which takes up most of the internals of the HOB backpack. To our delight and surprise the enclosure of the Smart ATO Nano is user accessible without any tools so it was very easy to get a good look at the unique diaphragm style pump which is user serviceable but probably has very low tolerance for any kind of particles or dust passing through so it's a good thing the ATO kit comes with a pre-filter on the intake side.
For our personal aquariums we go to great lengths to rely on the infallibility of gravity to supply fresh water to our tanks with a mechanical float valve but this technique is not really practical for small, all in one reef aquariums without a sump. Small sump-less aquariums that are elevated on a stand really benefit from ATO devices to supply fresh water and the Smart ATO Nano is a really compact and elegant machine without a bevy of wires, tubes and cables to add to the snake pit of cable mismanagement present on most reef aquarium setups.
As the name implies the Smart ATO Nano is really only suitable for pretty small tanks as the unique diaphragm pump is very slow at dispensing new water, on par with the very smallest peristaltic pumps and it dispense new water at a rate of a few drops per second. The pump is also not particularly loud, but it isn't silent either so you wouldn't want to use it to administer replenishments of larger volumes of water since it would cause the Smart ATO Nano to run too long, perhaps causing premature wear.
Despite a somewhat narrow range of optimal applications the concise package is really well suited for what it was designed to do which is why it's the first new ATO 'machine' we've installed on our own tanks in many years. The streamlined housing, installation and user experience is well worth the $100 asking price and we're pretty confident this new model is going to be one of AutoAqua's most popular ever, especially for the smaller volume, all in one aquariums.