Original equipment manufacturer Wavereef has unveiled three skimmer ranges with UVs built-in. Available with AC or DC pumps and designed to sit either inside or outside of sumps, the K6, K7, and K9 protein skimmers are generic cone-shaped skimmers suitable for volumes from 80 to 4000 gallons.
They operate in the normal way with standard bubble diffuser plates, venturi-style pinwheel pumps, and air silencers. But the similarity stops there because situated right in the middle of those standpipe-style water level adjusters is a UV bulb, and that's the first time we've seen a UV actually built into a protein skimmer. We've seen external canister filters with UV built in before, and areas set aside for chemical or biological media in protein skimmers, but never with UV built-in, in this way.
For hobbyist reefers, the K6 range comes in five model sizes with cone diameters from 4-10" and is rated for tanks from 80-550 gallons. The pumps draw in from 400-1200lph of air for between 10 and 28 watts of electricity, depending on the model. The inbuilt UV has its own power supply but is fitted with the same 11-watt bulb, regardless of model size.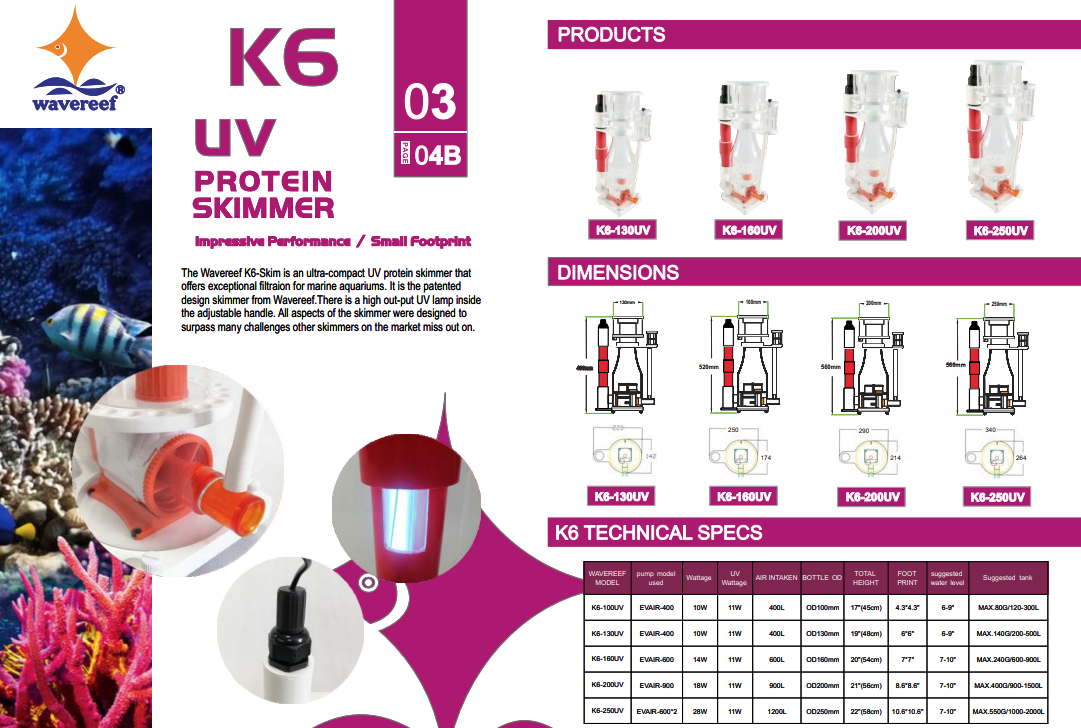 If you want a DC pump-powered skimmer, the K7 range also comes in five model sizes with cone diameters from 4-10" across. The improved DC pumps draw more air at between 500-2100lph, only at the expense of energy usage at 10 to 50 watts of maximum power, depending on the model. The air increase also means an increased maximum system volume recommendation of 80-650 gallons, but the UV power remains the same at 11 watts across all models.
Commercial hybrid skimmer
If you've got it, use it, and Wavereef has demonstrated that by also fitting UV into their much larger commercial-sized protein skimmers. The K9-UV range is external, floor-standing skimmers available in seven model sizes with cone diameters from 5-20" and rated at system volumes from 150-3965 gallons. All are powered by DC controllable pumps using between 16 and 3 x 72 watts of electricity but can draw between 500 and 9000lph of air, depending on the model. The K9-130UV starts off with that same old 11 watt UV bulb again but go bigger and thankfully UV output starts to jump to 27, 40, and then 90 watts of UV power, depending on the skimmer model.
Protein skimming and UV
The reefing community remains divided on whether to use UV in home reef aquaria or not. Microbiome testing can now prove that the use of UV lowers numbers of all microbes, good and bad, but the use of UV sterilizers for fish disease pathogen control cement UV's place in our home aquariums and especially those of our fish suppliers. Buy an Ich-prone fish like a Powder Blue Tang, put it in your tank, and if it gets Ich, UV will be the first thing anyone asks you about. But there's a big difference between a few watts of UV for water clarification and the long contact time, narrow void space, high output UVC needed for effective sterilization.
The inclusion of a small UV into the K6 and K7 skimmer ranges is novel, and could potentially add some clarifier properties to what are already tried and tested skimmers. But despite the tight void space, we're not sure much parasite zapping would go on in there, or that those craving a new skimmer and an ultraviolet sterilizer should check off both boxes quite yet.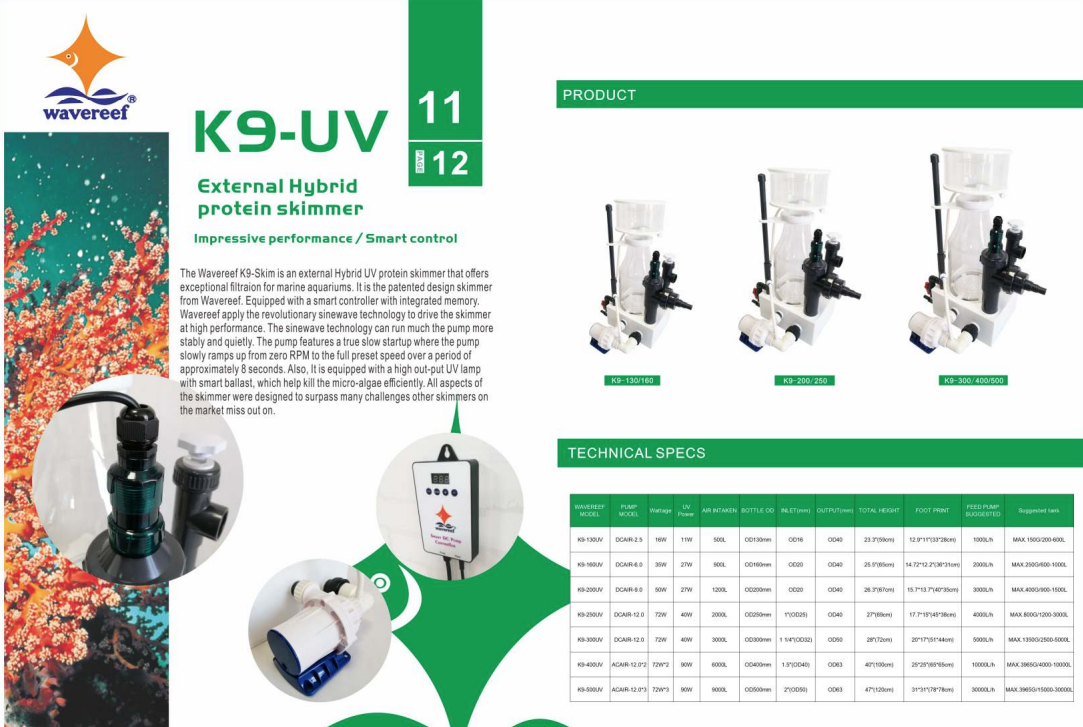 Placement
The placement of the UV puzzles us somewhat, and we're scratching our heads as to its potential effectiveness. As we stated above it's situated inside the water level adjuster pipe, which as seasoned reefers will know is just a pipe cut to 45 degrees at the bottom end. Turn it left or right and the water flow exiting the skimmer body is either restricted or open up, and the water level either climbs or falls back down the neck of the skimmer body.
So not being pump-fed, presumably to get increased contact with the full length of the bulb you need to send more water up the tube, increasing the water level in the skimmer neck and cup as you do so, but if you bring the water level right down to adjust an overflowing skimmer is the bulb left high and dry and the contact lost? Also whats the circulation like in that tube? Is water actually flowing in and out, up and then down that pipe at a reasonable rate, or is it pretty much the same dead water sat in the pipe the whole time? This isn't a problem you'd have with a standard inline, pump-fed UV model.
And does water that is much richer in organics have a positive or negative effect on UV clarification or sterilization? A germicidal lamp is at its most effective when it penetrates clear water through a clean, quartz tube. Particulate matter can shield algae and pathogens behind it as water passes the bulb and potentially, water thick in air bubbles could negatively affect UV performance too.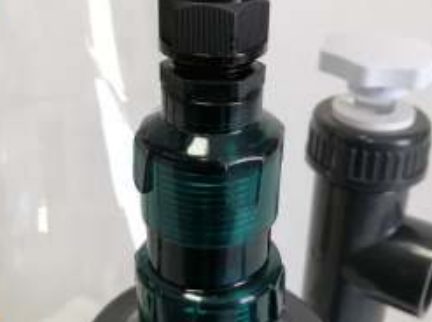 More power please
The K series skimmers place the UV on the outflow, meaning that damaged algal cells will remain in the sump and would then need to be removed on the next pass as they travel back through the tank before being caught by fine filter socks or a roller filter. Phytoplankton users will know too that protein skimmers are also good at skimming off algae, so we'd like to have seen the UV clarifiers placed before the pump inlet, so those unicellular algae could then be skimmed off after passing the UV. And despite Wavereef stating in its literature that it kills micro algae efficiently, we'd like to see a lot more UV power in watts incorporated into the K6 and K7 ranges as 11 watts of UV in a 650 gallon, probably fish-heavy system, may not do much either.
Cast your eye over these and other Wavereef products and they will probably look familiar. Chinese company Wavereef produces own-brand products for aquatic companies on both sides of the Atlantic so we fully expect to see rebadged (identical,) versions of these hybrid protein skimmers appearing in the future.