Amphiprion omanensis is one of the rarest bonafide species of clownfish which has yet to make any kind of real appearance in the broader aquarium world. Like many other lesser known species the Oman clownfish has a limited natural distribution but as you might have guessed from its name, the Oman clownfish comes from the eastern Indian Ocean only along the coast of the Sultanate of Oman.
We've been receiving scattered reports of small shipments of Omani fish making their way out of this region for the past several months and it appears that De Jong Marinelife is the first out of the gate with some great photos clearly illustrating the appearance of this species. The chocolatey brown body is bisected by two thin white bars but the colors of the fins span the spectrum found in the anemonefish; the pectoral fins are golden yellow-orange, the pelvic and anal fins are dark black and the large lyre shaped tail is a pearly white.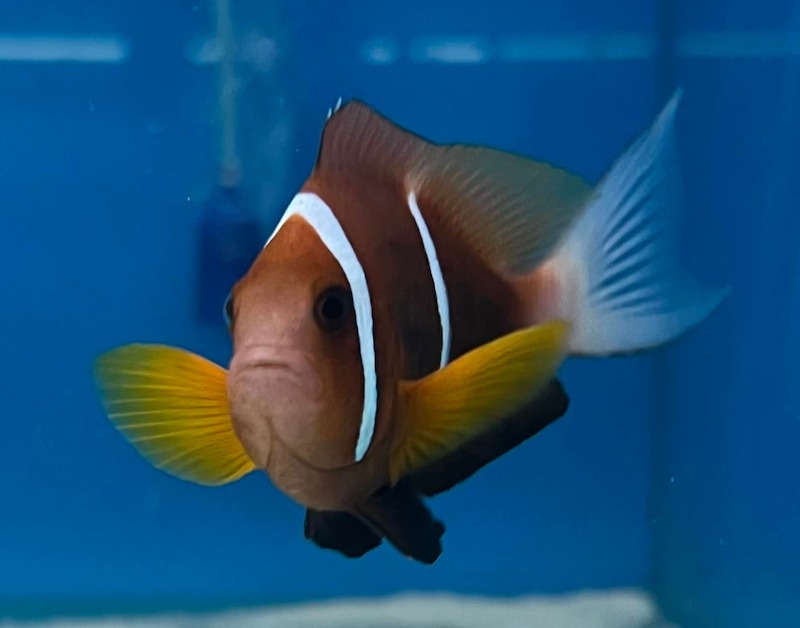 For all intents and purposes the Oman clownfish quite closely resembles what we'd expect to obtain if a breeder crossed the Red Sea Amphiprion bicinctus with the Maldivian A. nigripes, both of which are species that have the closest natural distribution to A. omanensis. Perhaps there is some kind of localized hybrid speciation that happened between the two aforementioned species similarly to the Rusty Flame and Mango angelfish but this is purely speculation on our part.
De Jong Marinelife has slated their Oman clownfish for captive breeding much as in they worked to produce captive bred widebar A. latezonatus clownfish. As exciting as the 'debut' of the Oman clownfish intto the aquarium hobby, we're equally excited to learn that fish are being collected in this region of the world and we can't wait to see what will next appear in this biogeographic 'suburb' of the Red Sea.