Acropora striata is a species of the broad group of staghorn coral which most reefers won't yet be familiar with but a new very colorful strain is about to change all that. Coming from the mariculture farms of Bali Aquarium this exquisite species falls somewhere in between a tenuis and a bottlebrush in overall shape but this rainbow specimen is certainly deserving of the colorific description.
The colors of Bali Aquarium's rainbow Acropora striata include a nice base of jade green with orangey-pink radial corallites culminating in boldly colored blue tips with a neon green axial polyps as the topper. The green-orange-blue color combination is certainly an eye catcher under this orange-filtered blue light photograph but this is the kind of coral which should shine just as nicely under daylight spectrum lighting.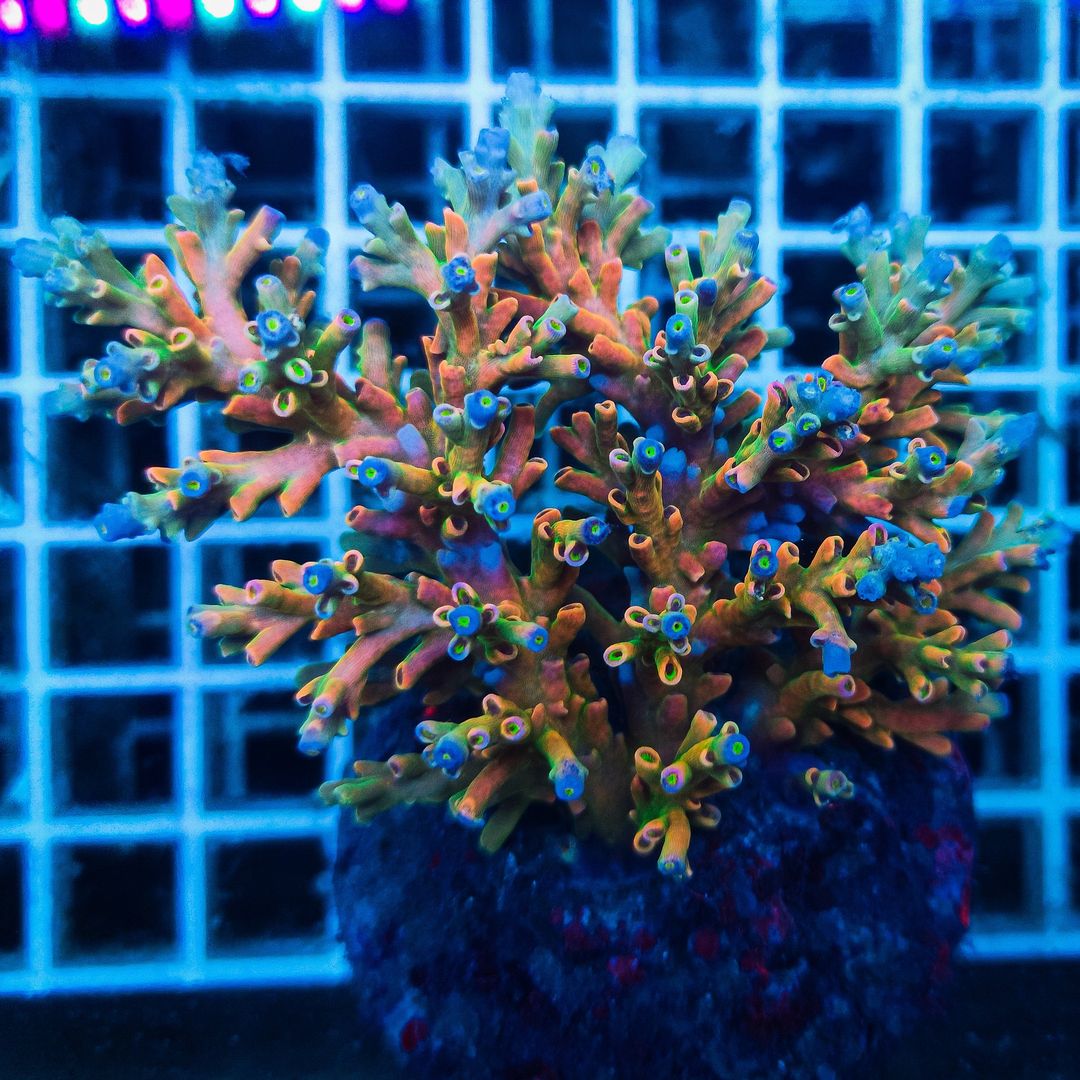 Reefers will be more familiar with the recently popular Acropora speciosa which has thin widely spaced branches and the rainbow Acropora striata greatly resembles what we imagine the hybrid of tenuis and speciosa would look like in shape, but with different colors throughout the colony. We don't have any experience with Acropora striata specifically but we imagine its care requirements would be somewhere between a classic Bali deepwater Acro and other bottlebrush species from the Indo-Pacific.
The golden orange color of the colony with its green base and blue accents would be quite the looker in a wide variety of reef tanks and it should be pretty straightforward to achieve exceptional coloration with Bali Aquarium's rainbow Acropora striata. If your Acropora tenuis collection is already full and you've been looking for the next big thing, the next hype strain of wildly colorful Acro, definitely be on the lookout for new variants of Acropora striata and do let us know if you score a piece before we do!