Ecsenius pulcher is a gorgeous and colorful blenny from Oman that we've never seen in the hobby before, but which might soon be making a debut in the slip stream of the Omani clownfish. The latin name of the 'gulf blenny' actually means beautiful and it might as well be called the tiger blenny or tiger striped midas blenny because it sure does closely resemble the common and popular Ecsenius bicolor midas blenny that reside in thousands of reef tanks around the world.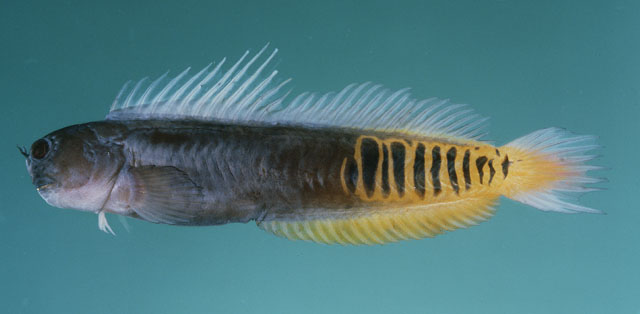 The live coloration of Ecsenius pulcher is dark navy grey in the first half of the body and bright yellow orange in the back half of the body – just like a Midas blenny – but then it sports a series of bold vertical black bars across the orange part giving it a beautiful tiger striped appearance. Much like its relative though the gulf blenny can display a transient color pattern which is dark on top and light almost white on its ventral region looking basically unrecognizable from its normal documented appearance.
Since the gulf blenny is only known from the Persian Gulf and Gulf of Oman we've not yet seen this species for ourselves in person but have high hopes that they might soon become available and could be rather affordable depending on their abundance where they are collected. We're putting this blog post out in anticipation that Ecsenius pulcher could be imported into the aquarium hobby and it could be a great candidate for captive breeding since the fish are small, their congeners have been bred before, and it wouldn't take too large of an aquarium to get them in the breeding mood.