Hygger makes a lot of different devices for keeping aquariums from lights to pumps to tanks but we want to talk about the Hygger aquarium heaters. Within the aquarium hobby the most static and stagnant devices of all are aquarium heaters with many reefers and aquarists sticking to brands that have been around for years, with Ebo Jagger/Eheim heaters being among the most widely used.
A few companies have tried to make some changes to how we keep our aquarium warm including the Innovative Marine Helios heaters, the BRS heating combo Schego heating element and Inkbird controller, and most recently we learned that Schego is getting into PTC heating elements. But other than that the most 'productive' company in the aquarium heating space has been Hygger which offers a wide range of different heater models with unique heating elements and thermostats.
Slimline Schego titanium heaters use PTC for better thermal management
Unfortunately Hygger isn't really participating in the broader aquarium hobby or industry opting instead to only sell direct to consumers online through their own webshop but most aquarists will be familiar with their copious listings on Amazon. The lack of retail support or public facing presence really throws up some red flags but boy do they offer up some compelling features with many of their aquarium heaters.
We love the flashy full color temperature displays with automatic shut-off features, temperature readout on the heater itself, automatic shut-off, high and low temperature alarms, quartz or titanium heating elements that are thoroughly enclosed in heat resistant plastic guards. We feel a twinge of jealousy every time we see a fellow aquarists enjoying these bells and whistles which make our simple alphanumeric thermostats look downright ancient, however trustworthy they might be.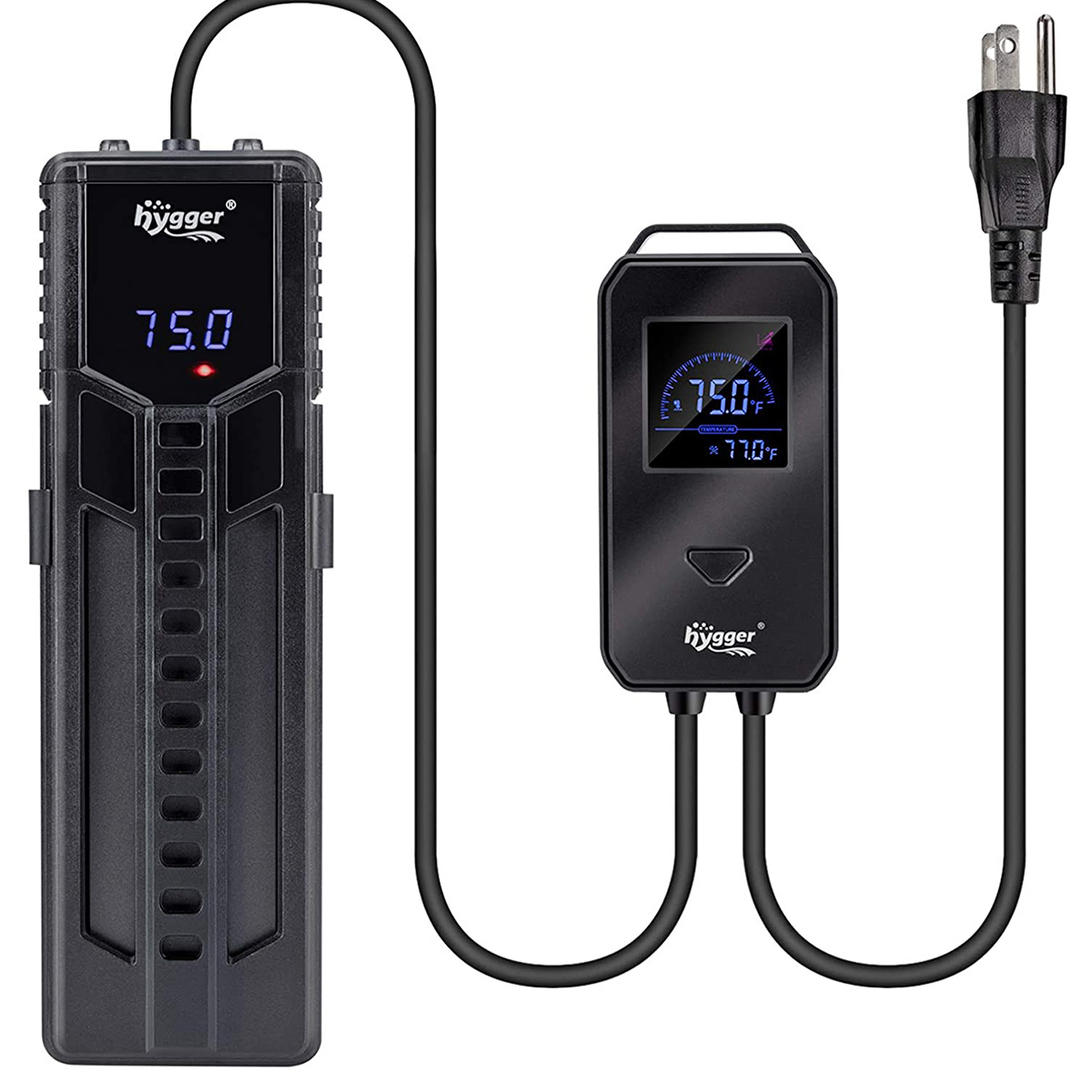 For many of their products such as lights, air pumps and other accessories you'll firmly get what you pay for and if these fail they'll gladly send you a replacement but the trouble with heaters is that when they fail, they really cause a problem for our tanks. We're not saying that Hygger heaters are faulty but a scan of the Amazon reviews appears to indicate that there does seem to be a high rate of defects.
Of course the majority of reviews are mostly positive as less critical users simply plug them in without scrutiny but the one-star reviews reveal a range of issues such as stray voltage, underpowered heaters, inaccurate temperature control and so on. We are definitely not advocating for Hygger heaters, perhaps a more thorough quality control inspection would weed out the wheat from the chaff raising the overall quality of the product line. But we do wish that some major brands would pick up the torch from Hygger or the original equipment manufacturer and offer the aquarium world some of these enticing heater features so that we're not stuck with the same ancient heaters that our grandparents used.