We readily admit to having acrylic sump envy but some of them lack at least one feature we class as essential in a reef sump. Hands down acrylic sumps win in the looks department but if they can't accommodate a roller filter, ATO reservoir, or algae refugium we go back to glass, and you can't cut out acrylic filter sock holders like you can glass ones because the material is literally welded on the joints.
When we spotted this unconventional configuration from Geo's Reef however we started to drool. Not only does it look super sexy in white, blue, and black gloss livery, but it has the roller filter, ATO reservoir, and fuge chamber, and to top it off it's been configured into a cool L shape. When configured this way of course this sump won't fit inside a standard Red Sea or Waterbox cabinet but place it outside of the tank and it's literally custom-made to fit under some stairs or in the corner of a separate filter room.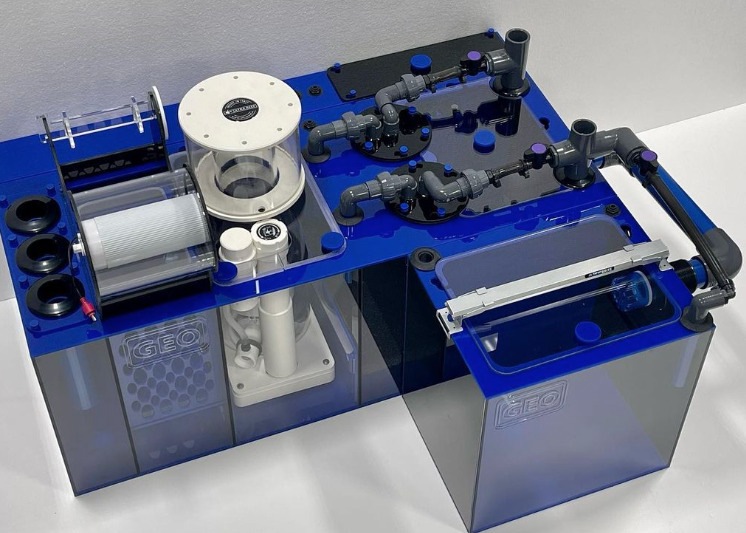 Acrylic allows customization like nothing else and although this sump could have been configured into one big rectangle the ATO reservoir has been slimmed down and moved to behind the sump, while the refugium has been spun around 90 degrees and finished with a fully whited-out Reef Brite LED to finish. It's a thing of beauty.
This model should also serve to encourage customization in the sump as well as the tank department, as no two sumps should be the same, as no reefkeeper's exacting requirements are the same. Don't go all out on acrylic but settle for manual sock cleaning, and think about the best design to accommodate your chosen methodology. Maybe even color-code it to your pump or controller. You'll be happier to work on a practical sump and if it looks anything like this you'll be the envy of your reefing friends. It's only a piece of plastic, but engineer and invest in a sump like this, and your tank will be a real head-turner, both above and below the cabinet.