If you're in the market for a show-stopping surgeonfish that won't cost the earth, look no further than the Freckle Face Tang, Acanthurus maculiceps.
Also known as the Spot Face Surgeon or White Freckled Surgeonfish, A.maculiceps is native to the Indo West pacific and can be found off the Maldives to the Andaman Sea, Christmas Island, the Philipines, the Ryuku islands, and as far away as Samoa, and is usually found swimming at depths between three and fifteen meters.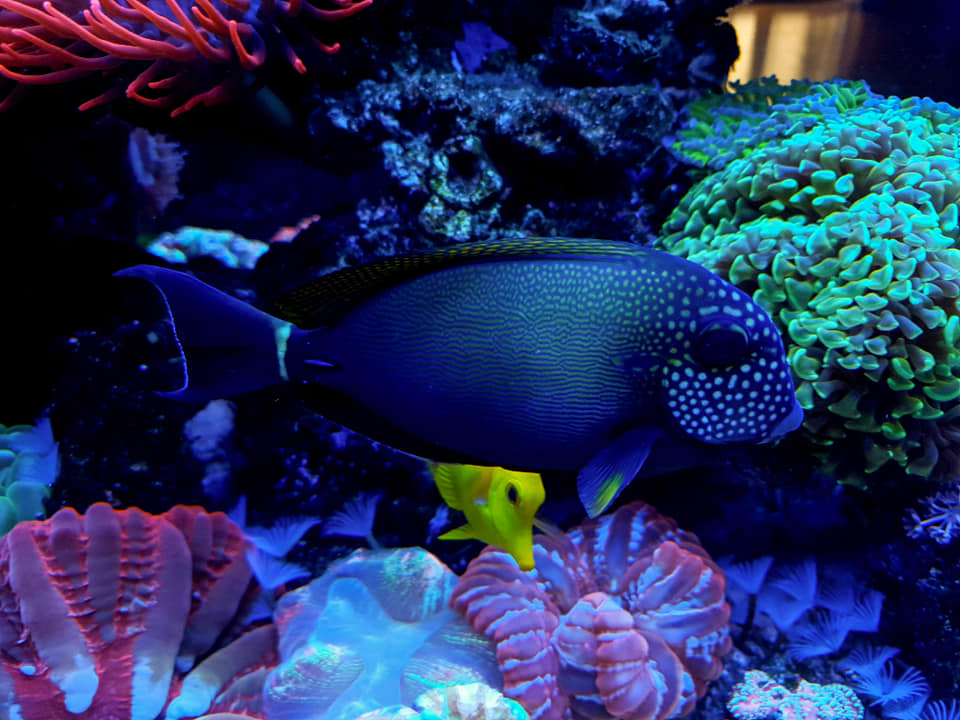 When sold as juveniles, they often look washed out, with beige-colored bodies and pale yellow spots, but mature adults are eye-catching in large displays for their dark, graphite base coloration, much more prominent white and yellow head patterning along with yellow highlights to the pectoral fins. Look close up and yellow lines, dots and striations also graduate the graphite grey towards the dorsal fin. Top it off with a yellow band on the caudal peduncle, white scalpels, that super steep head, and sub-terminal mouth, and the Freckle Face's patterning has something debonair about it that seems to soothe and compliment the visual color chaos of their more primary colored tank mates.
Research their size and the 40cm/15" maximum will be offputting to many, although that's very much a wild maximum and 25cm/10" is much more realistic long-term in captivity, even in a large tank. Zebrasoma desjardinii also is a potential 40cm/15", yet most would feel comfortable housing them in a 680 liter/180-gallon tank as a minimum, and it's the same for this species, though larger is obviously better. Give them the space they need and they will cruise majestically, flapping pectoral fin-powered as only a tang can.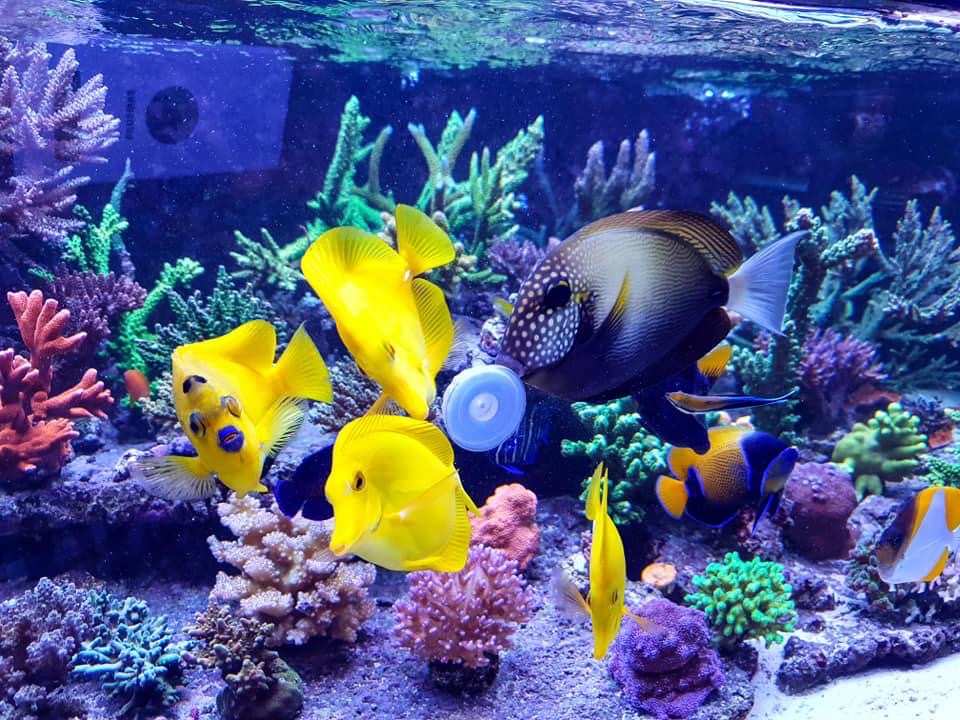 Surgeonfish have a reputation for territorial aggression although the Freckle Face isn't one of the worst offenders. To be on the safe side, avoid mixing with mature, similar-looking, closely related species like A. fowleri, tennentii, and nigricaudus, although most find that they are accepted by contrastingly colored A.leucosternon, and many mix them with Zebrasoma species like the Yellow Tang.
If anything it's the Freckle Face that would need protection from aggressive, more territorial species and long-term keepers like Aquaforest owner Seweryn Lukasiewicz (who provided these pictures here of his beauty,) describe them as peaceful. He kept one for many years in his home aquarium and it now resides, pride of place, in the Aquaforest 3168 liter/837-gallon show tank.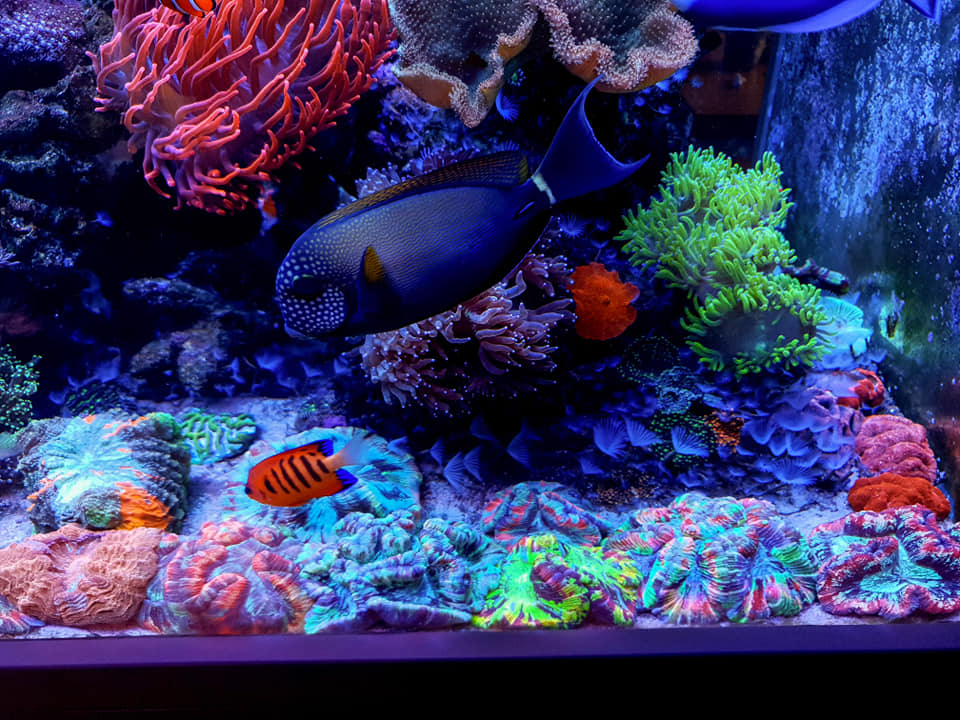 Feeding is straightforward, with quarantined specimens accepting everything from Krill, Mysis, and Artemia to flakes, dry pellets, gels, pastes, and dry sheets of Nori. Plenty of rockwork is advised for extra grazing, although not at the expense of swimming room and suitable glide space. Treat newly imported individuals (in a separate quarantine tank,) for Flukes and Worms, before finishing with copper.
Every time we see a mature Freckle face tang we want one, and it remains high on our list of large, dream reef tank inhabitants. And unlike some other desirable tangs, owning one doesn't come at a price. All of the above attributes make Acanthurus maculiceps well worthy of our Awesome Fish Spotlight. Expect to pay sub-£100/€116/£122 for a 3-4" juvenile.