Lighting manufacturer MicMol has come up with two new iterations of its G4 Aqua Mini and Aqua Pro Series lights, the Thor, and Thor X. The Thor is a 60-watt fan-cooled compact and slimline light fixture made from a single piece of aluminum and populated with 21 individually lensed 3-watt CREE light emitting diodes.
It is available in four spectral options, Marine, Blue, Planted, and Refugium, and (depending on the spectrum,) groups up to six different LED wavelengths into four app-controllable channels. The Marine and Blue options combine Cool White, Royal Blue, Deep Blue, Green, Deep Red, and UV, with the Blue model shifting the blue bias from 10 diodes in the Marine to 14 in the Blue.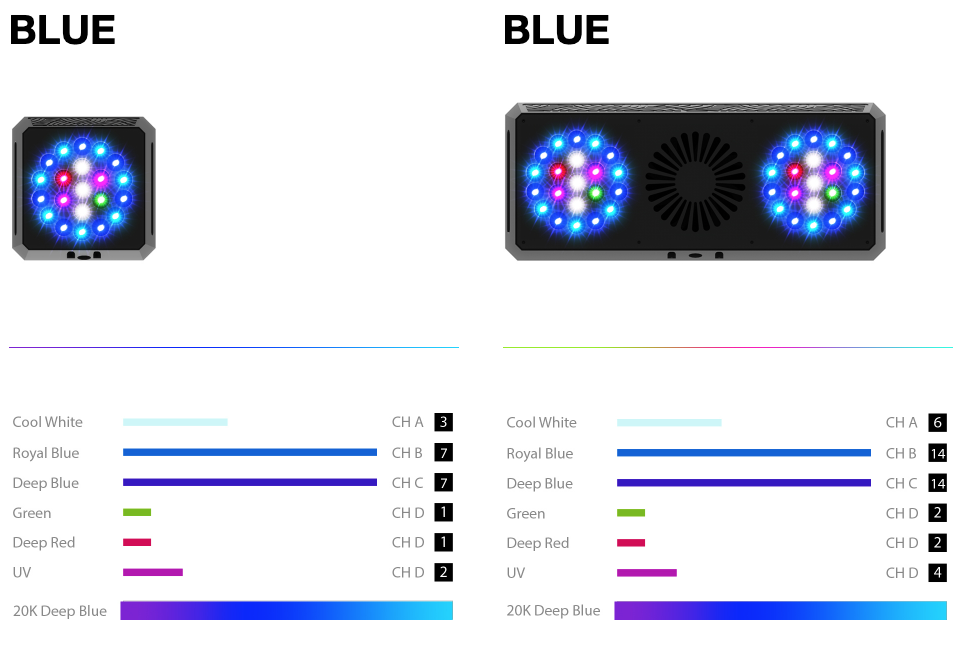 Every fixture includes a wired smart controller which then enables either Wi-Fi or Bluetooth app control from your phone. The app allows for all the usual presets, 24-hour running schedules, lunar cycles, acclimation, lightning (it is named after the God of Thunder after all,) and cloud cover, and the first app renders look intuitive, and colorful, and makes us want to play with all the onboard features. The Thor X has double the PCBs and hence double the diodes and power draw at 42 LEDs and 120 watts, and is aimed at lighting reef tanks up to 36×24" surface area, versus Thor's 24×24". 
Thor and Thor X both include a rear tank mounting bracket in the box, something we wish we saw more from all manufacturers, as rear tank mounting is overwhelmingly the most common way to mount LED fixtures and we often wince when confronted with the separate, additional price of having to buy a mounting arm. This arm looks good too, with two angle adjusters which allow for height, width, and angle adjustment of the fixture, offering versatility with a slick, made-to-measure bracket.
Both Thor and Thor X feature some angle and design detailing on their fronts to accentuate Thor's hammer, but if you feel that at 3.3lbs and 5.5lbs respectively they're a little on the light side to be wielded by the Son of Odin, a Thor Pro model is also available with three clusters and you guessed it, three times the diodes and three times the power.
Thor and Thor X represent good value at $259.99 and $399.99 respectively, especially if the X could be used singly to light a 36" tank on its own, with an adjustable mounting bracket included in the price. On paper at least, MicMol seems to have ticked all the boxes.