A new species of Butterflyfish has been described from Northern Australia. Coradion calendula was described based on 44 specimens collected from Western Australia, the Northern Territory, and North Queensland. It takes the number of Coradion species up to four, with Coradion chrysonotus being the type species. The genus Coradion lies within the Chaetodontidae family and was established by Kaup in 1860. The genus is diagnosed by a relatively short snout, brush-like teeth, and thickened lips. Coradion altivelis and Coradion melanopus make up the other two species in the genus.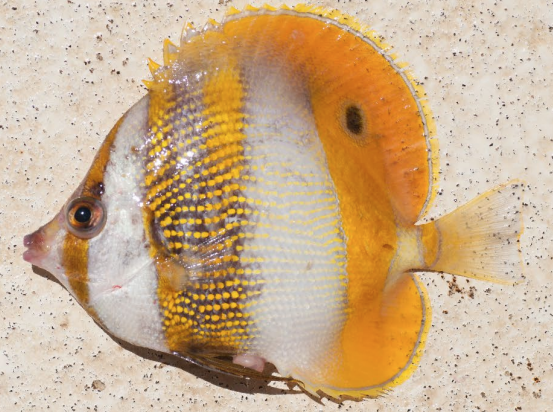 The new species is very similar to Coradion chrysonotus, which C.calendula lives with sympatrically and even hybridizes with at some locations. They differ in fin ray counts, an orange band on the caudal peduncle, a saddle-like blackish dorsal streak vs. a broad brown-to-black circum-peduncular band, a sharply pointed pelvic fin vs. a rounded pelvic fin, and a dark band on each inter-opercle joining on the ventral midline. Differences in DNA were very small.
All examined specimens of Coradion calendula were collected via demersal trawls from 11-128m deep. Most were collected at depths over 34m although juveniles can be found in waters as shallow as 3m. C. chrysonotus feeds on sponges and benthic invertebrates, and with no difference in dentition, C.calendula is highly likely to do the same. Colors can vary between specimens and locations although the shape of the pelvic fin should give quick reference to which is which with these sympatric species. It may even affect how they swim through their habitats.
The specific name calendula is the generic name of plants in the daisy family Asteraceae (Marigolds), alluding to the characteristic orange band on the caudal peduncle of the new species. Coradion chrysonotus has been in the aquarium trade so it's highly likely that Coradion calendula has been too. If you have one check those meristics – you may have a new species.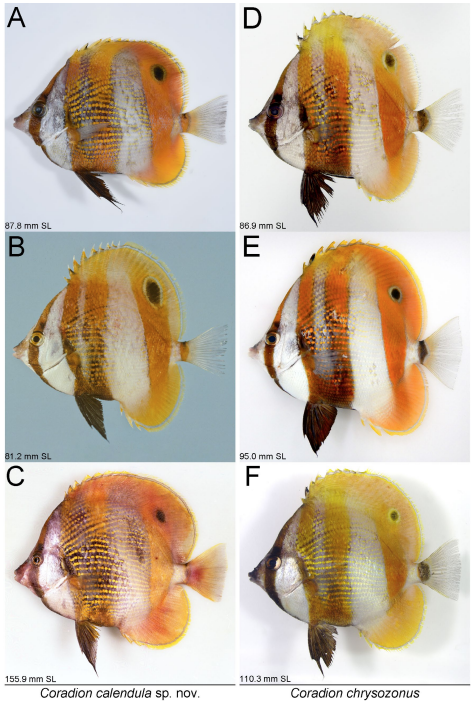 Citation
Matsunuma, M., Matsumoto, T., Motomura, H., Seah, Y.G. & Jaafar, T.N.A.M. (2023) Coradion calendula, a new butterflyfish from Australia (Teleostei: Chaetodontidae). Journal of the Ocean Science Foundation, 40, 1-285.