Zetlight is a new aquarium lighting company with more than a few lights to meet a wide range of application. At first glance the Zetlight Mini and Nano LED appear to be another me too LED aquarium fixture from some mysterious OEM in the east but closer inspection reveals that the Zetlight Mini LED and Zetlight Nano LED are packing a nice suite of features, with only some elements of form in common with the cheap clip-on and flup-up LED aquarium lights being hawked by some bigger names.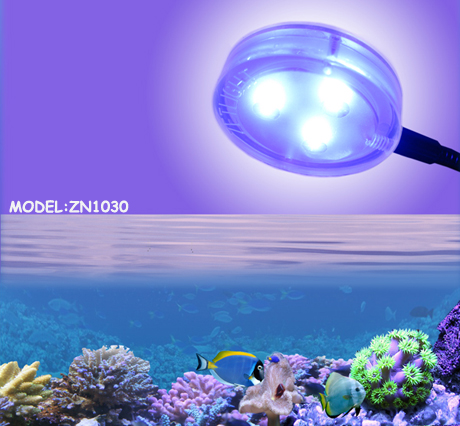 The Zetlight Mini is a tiny little LED light perched on top of a flexible gooseneck arm which clamps onto the edge of the aquarium. The three high powered LEDs in the business end of the Zetlight Mini pack three watts of power and as far as we know this is the smallest light of its kind with a real heatsink to speak of. Just in case the POWA of the Zetlight Mini LED is too strong for your puny reef tank, an inline rocker switch allows a crude adjustment of the lighting levels.
The Zetlight Mini LED and its three watts of real LED output are available in five color combinations to function either as a primary light with 170 to 200 lumens of 6500K or 12000K color temperature for the tiniest of aquariums. Alternatively the Zetlight Mini LED is also available in an all blue 460nm or all purple 420nm spectrum to be a secondary light for a pico or nano reef or a moonlight as real big reef, not bad for $30 or less.
Moving on up to Zetlight's second smallest LED light, the Zetlight Nano has a flip-up appearance with no hinge to actually flip up, but ten solid watts of distributed LED power will shine on your reef very similarly to the Sicce LED. Instead of having the same old combination of LEDs the Zetlight Nano LED uses 50 white LEDs with a power draw of 0.06 watts, three each of the green and red LEDs at the same power and 14 x 0.5 watt blue LEDs for the very best spread of lighting intensity and thermal energy to dissipate.
With an overall color temperature of 12,000 Kelvin, the Zetlight Nano LED is perfectly suited to the tastes of the average nano reefer with 450 lumens to bathe about 12 inches or 30 cm of aquarium length. Capacitive touch controls on the actual fixture allows the user to adjust the intensity of the Zetlight Nano LED with additional functions available via the included remote control. The beautiful glass underside of the Zetlight Nano LED may have been nicked from Vitrea but that $75 price tag is definitely not.
[youtube width="680″ height="400″]http://www.youtube.com/watch?v=vKCaAZG5-Vo[/youtube]