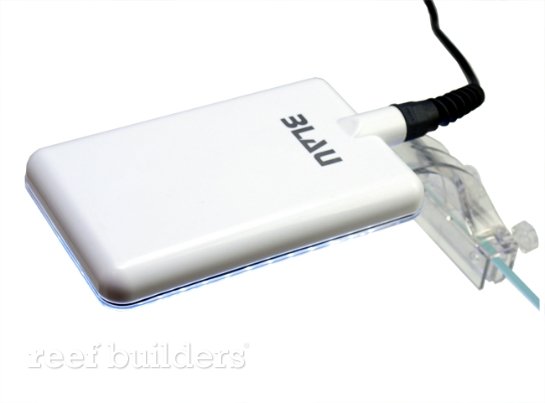 The Blau Nano LED is a small-scale and sleek looking LED fixture that definitely has the form and function combination we appreciate in our high-tech lighting. On top of this, Blau is aiming for affordability with this light fixture with a target price of $57 (€46) this tiny fixture is set for a September 1 release in Europe. 
The company had these on display at Interzoo 2012 that measure in around the same size of a smartphone you carry in your pocket (14.4 x 8.7 x 2.2 cm) coming in either black or white.  It is attached to your aquarium by a clear screw-on clamp  but we are hoping there may be alternative methods in teh works to give you control of distance and spread. The LEDs in the light feature 36 white LEDs and 24 blue LEDs giving you a nice crisp white worthy of most marine aquariums.
Good news for those of you who want some level of control as the Blau Nano LED features two channels to regulate the blue and white LEDs separately giving you the option a variety of color choices with a simple controller. The transformer also lets you use an external timer to control the light cycle as well.
The LEDs are low power and that give out a maximum intensity of 11,000 LUX at the center point for a 9W of power consumption. The diodes come with an integrated lens angle of 40° limiting the area it can adequately cover to about 25 × 25 cm, sufficient for most nano aquariums but some larger nanos may need a pair of these.
[Thanks Jose and the team at Acuaristica]
[nggallery id=708]