We've come to the final installation of our three part mini series featuring the private fish collection of Kevin Kohen. This last post covers Kevin's nano tank, so it won't be a long post as there aren't many fish in here. However personally, this is my favorite tank of his and it is a true heaven for rare fish geeks. Good things come in small packages, and in this nano tank Kevin has three super rare fish.
Before we take a look at Kevin's nano superstars, we'll cover the more common fish first. Assessor randalli used to be unknown in the aquarium trade, and the only two species anyone ever knew about was the yellow assessor (Assessor flavissimus) and the blue Assessor (Assessor macneilli).
It wasn't only in the last couple of years did ORA manage to offer captive raised specimens that this fish became popular and more widely known. Like all Assessors, A. randalli is found usually hanging upside down under overhangs and ledges in the wild, and can do very well in dim aquarium settings. The beautiful blue sheen is only seen under side light or when photographed with flash. In person, the fish is a very deep inky blue.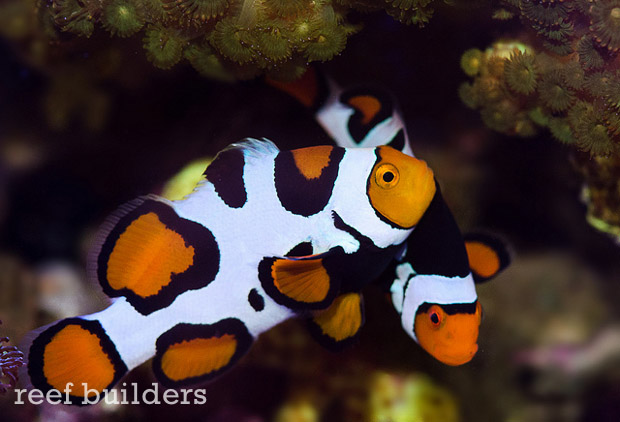 The quintessential clownfish is represented by a pair of ultra Picasso clownfish. This pair takes refuge in the corner of the tank and is showing spawning behavior. A juvenile and very nasty black tang also takes refuge in this tank, and will be removed soon as it grows and because it's mean and horrible to everything in it.
Now for the real stuff! The first of three fish that really piqued my interest is the super rare and also very beautiful Nemateleotris helfrichi (Helfrich's firefish) that originates from the Cook Islands. Unlike the normal Marshall islands Helfrich firefish, those coming out from the Cook Islands sport a totally different colored head. The magenta head stripe and black "mustache" sets this apart from the normal ones we see so often.
Another fascinating thing to note is that the Cook Islands purple head helfrich's firefish grows to about twice the size of the Marshallese ones. Interestingly, the type localion for N. helfrichi is the Cook Islands, and not the Marshall's. This means that the purple headed variant is the "type species" true to its description name, while the yellow headed Marshallese variants are the newer form. Who knows, the yellow head Helfrich's firefish may actually represent a separate species.
The second super exciting fish for me to see in Kevin's nano tank was a Plectranthias altipinnatus. This little guy belongs to a group of fish I hold very dear to my heart. Plectranthias is a genus of small serranid basses that are mostly demersel and secretive. This is an aggressive genus in terms of distribution.
Plectranthias is represented in every major ocean apart from the Southern and Arctic. It attains maximum development in the warmer waters of the Pacific and Indian Ocean, while in the Atlantic, it is only represented by one species (P. garrupellus); There may be another undescribed species in Curacao along with P. garrupellus.
In the aquarium hobby, only a handful of Plectranthias are offered to rare fish enthusiast. One of the main reason for their scarcity is the fact that all members are very secretive and stay close to their rock work labyrinth. Another limiting factor for their collection is the propensity for deep waters.
Many species such as P. garrupellus, are found in depths exceeding 200ft. Relatively shallower dwelling members such as P. longimanus, P. fourmanoiri and P. nanus may be caught by conventional scuba, but because of their cryptic nature, are often gone unnoticed. Kevin's nano aquarium is home to one member from the latter.
Plectranthias altipinnatus is a small, expensive and rare species that most closely resembles the aquarium staple, P. inermis. It is thought to be endemic to Japan, where almost all aquarium specimens and underwater photographs are taken.
There are two poignant pieces of information we would like to highlight with regards to this species, and Kevin's specimen. According to numerous underwater photographs of Plectranthias altipinnatus, as well as specimens that have entered the Japanese market, there appears to be two "forms" to this fish.
The first and less common form appears to have a very clear separation of colors on its body, being white ventrally and red dorsally. This form can be seen in the pictures above and below, and is also the form that is currently living with Kevin.
The second and more common form of P. altipinnatus, has no clear distinction of body coloration. Both forms of P. altipinnatus possess a filamentous knob on the 2nd dorsal spine, and can vary in size from an inconspicuous bump, to a very prominent and eye catching lobe.
The reason for the difference in both forms are not clear, and could just be a color variation. However these color forms exist in both juveniles and adults, and so it makes information even more hazy. Can they change color throughout their lives at will, or are they born like that? The holotype picture for this species is not available to us for now, and so we are not sure which form represents the type species.
The other interesting thing we would like to point out is the collection location and distribution of this species. P. altipinnatus was thought to be found only in Japan. The specimen that Kevin has however, was an import from the Philippines. It was collected along with the similar and more common Plectranthias inermis.
This is the first time we've heard of P. altipinnatus coming out from the Philippines. It's not that surprising actually, considering how secretive and "deep" these fishes live, it is likely that their range extends further than what was previously documented. Plectranthias is an amazing genus indeed with numerous "known-unknowns" awaiting description, and there are probably a lot more "unknown-unknowns" waiting to be discovered.
If any of you are actually still reading and have not lost interest after that nerd-fest on Plectranthias inermis, then here's the last exciting nano fish that takes residence in Kevin's nano tank. The beautiful and illustrious Liopropoma tonstrinum is an amazing fish. I love Liopropoma, maybe just as much or even more than Plectranthias. It is a hardy and easy going genus that offers a wide range of species in a wide range of sizes to the aquarist.
Like Plectranthias, Liopropoma is aggressively distributed around the world, and is represented by many species. Most are very deep and many are very unknown with a huge offering to potential scientific discoveries. That being said, it is no surprise that L. tonstrinum is found in a wide geographical range.
We've covered this in our previous article, where we have found examples of this fish in Japan, Tahiti, and most recently the Philippines. Kevin's specimen came from the Marshall Islands, where it is likely to be one of the first collected from there.
I've had the good fortune and luck to have been able to travel around the world and see so many rare fish that I personally find so captivating. However, the three fishes highlighted in this post, including this Liopropoma, are some that I have not seen before in person, and that rush of excitement that comes with a "first time" is something that I cannot put in words.
Maybe it's a fish geek thing, but for those out there reading this who can connect on the same wavelength, perhaps you know what i'm talking about. We really hope you have enjoyed our recount of Kevin Kohen's fish collection. We've saved this nano tank post for the last because personally we were most excited for it. Which one of Kevin's tanks did you like best? Let us known in the comments below.