One of my biggest nightmares as a marine aquarist is someday having one of the panes of my glass aquarium suddenly give out and dump 125 gallons of salt water on my living room floor. What a costly, hideous mess that would be! Frankly, I don't even want to think about it!
But your aquarium isn't the only vessel you should be concerned about when it comes to water spillage and other safety issues. Another is the container you use to mix and store salt water (or to hold RO/DI product water, etc.).
Why am I bringing this up? Many of us like to use containers such as plastic storage bins or trash cans to mix and store salt water for use in future water changes or just to be ready in the event of any other eventuality that might call for clean salt water. We trust these containers to hold many gallons of water reliably, yet, for all intents and purposes, water storage is an "off-label" use for them and some are certainly better suited to the purpose than others.
Here are some of the questions you should ask yourself when choosing a plastic container for mixing and storing salt water:
Is there any risk that it's been contaminated?
Whatever container you choose must never have held any liquids or other materials that could potentially have left behind a chemical residue. Nor should it have been cleaned with any soaps or detergents. To be on the safe side, it's generally best to purchase a brand-new container rather than repurpose an old one that might have held something toxic at some point.
Will it pose a hazard to children?
Keep in mind that any water-filled vessel that a child can fall into headfirst is a potential drowning hazard. Even those five-gallon sea salt buckets we often mix/haul salt water in pose a threat to curious youngsters who may fall in and be unable to free themselves.
Whenever small kids are on the scene, make sure any low containers placed at ground level—like buckets or the 20-gallon plastic storage bins I'm fond of using—are tightly covered and stored where they're are unlikely to access them.
Is it heavy-duty or kind of flimsy?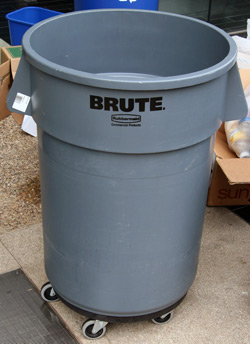 Plastic bins and trash cans vary considerably in their strength and durability, with some being downright flimsy and not at all suitable for water-storage purposes. Whatever style of container you choose, make sure it's heavy-duty and well reinforced. For example, many hobbyists out there favor—and we recommend—Rubbermaid Brute trash cans.
Also, be aware that after prolonged use for storing salt water, even relatively heavy-duty containers can become brittle and prone to cracking. So, it's a good idea to change out your old container for a new one periodically, especially, of course, if you observe any evidence of stress or splitting in the plastic.
Of course, there are various containers on the market that are designed specifically for water storage that can be used instead of repurposed bins or cans, though naturally you can expect to pay more for them. You may find the added cost worthwhile, however, if choosing one of these vessels gives you greater peace of mind and better fits your application.
What do you use?
So, fellow salties, what type of container do you prefer for mixing/storing salt water? Let us know in the comment section below.