The QuietPro DC pump is the latest pump from the Singapore manufacturer. Touting all the benefits of a DC pump, the Skimz QuietPro line can be ran wet or dry while delivering energy savings of up to 50%, all for an approachable price tag.
Designed with the saltwater aquarium in mind, the QuietPro is a variable speed controllable pump with a high flow rate that uses brushless DC (BLDC) 6-pole synchronous motors for a nearly noise-free operation. This allows for torque at a more constant thrust per revolution of the rotor. It also features a ceramic shaft to extend the life of the pump and motor.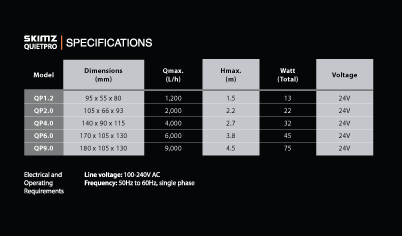 The QuietPro allows you to adjust the speed to fit your needs. It also has a slow start-up mode and automatic power-off protection mode. The slow startup mode builds speed up gradually when power is applied, getting up to the desired speed in about 20 seconds. As a safety check, if the pump detects no water or if the inlet gets blocked with debris, the pump automatically enables is power-off protection mode.
Here is a rundown of the QuietPro functions:
Variable speed – range from 5 – 100%
Soft startup – prevent excess wear on motor and impeller assembly
Shut-off blocks – automatic restart after 10 seconds (power off after 10 times)
Dry run – automatic restart after 2 minutes (power off after 10 times)
Memory module – in case of power failure, re-identification of the last set speed
Feed mode – disable pump for 10 minutes.
LED display – Wattage and speed settings
There are currently five models that push out 1,200 to 9,000 liters per hour. The smallest pump QP1.2 retails around $5o USD and the largest pump QP9.0 retails for around $100.