The Corona LED is a new light fixture from RapidLED with a familiar form factor, but a full suite of useful features. The Corona LED has roughly the same shape and cooling system of the classic AI Sol, and an LED and lens cluster more like a couple of LED spotlights.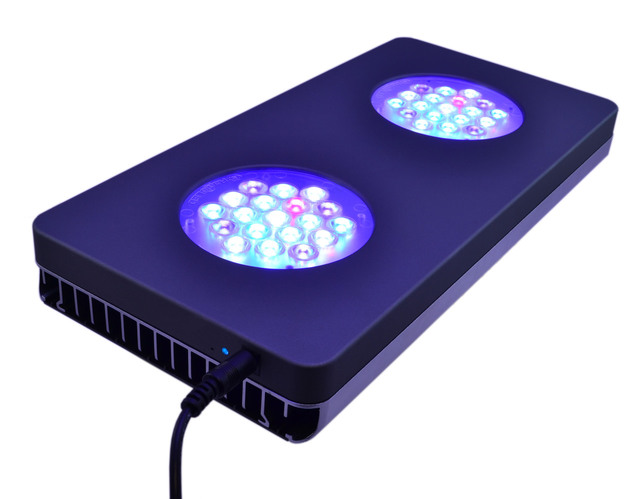 Despite not being a standout light in terms of appearance, the Corona LED does package everything we could want in a reef light, and it brings back one feature which we've lost from some of the first LED aquarium lights; a dedicated moonlight. Dedicated moonlighting may not be a deal breaker for most reefers since modern reef lights have a moonlight setting, but we still believe that a dedicated moonlight LED or two still makes for much nicer nighttime effects, particularly when it comes to shimmer.
The other nice differentiator of the Corona LED is the control system. The Corona has no buttons on it of any kind, and instead is controller completely wirelessly using the Fishbit app. Fishbit and RapidLED have been getting cozier over the last few years, and the union of the Fishbit app and the Corona LED means that early adopters of this crowdfunded controller system can combine aquarium and lighting control with just two pieces of hardware.
Other than that, there aren't really any notable surprises to the Corona LED; it's an actively cooled 120 watt light, with five channels of control, plus moonlights, and it has a diversity of LED colors. There's plenty of cool white and royal blue LEDs to give that comforting actinic-white lighting which makes corals pop, red, green and UV for rounding out the CRI, but we do however lament the omission of standard blue LEDs which activate different fluorescent pigments from just royal blues.
With the Corona, Rapid LED is not trying to reinvent a successful LED lighting formula, but instead bringing together the best and simplest hardware and software solution into a pragmatic and affordable package. At $420 the 120 watt Corona is not breaking the bank, and should be a logical choice for reefers wishing to save some money for other parts of the aquarium system. [RapidLED]