TGIF and welcome to another installation of our Friday Smorgasbord. We have some pretty cool stuff today including rare footage of ghost sharks, asteroids vs. oceans, whales vs. sharks, fish vs. powerlines and more.
Ghost Shark
If you had a retractable penis on your forehead, you might not want to be seen too much either, but thanks to the Monterey Bay Aquarium Research Institute we have this awesome video of a ghost shark. Also called chimaeras, ghost sharks are dead-eyed, wing-finned fish related to sharks and rays.
Whales vs. Sharks
Drone pilot Slater Moore captured a rare sight on camera: two adult female killer whales and two calves tearing into a still-wriggling shark in California's Monterey Bay. It's rare to catch this particular type of killer whale, called the offshore killer whale, on camera — and it's even rarer to catch one eating.
Asteroids and Oceans Don't Mix
What would happen if an asteroid landed in on of our oceans? The data scientists at Los Alamos National Laboratory recently build a model to show would happen if an asteroid struck the ocean, and its pretty spectacular. Devastating, but beautiful nonetheless.
Surfs Up!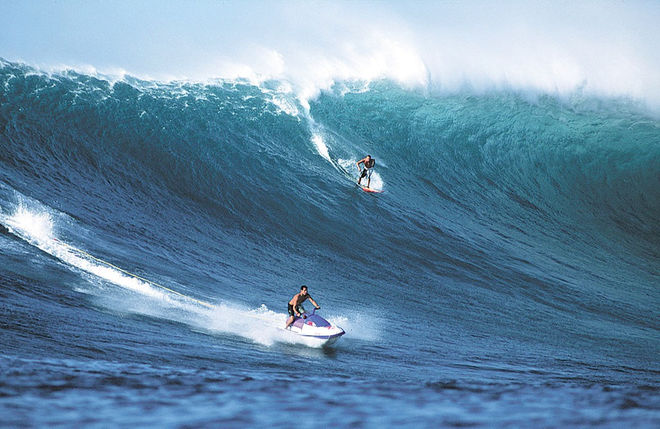 Gotta love late news. It appears a wave measuring at over 62 feet high in the North Atlantic has broken the record for the tallest wave ever measured by a buoy, the World Meteorological Organization said Tuesday. You start thinking about all the crazy December weather causing it, but they were a little late to the party as the 62.3-foot wave was recorded by a buoy back on Feb. 4, 2013 in the North Atlantic Ocean between Iceland and the United Kingdom after a particularly strong cold front brought intense 50-mph winds into the area.
[via CBS News]
Something Fishy in Seattle
Something fishy about south Seattle outage: Bird dropped fish on power lines causing 2 hr outage for 172 customers. Power back now.

— Seattle City Light (@SEACityLight) December 14, 2016
When power was knocked out in a part of Seattle, the team sent out to restore power found something pretty interesting — an electrocuted fish right below the line that was knocked out. The Seattle City Light crew investigating the power outage figured that one of the eagles or ospreys that routinely hunt in the nearby Duwamish River must have dropped it.