Roa rumsfledi is an exciting new species of butterflyfish from a genus that doesn't get nearly enough attention. Before today the Roa butterflyfish consisted of just four species which all have a high body profile and a pattern of alternating white bars on a dark body, and are generally more abundant in deeper waters.
The newly described Roa rumsfeldi represents the fifth species in the genus, with the familiar appearance for the group with a few minor physical differences. Besides the boring pore counts and fin sizes, the main distinction for Roa rumsfeldi is the totally black pelvic fins and spine, whereas all others have a white pelvic fin spine.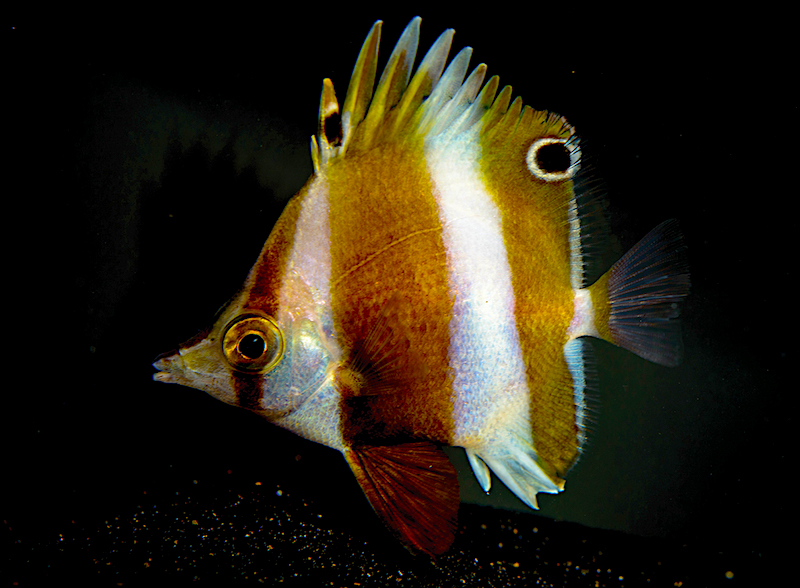 This species was collected by the California Academy of Sciences in the Verde Island Passage of the western Philippines. This fish was brought back both as preserved specimens and one live one for placement in one of their deepwater Twilight Exhibits.
The one detail of the pelvic fin was a very key feature for recognizing this fish as an unknown species because it wasn't until this fish was observed with other specimens of Roa that it became apparent how different this fish is. It would be surprising if there wasn't more species of Roa yet to be discovered in the mesophotic reefs where this genus is most commonly seen so we hope it's only a matter of time until this genus yields more new species. [ZooKeys]