Reef Blizzard
Reef Blizzard is a dry blended food for feeding everything in your tank. There are four packages based on particle size for, small polyp corals, large polyp corals, planktivorous fish, invertebrates, clams, sponges, bivalves, and octocorals.
Corals are photosynthetic animals but that doesn't mean they don't like to eat! Feeding your corals once or twice a week is a great way to keep corals happy and healthy.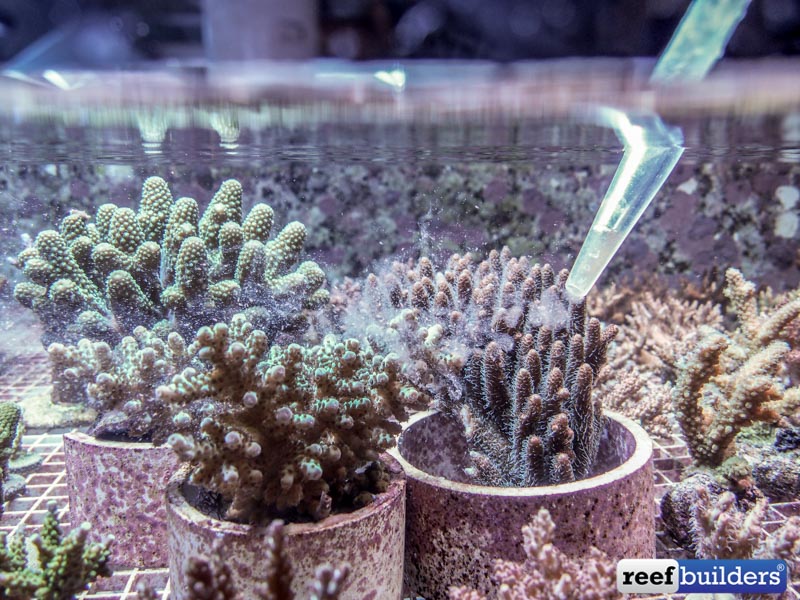 Depending on the maturity of your tank, you can also choose to dose small amounts of food each day. The key is to not overfeed and check your parameters following feedings. For newer tanks and nano tanks feed less.
There are different methods people use to feed corals. Some people like to mix a few dry and wet ingredients together and pour straight into the tank.
We found this quick video from NanoBox reef mixing up some Reef Blizzard food with Reef Snow, MicroBac, and Coral Aminos. In less than two minutes the coral concoction is mixed and dosed to the thriving reef tank.
NanoBox daily feeding regime
BrightWell ReefSnow – Half Cap
BrightWell Reef Blizzard – S – One spoon
BrightWell Reef Blizzard – L – One spoon
Brightwell MicroBac 7 – Half Cap
Brightwell – Coral Amino – Full Dropper
Tela Aquarium
We also sent a box of Reef Blizzard to our friends at the Tela Marine Research Center. Tela uses target feeding as a way to avoid fish picking at the coral tissue.
The corals which get feed the most are the LPS corals especially the big juicy Mussa angulosa coral, something we rarely see kept in aquariums. They have built a DIY funnel that covers the entire coral colony and feed once or twice a week.
They mix four spoons of Reef Blizzard L into some saltwater and pour the mix down the top of the funnel. The food falls like snow on to the coral which begins secreting a mucus to trap the food particles and shuttle it towards the mouth.
If you're new to coral feeding just remember not to overdo it! After that you can decide to target feed or broadcast the food around the tank. Look for Reef Blizzard foods wherever Brightwell products are sold.
---
Reef Blizzard – S
For feeding Small and Medium-Polyp Stony Corals
Reef Blizzard – L
For feeding Large-Polyp Stony Corals, Planktivorous Fishes, and Motile Marine Invertebrates
Reef Blizzard – O
For feeding Soft Corals, Bivalves, Sponges, Tunicates, Crinoids, and Polychaete Worms
Reef Blizzard – A
Planktonic blend for feeding Anemones and Planktivorous Fishes.
---