It's been a little over three years but we knew it would only be a matter of time until we caught wind of a new Xanthic Undulated Triggerfish. Like the hybrid multibar venusta angelfish that only come from the Philippines, the Xanthic undulated triggerfish might as well be an RVS Fishworld specialty because if anyone's going to find this aberrant Balistapus undulatus, it's them.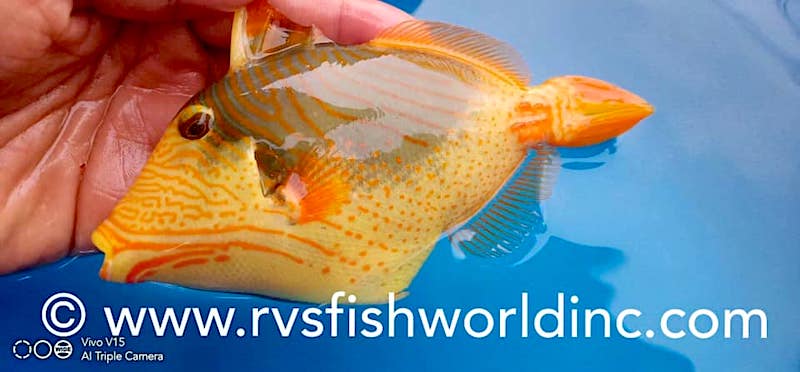 This new specimen of xanthic undulated triggerfish follows the pattern that we've seen in the handful of the quasi-biennial specimens with the distribution of its golden coloration. So far all of the xanthic undulated triggerfish have displayed broken lines, dashes or mostly spots where the golden coloration is present, and the normal green coloration is only retained where the lines are normal and continuous.
Some previous examples of the rare and unpredictable xanthic triggerfish
So unlike the infrequent 'xanthic' or otherwise orange pygmy angelfish that frequently revert to normal coloration, there is definitely a genetic component to the xanthism that these golden undulated triggers display. The permanence of the eye catching golden color and orange lines may vary, but the pattern of the orange lines/spots/dashes is locked in.
This year's golden undulated triggerfish from RVS is a near-perfect specimen in terms of size and the distribution of its xanthic color pattern. There's an even balance of both the regular green body color as well as the golden body and orange lines, and the development of orange scribbles on the face is particularly remarkable on this fish.