The Brazilian flameback angelfish, Centropyge aurantonotus, is one of the least well known species of yellow-topped pygmy angelfish, and one of only three species from the Caribbean and wider Atlantic Ocean. Coming from the Southern parts of the Caribbean, the Brazilian flameback angelfish is also the least available – besides the famed resplendent of course – so there is certainly a need to better understand the breeding and aquaculture requirements of this fun, blue-tailed reef fish.
Complicating matters for this species in particular is that populations across its natural distribution also occur in subtropical marine environments, including as we discovered in 2018 at St. Helena where it naturally hybridizes with Centropyge resplendens. To better understand the aquaculture requirements of this species researchers across a range of institutions examined the ideal rearing conditions for this species since it lives in both tropical and subtropical waters.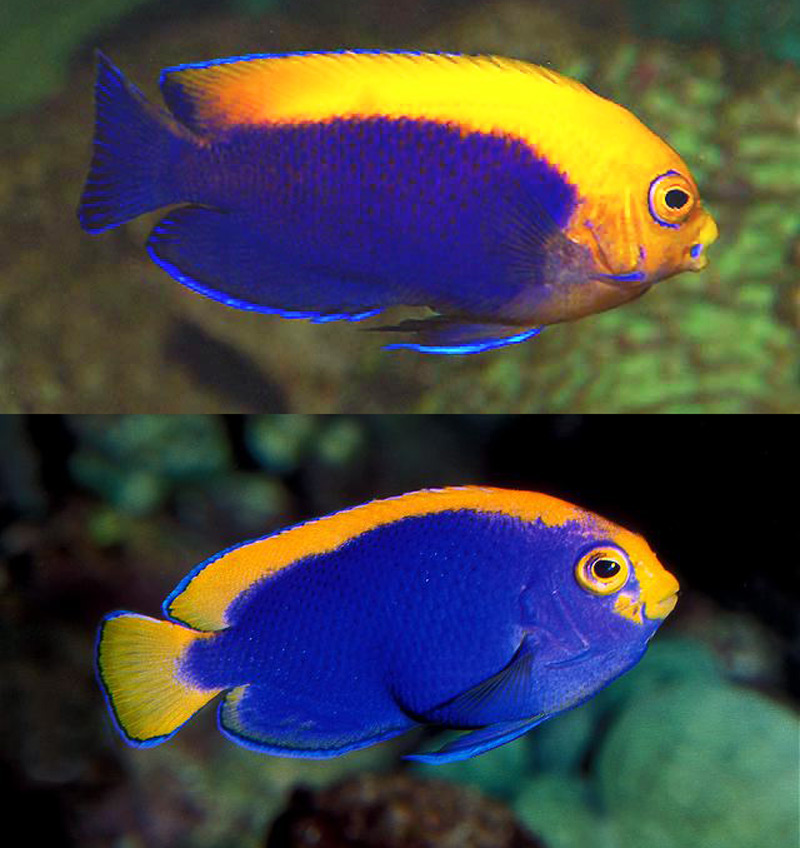 Brazilian Flameback above and resplendent angelfish below
To investigate the impact of temperature on the development of Brazilian flameback angels, the experiment incubated fertilized eggs in six different temperatures ranging from 20, 22, 24, 26, 28, to 30°C, that's a chilly 72 to a balmy 86°F. Interestingly, both extremes of temperature seemed to be outside the ideal range for incubation of C. aurantonotus with the lowest hatch rates, while the coldest temperature taking twice as long to incubate eggs to hatch.
Since this species has such a wide range of distribution, its embryos can survive at the temperature extremes, but the ideal range determined by the researchers seemed to be between 24 and 28°C, the classic tropical aquarium temperature of 75 to 82°F. Whether we're looking to breed the pure Brazilian flameback angelfish, or attempt to create new hybrids like the Resplendent Cherubfish or Flameback Cherubfish, knowing the ideal temperature for incubating their eggs is one step closer to getting more and better fish from captive bred species.