The late, great Aqua Design Amano founder Takashi Amano had many positive design influences on this hobby. Low iron glass, rimless tank design, and minimal silicone were all core ADA design principles that have left a legacy in the hobby that so many others now adhere to.
Glass pipework and stainless steel filters didn't exist before Amano drew them and brought them to the hobby, and every scaper owes their artistic influence to his original nature aquarium layouts.
Wood, stone, water, and plants were powered by glass and steel. It was definitely a case of form over function but his gear was just so damn cool, even if it was ridiculously expensive. It was the first aquatic designer label and appealed to the cash-rich, brand-conscious internet generation aquarist.
But after the great man's death, some ADA and DOOA products seemed to take a dip in design. The hundreds of Chinese copycat products caught up and equaled ADA on looks, yet could be delivered for a fraction of the price. The odd tweak here and there and they could even outperform them, the Superjet stainless steel filters being famously overpriced yet underpowered and awkward to uncouple and maintain.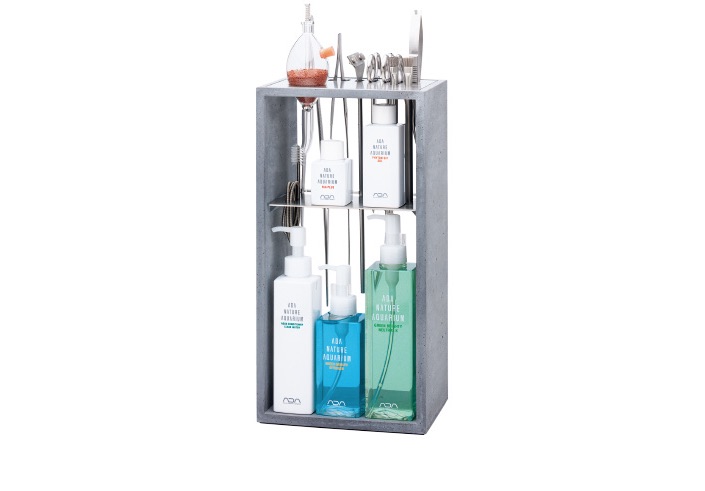 Cast in concrete
So the 14" tall ADA FC Tool Stand reignited our passion for authentic Aqua Design Amano, as we've never seen anything quite like it in the hobby before. A celebration of Brutalism, the tool stand combines a concrete shell with punched steel and is built to house numerous aquascaping tools and liquid fertilizers.
This is the ADA we know and love – completely unnecessary yet its mere existence makes us want to move to a minimalist industrial loft apartment and just 'scape between workouts while listening to a Bang & Olufsen sound system. You won't find one of these on alibaba.com! At least not yet anyway.
Iron oxide
Alas, the steel component of the stand will rust the second us saltwater owners spill water on it, and you wouldn't want to trip-up and fall onto one fully populated with steel cutting tools and glass.
But it's the use of concrete which will hopefully inject a bit of design inspiration into custom saltwater builds at least. Yes, it's heavy but its strength isn't in question. Amano's own home aquarium was built on earthquake-proof concrete, so let's sit back and see if any future, formed concrete aquarium stands will come out of it. We think Amano would approve the FC Tool Stand's concrete design.