The Maxspect Gyre Pro XFP 1400 is a brand new water mover for the very largest of tanks with enough power to drive a small boat. With a maximum power draw of four hundred watts, the flow rate of the Maxspect Gyre Pro XFP 1400 is so voluminous that it is no longer measured in gallons per hour, but in tons per hour.
In the case of Maxspect's new professional size gyre pump, the Gyre Pro XFP1400 has a maximum flow rate of 100 tons per hour which equates to 24,000 gallons pushed every sixty minutes. This prodigious amount of water movement is provided by no small machine with the Gyre Pro XFP1400 measuring in at 23 inches long which will not only be very powerful, but very effective since it will spread out this water flow output over nearly 60 cm of spread.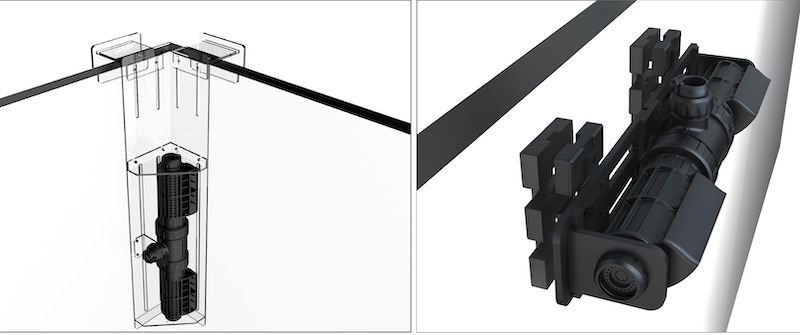 You can imagine that this much water flow and power in such a large pump will require a very robust, confident mounting system and two options for securing the Maxspect Gyre Pro XFP 1400 will be sold separately. AS with other Gyre pumps there will be a magnetic mounting option but with more powerful magnets that should be much stronger and more secure through thick tank walls but if that's not enough, Maxspect has also designed a rigid acrylic mounting bracket.
Interestingly the Maxspect Gyre Pro XFP 1400 will not have wireless connectivity at launch since it is really intended to be used in public aquarium settings where abundant concrete and steel construction obstructs wireless signal, and multiple pumps will be linked instead by a hard wire. Instead of a smartphone app the Gyre Pro XFP 1400 will use a similar manual control scheme as the Maxspect Jump pump controller which we found very easy and intuitive without even having to crack open the instruction manual.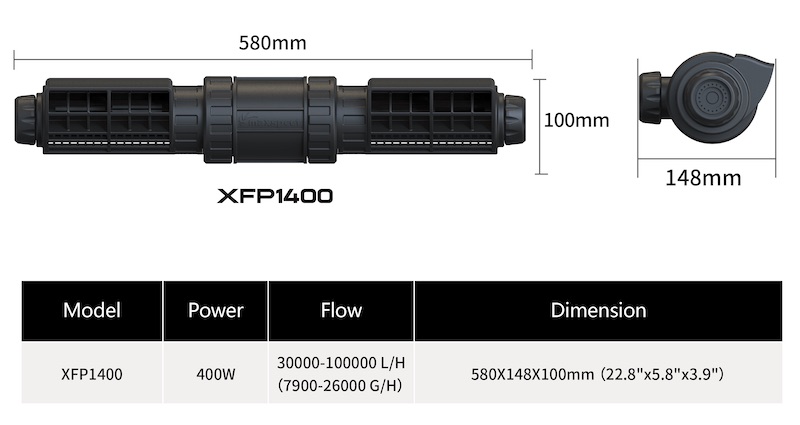 Maxspect designed the Gyre Pro XFP 1400 primarily for the commercial aquarium displays around the world but with private reef tanks growing ever larger and requiring strong flow for high energy SPS corals, we can see a huge demand for this massive water mover in some of the hobby's largest reef tanks. However interested buyers should be prepared for a four figure price tag which doesn't seem too outlandish considering the numerous $500 pumps that might populate some of the hobby's biggest aquariums, not to mention the large coral farming setups that are becoming increasingly common.
Maxspect's newest powerhouse pump will not be manufactured at a huge scale for a while but small quantities will start becoming available around June to July this summer at which point we'll really be able to discover what this degree of power can achieve in the Gyre pump form factor.