The company that brought you KH Keeper has today teased its latest addition to the Reef Flare lighting range, Reef Flare Pro. Like the existing Reef Flare model, the new Pro is a fan-cooled, Wi-Fi controlled fixture available in three sizes, S, M, and L. And as you might expect, to earn the Pro moniker it has also upped the ante with higher wattage, more diodes and an extra color channel than before. 
But Pro then goes two steps further again by offering a choice of three body colors and two spectrums versus the standard Reef Flare's one. Buy a black or white unit and you go full spectrum. But buy a blue-colored unit and you get a blue-biased spectrum in the same wattage. All the Pro units will come with new wide-angle lenses, and in a slimline fixture that's only 30mm (1.2") thick.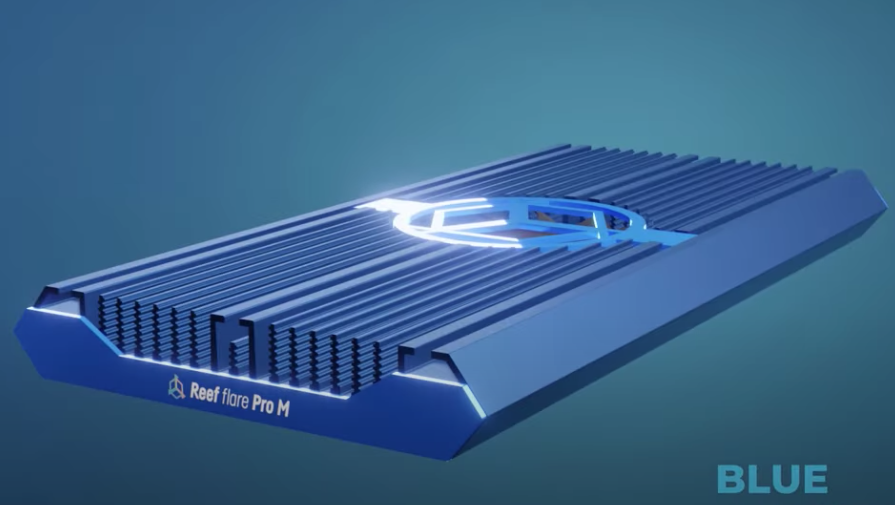 Eight-channel control
The Pro range is built around the compact, 80 watt S model, populated with 2 UV, 2 violet, 6 indigo, 6 blue, 1 green, 1 red, and 6 warm white diodes, making 24 in all, split into eight independently controllable channels. The standard Reef Flare S has 16 diodes, seven channels and uses 70 watts by comparison.
The Pro M model then doubles the wattage and diodes at 160W and 48 diodes respectively, and the L model triples it at 240 watts and 72 diodes. S and M use one central cooling fan whereas L is fitted with two. The blue/white diode ratio obviously differs from the Blue model.
All those LEDs combine to produce what Reef Factory claim to be the "highest PAR value in its class," but the 80-240 watt modular LED lighting category is a very broad one, so we can see many manufacturers who would no doubt dispute that, and we eagerly await some vigorous independent testing. 
Conjoined triplets 
Is there an advantage to bolting up to three modular lights together in one housing? Its makers have got to use one less cooling fan on the L by doing so, and despite it really being three conjoined triplets, the L only needs two mounting arms, instead of three. So the L model may represent a cost-saving versus mounting three individual S models, and with only one power cable to boot. Cables now embed into the new tank mounts too.
By adding nine new variations to its existing lighting portfolio, Reef Factory now casts a wide net of options and combinations to accompany its growing range of devices. And by offering higher power and a blue hue, (as well as light bars,) this latest launch serves to entice more users to light their tanks and invest in this expanding marine technology brand.
Reef Flare Pro is due for launch this October. The price is to be confirmed.