The productive folks over at Waterbox Aquariums have added yet another reef-ready model to its substantial range of tanks. Named Infinia, stand-out features include an aluminum-framed cabinet, aluminum composite cabinet panels, "Marine Shield" electrical compartment, and net cover lids, on top of all the other included features like a dual manifold, non-return valve, pre-cut pipework, and adjustable feet.
The four Infinia models are large, stretching from 40-72" in length, but they're also wide, front to back, with the 125.3 model being nearly 24" wide and the largest 275.6 model being over 28" (720mm wide,) and nearly 24" high. They enjoy gross volumes of 125, 165, 215, and 275 gallons, and all have the black glass central weir, twin outlet, black vinyl wrap, Starfire glass, and neat black silicone that Waterbox supplies as standard.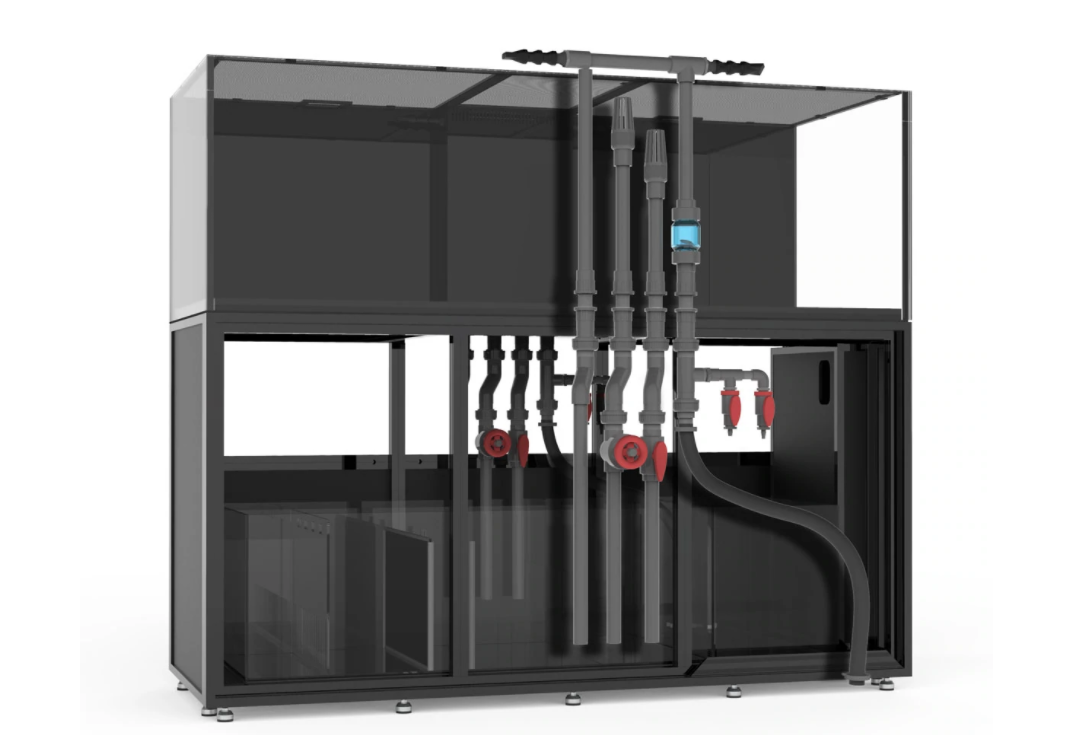 It's not the first time they've debuted a metal frame cabinet or the neat cabinet control center either, as the current top-of-the-range model, the Reef LX comes with both, and an option to go even longer and wider than Infinia with the giant 320.7 model. But Reef LX comes with wood composite doors and cabinet panels whereas Infinia comes with aluminum composite panels for even greater water resistance.
And instead of you having to buy an aftermarket DIY mesh lid and cut it to size yourself, all Infinia aquariums come with the familiar mesh lid that we see so many of now, straight out of the tank crate. The sumps are spacious with twin filter socks, removable macro algae baffles, ATO reservoirs, and plenty of room for skimmers, bio-media, and return pumps. Prices range from $3199-to $5999.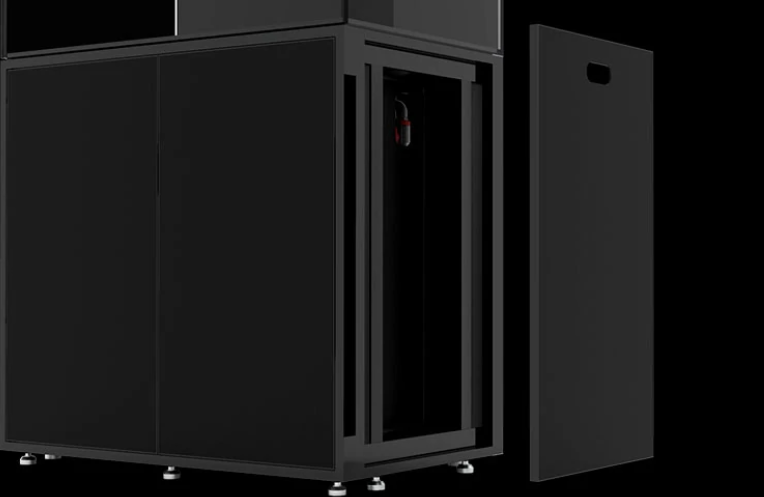 A Waterbox model for everyone
The aquarium market is in many ways like the automobile market, with rival manufacturers producing very similarly sized, even similar-looking models that compete on price, exacting dimensions, and features to appeal to different demographics of people. You can't patent five panes of glass, and Waterbox clearly seeks to be able to supply a tank model to virtually anyone who is in the market to buy one with models that compete very closely on looks and features with ADA, Innovative Marine, and Red Sea.
The Waterbox portfolio now swells to no less than 47 models, and with that alu-composite cabinet, electrical compartment, and supplied net covers, its latest release Infinia has placed itself firmly toe-toe with the antipodean favorite, Cade Aquariums. Competition is a good thing, it keeps prices keen for the consumer, and nobody likes a monopoly…although Infinia only matches Cade's features which are now a couple of years old, and doesn't surpass them. Why don't we get a roller filter, a more premium cover, and some extra innovation for our $3-6000? And where do the substantial dosing reservoirs go that would be part and parcel of fully loading one of these beauties with SPS corals? We want to see the next evolutionary leap in reef tank design.
The rimless, equipment-less, off-the-shelf tank market has revolutionized everyday reefkeeping, allowing everyone to experience the thickest, clearest most polished glass, and a chance to equip a tank with their own choice of equipment and run their own filtration methodology. These tanks are now at the limit of what people can lift or fit through a door, so they can't really get any bigger or employ even thicker glass. Infinia's features are great on so many levels and combine premium with well-thought-out everyday reefing practicality.
Melamine Faced Chipboard and MDF really don't suit wet environments, especially when a reef takes two years to grow in by which time the cabinet is showing signs of needing replacing. With this and other aluminum framed aquarium cabinets, long-term anxiety is removed, panels can be popped off and replaced and these all-weather panels shouldn't even need replacement. And if you want to go hardcore and go fully panels-off with Infinia – we think that's a pretty awesome look too.
We toast the Waterbox Infinia and others like it as the current state of the art. It's a dream tank. But we also look forward to seeing what's possible next, in the future realms of reef aquarium design, build, and tech integration.