Summertime, wildfires, and the return of El Nino mean it's time to think not about how we heat our reef aquariums, but how we keep them cool. We need to keep our tanks at a steady 25C/77F with few exceptions, and prolonged periods of 28-30C/82-86F can mean stressed fish and corals, and even death. So let's look at all the options…
Air conditioning for fish tanks
You may scoff at this idea, and instantly write it off as not practical or affordable, but the best way to keep your tank cool in the heat is to install air conditioning. Install aircon, set your room temp to a comfortable setting, set, and forget, and as long as you don't have a crazy amount of pumps and lights your reef tank shouldn't ever overheat. It's what they've been using in hot countries for decades, its getting more and more affordable, and now you can even get freestanding units starting at just a few hundred dollars. It keeps you and your livestock safe and comfortable and can double up as central heating if your location also experiences cold spells. Think about the value of your livestock, the time and effort you've put into your tank and aircon is actually one of the best all-round options. If you are planning a tank build and can add aircon, definitely add it, as it will pay dividends long term. 
Aquarium chillers and coolers
After aircon the best cooling devices you can add to your home aquarium are chillers. Available either as refrigerant chillers or evaporative coolers, these bulky but vital devices have the tank water pumped through them, where a thermostat monitors the temperature and cools the water to your set limit, like 78F for example. You'll need a separate pump and pipework, or a manifold to connect them up to your plumbing, as well as a space underneath or near the tank to put one. They can be noisy during operation, expensive to buy, and actually vent off heat themselves, but a correctly sized chiller can hold a water temperature below ambient for as long as required and literally save lives. They help to keep tank temps within a very narrow margin, sometimes to within half a degree, and that can also play out well for maintaining delicate corals year round. If you can afford it, our own personal choice is a heater which heats as well as cools, by way of a titanium heater built in. They tend to have very accurate thermostats and again you can just set your temp to say 77F and a chiller with a heater built in will hold that temperature year round, whatever the weather. 
A word of warning if using separate aquarium heaters. Set both heater and chiller at different temperatures so that they don't fight with each other. Set the heater two degrees below that of the temp at which the chiller kicks in, as if you set them at the same temp you will have the heater and chiller on at the same time, using loads of electricity, and shortening each other's life spans. This can also be mitigated by plugging them into a cool stat, where the heater and chiller are plugged into the same power bar, which is then controlled by an external thermostat. If it does what it should do, the stat will then turn one or the other on or off as required, and hold a steady temperature. 
Cooling fans for aquariums
Cooling fans range from ordinary household fans to banks of low-profile fans that clamp to your tank rim. They can and do cool aquariums in emergencies by blowing cool air over the surface of the tank. We like the aquarium ones because they look cool and support the industry, and again they can be plugged into a cool stat and kicked into operation if the water temperature reaches a certain level, or some sophisticated units have their own probe and thermostat. Failing that, just plug them straight into the wall when the tank overheats, and unplug them altogether when the temperature is back to normal.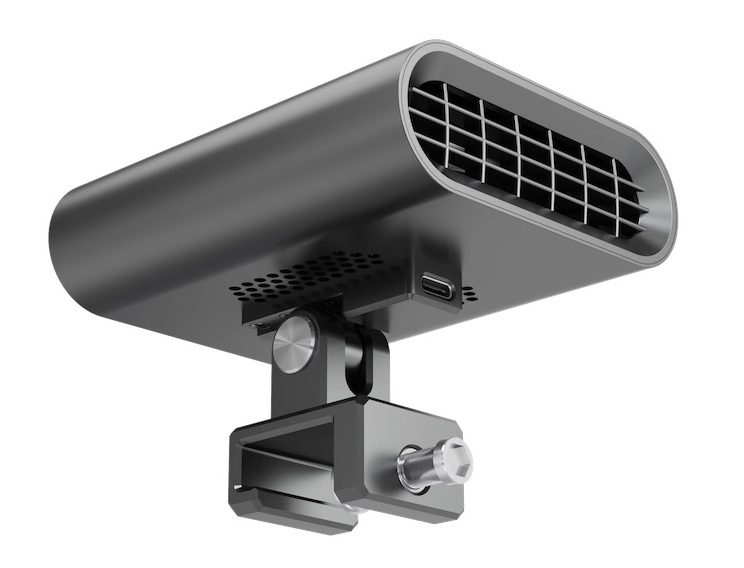 Can you use ice to cool an aquarium?
Ice and cold water can be used to cool a reef tank, but are best when not used in direct contact. Fill a plastic bottle with water, freeze it, then float it in an area of high flow in the sump. If the ATO reservoir is part of the sump then just floating a bottle of ice in the reservoir, can help to cool the water, and if you use a lot of top-off water, which you will in hot weather, your ATO will also pump that now cooled RO water across. In extreme heat several bottles or freezer packs can be floated in the tank, and used in rotation, freezing them once they get to tank temperature. You could freeze RO or DI water, but sudden temperature shock could kill fish and corals, and risk cracking the tank glass. 
Turn your lights off
Common in the days of Metal Halides, if the main sort of heat in your system is the lights, turn them off. Flow is more important to corals than light, so turn the lights off for a few hours, dim them down, run a shorter daytime schedule, or in emergencies, have them turned off all day. Extractor fans that pull hot air from over your tank and pump it outside are a good idea. Algae refugium/scrubber lights can also be turned off.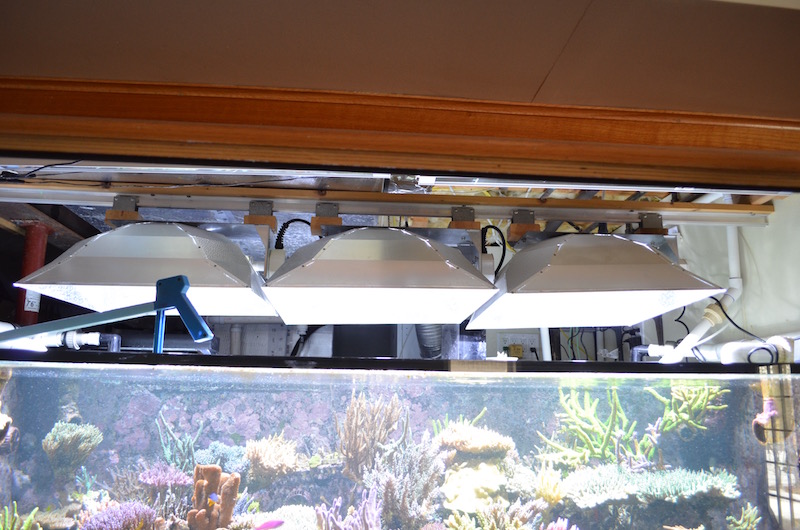 Turn your pumps off
This is also less of a problem these days, but when we used to run multiple powerheads, the heat they gave could also cause issues. As stated above, flow is important. You could maybe turn a reactor off, or consider models with the pump body on the outside of the tank. Closed loops and manifolds may also lessen the total number of pumps running the system, and the total amount of heat produced too. Your filter media needs water turnover and oxygen, just like your corals, so always keep return pumps and wave pumps on.
Five Reef Tank Tips for Hot Weather
If it's hot outside, this may be one time when you don't want your protein skimmer to draw in air from outside. It may further heat the water. The same with an airpump. Make sure it is drawing in air from the coolest possible place and not blowing in hot air, making the problem worse.
Cabinet heating up? Take the doors off to aid cooling.
Research your fish species' temperature requirements. Tiger angels and Bandit angels are notoriously bad in high temperatures. Torches can "bail" if hot too.
Check those powerpacks! Make sure power strips and converters are separate, with neat wiring. Don't cause a fire!
Get a temperature monitor with alerts. It can notify you on your phone if the tank gets too hot. Some controllers can also then commence actions like turning the equipment off or turning chillers and fans on, without you even being there.