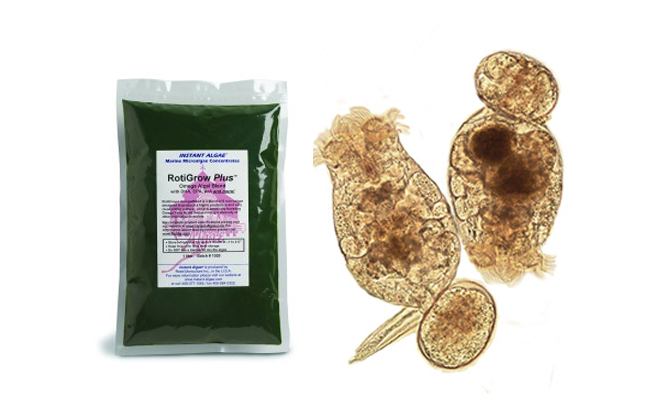 Reed Mariculture RotiGrow® is a new line of frozen algae pastes that make the prospect of raising marine fish at home easier and more affordable than ever before. Reed Mariculture is well known and respected in the marine hobby and commercial aquaculture industry with two of their biggest product lines being Reef Nutrition® aquarium products and Instant Algae® for commercial and home aquaculture use. The RotiGrow system may prove to be a true breakthrough in larval nutrition, improving survivability in previously sensitive-to-rear species.
One of the largest issues in marine fish breeding is providing fish larvae with the appropriate levels of two key highly unsaturated fatty acids (HUFAs) also known as Omega-3s. These key HUFAs are eicosapentaenoic acid (EPA) and docosahexaenoic acid (DHA), while a third, arachidonic acid (ARA) is also relevant although it rarely seems to garner much attention. Fish breeders are able to provide EPA rather easily, as it is highly obtainable through easy-to-grow algae such as Nannochloropsis. Meanwhile, DHA often proves elusive, being produced in higher levels mostly by brown or red algaes which are harder to culture and have a tendency to not have the same long shelf life that a Nannochloropsis paste can have.
Often times, the difference between success and failure in larval rearing has proven to be the availability of DHA, and some experts have suggested it is even more important than EPA. The net result of DHA dependence has meant fish breeders had to either culture T-Iso algae or practice a very stringent rotifer enrichment routine — otherwise they'd be unable to move beyond very forgiving species like Clownfish and Banggai Cardinalfish.
The folks at Reed have re-examined the entire larval feeding process with the RotiGrow system, specifically reexamining the rotifer. One of their main insights is dispensing with the notion of thinking of a rotifer as an empty bag with no nutritional value. As reported by Reef Mariculture co-founder Randy Reed at MACNA 2010, it turns out that 75-80% of the digestible elements of a rotifer are not the gut load, but the internal soft tissue. The gut load, while still noteworthy, is only 20 to 25% of the overall total digestible biomass of a rotifer, and thus, thinking of the rotifer as an empty bag ignores 80% of the total nutrition a rotifer provides. This game-changing revelation means that what we use to culture rotifers is just as important as what we keep in their guts. Rotifers, just like baby fish, are what they eat.
The RotiGrow system is a three-pronged approach. It starts with rotifer grow-out feeds designed specifically to grow high densities of rotifers with enhanced nutritional profiles of the soft tissue. For most hobbyists, RotiGrow Plus will be the grow-out feed of choice, providing an all-in-one type grow-out feed, bumping up HUFA levels of both EPA and DHA in the digestible tissues of the rotifer. Reed also introduced RotiGrow Nanno a clean, high yield single species (Nannochloropsis) rotifer feed that produces phospholipids-rich rotifers. Both products are frozen with a two-year shelf life.
The second step in the system is the pre-feeding enrichment (aka "gut loading") of rotifers. Reed Mariculture has designed a few new rotifer enrichment products under the main name of N-Rich. However, here is the beautiful part of the RotiGrow System. For most home breeders, rotifer enrichment can be more than sufficiently accomplished simply by using RotiGrow Plus. Basically, just make sure your rotifers have been recently fed and the water is still green, and your cultured rotifers should be ready to feed to your larvae.
The final step, and arguably the other major breakthrough, is a refinement of the use of an algae paste for greenwater rearing of marine fish. Greenwater technique is certainly not new, and has generally proven essential for rearing most all marine fish. The problem with traditional greenwater technique is breeders either used live algae (i.e. Nannochloropsis and T-Iso), which contribute in both positive and negative ways to the larval fish's environment, or they used one or more frozen pastes to provide an inert greenwater.
Frozen algae pastes have been problematic because those that provide critical DHA had terribly short shelf lives. Most hobbyist breeders could never use a $70 bottle of frozen T-Iso in a month or two, so they relied only on Nannochloropsis which has a long shelf life but fundamentally lacks DHA. All of this has been answered with RotiGreen Omega with a two-year shelf life when kept frozen. The bottom line is that RotiGreen Omega provides an ongoing balanced EPA:DHA combination, while retaining a long shelf life and excellent performance in greenwater technique.
Still, if you feel the need to tinker, there are two other greenwater formulations, RotiGreen Nanno (replaces the longstanding Nanno 3600 product that has been used for years in clownfish hatcheries) and RotiGreen Iso, which is meant to replace live T-Iso greenwater and offers an improved four-month shelf life over old T-Iso pastes.
Early experiences with the Reed Mariculture RotiGrow line are promising. The product line is the first valuable product revision we've seen in marine larviculture in possibly a decade. In the next installment, we'll discuss first-hand experiences with this potentially revolutionary line of products.