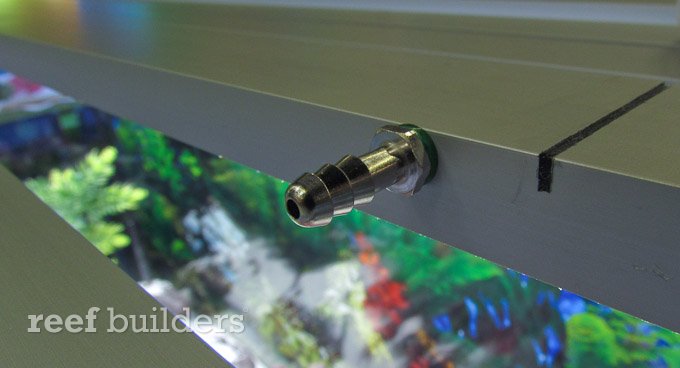 Water-cooled LED lights have been the purview of mostly the DIY crowd but with the water-cooled Aqua Style RGB LED striplight, Germany's Lumlight brings to market the first manufactured LED light of this kind. The water-cooling of the AquaStyle RGB LED striplight actually comes from an external water source like the aquarium water, so the light has a huge theoretical mass for thermal absorption from the aquarium itself.
The water cooled Aqua Style RGB LED is actually designed to run with or without the water cooling but when used in this configuration it has the potential to last 30 years since it can be kept so much cooler than conventional cooling. The Lumilight watercooled LED is not safe with saltwater so if you wanted to use this light over a reef aquarium, you would need to supply it with its own reservoir of cooling fresh water.
The Lumlight RGB Aqua Style LED comes with or without water cooling and three strips of SMD LEDs – one strip of cool white, one strip of warm white and one strip of controllable RGB LEDs so you can get some punch and fine tune the color rendition to suit your needs. An external controller can program the striplight to do sunrise and sunset modes, timer functions as well as on the fly color changing.
As it is now, the water cooled Lumlight Aqua Style LED is perhaps one of the neatest lights you can get for a freshwater aquarium, especially if you use the aquarium water to cool the unit and recycle that heat to keep your tank warm. But if lumlight could put together a version of the Aqua Style water cooled LED with a strip of blue and cool white LEDs along with that controllable RGB strip, there would be a very neat and long lasting future for this light in the reef world since we can think of numerous ways to creatively cool this light; heck in 30 years we may not even be using LEDs anymore!