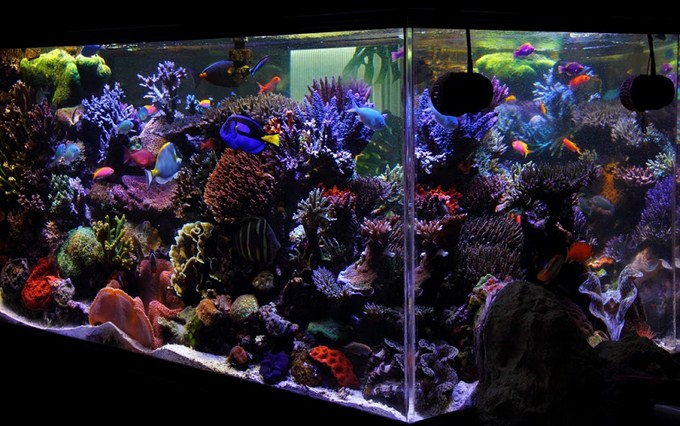 California style reef tanks are awesome, and Steve Mac's peninsular layout display is a great example. There isn't much to be said about the aquascape or use of negative space to create an open and balanced look of the aquarium, but that isn't the point. These systems are just a different way to run reef tanks. Usually packed to the rim with corals these aquariums are all about visual over-stimulation, with bright colors and high contrast shadows dominating the display.
Every inch of the surface contains corals, and the areas that lack corals, only lack corals because they are shaded by massive colonies on top. Some would call the aquascapes within these aquariums "rock walls" but comparing these aquariums to fruit stand systems is myopic at best.  There are several different reef aquariums within California that show just how great these systems can look when executed right, but Steve Mac's system is definitely one of our favorites.
At 36 by 72 by 34 inches (~92x182x86 cm) the main display holds around 340 gallons (1300 liters). A 55 gallon and a 85 gallon tank are plumed together to form a sump, and a 25 gallon aquarium serves as a refugium. A 70 gallon frag tank is also plumed into the system. All in all, the total volume of Steve Mac's system amounts to around 600 gallons (~2300 liters). The main display is illuminated by four 400w MH and four 290w plasma lights, which obviously amounts to an insane amount of coral growth. The refugium is illuminated by two Power Compacts, and the frag tank is lit by  eight 39 watt T5 bulbs.
Flow within the system is provided by four Vortech MP40 pumps, a Reeflo Hammerhead return plumed with a four way Ocean Motion and a Carlson surge tank. The Carlson surge tank consist of a 29 gallon tank that dumps 25 gallons of water within 30 seconds into the display every 3 minutes. An Euroreef  RC 750 skimmer provides the bulk of the filtration, with a 550 phosphan reactor and a sulphur reactor taking care of any other unwanted organics. Massive calcium demands are met by a combination of a DIY calcium reactor and a kalk reactor plumbed into the return. A Neptune Aquacontroller 3 keeps all electronics in check.
Additional pictures and info can be found on Steve Mac's thread at Reefers Anonymous.