An interesting trend in marine aquarium aquascaping is taking advantage of the space above the water surface to create more complex habitats for livestock while enhancing the system's visual impact. With their new Fusion Lagoon aquariums, Innovative Marine taps into this new aesthetic.
Described as "shallow yet deep," these all-inclusive plug-and-play aquariums—available in 50- and 25-gallon sizes—offer a greater front-to-back dimension and thicker glass than their predecessors, opening up all kinds of unique display opportunities. A coral frag or mangrove garden, a clam lagoon, a sea mount rising from the substrate and thrusting above the water surface, and a tidal zone suitable for crabs and snails are just some of the possibilities these tanks might present.
An acrylic wall located at the rear of the tank discreetly conceals the designated mechanical filter, protein skimmer, and heater compartments, helping to keep the display as "clean" and naturalistic as possible.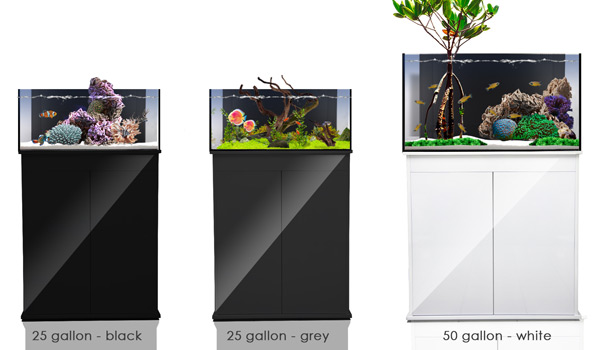 Innovative Marine also offers high-gloss stands for their Fusion Lagoon aquariums, each available in three different colors. The stands come equipped with magnetic latches, storage shelves, and precut cable ports to help keep all those cords neat and organized.
Below are the specifications for the new Fusion Lagoon aquariums, which will be available for purchase on Friday, August 28th through major online retailers and brick-and-mortar stores:
50-gallon aquarium
Cost: Aquarium – $600, Stand – $500
Ultra Thick 10mm High Clarity Glass / Low Iron
Leveling Rubber Mat
DIMS (30" x 24" x 16")
Flat Polished
Diamond Edge Polished
Black Silicone
Filtration:
Acrylic Filter Wall w / Dual Overflows
Pre-Molded Micron Sock – Mechanical Filters
(2) Adjustable Return Flare Nozzles
476-Gallon-Per-Hour Pump
Designated Heater Column
Designated Skimmer/Reactor Column
Stand:
36" High (30" x 24" x 36")
Magnetic Cabinet Latches
Storage Shelves
Pre-Cut Cable Ports
Available in colors: Obsidian Black, Pearl White, and Gunmetal Gray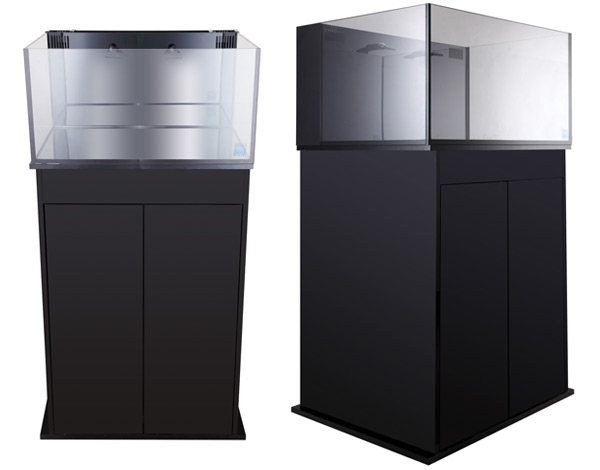 25-gallon aquarium
Cost: Aquarium – $249, Stand – $300
Ultra Thick 8mm High Clarity Glass / Low Iron
Leveling Rubber Mat
DIMS (24" x 20" x 12")
Flat Polished
Diamond Edge Polished
Black Silicone
Filtration:
Acrylic Filter Wall w / Dual Overflows
Pre-Molded Micron Sock – Mechanical Filters
(2) Adjustable Return Flare Nozzles
211-Gallon-Per-Hour Pump
Designated Heater Column
Designated Skimmer/Reactor Column
Stand:
36" High (24" x 20" x 36")
Magnetic Cabinet Latches
Storage Shelves
Pre-Cut Cable Ports
Available in colors: Obsidian Black, Pearl White, and Gunmetal Gray
Also, check out this video to see aquascaping artist Johnny Ciotti (you may remember him from his aquascaping presentation at MACNA last year) put his talent to work in a Fusion Lagoon system below: