Anyone who has been diving around dolphins will recount their experience with delight—these playful marine mammals are from another world and simply magical to see underwater. It comes as no surprise that dolphins have been recorded having a conversation and that each dolphin has its distinct voice.
Researchers at the Karadag Nature Reserve, in Feodosia, Ukraine, recorded two Black Sea bottlenose dolphins (Tursips truncatus), named Yasha (male) and Yana (female), talking to each other in a pool. They found that each dolphin would listen to a sentence of pulses without interruption, before replying.
Researchers have known for decades that dolphins communicate with distinct clicks and whistles to express emotions, or locate one another underwater, however, this is the first time a dolphin's unique 'voice' has been recorded.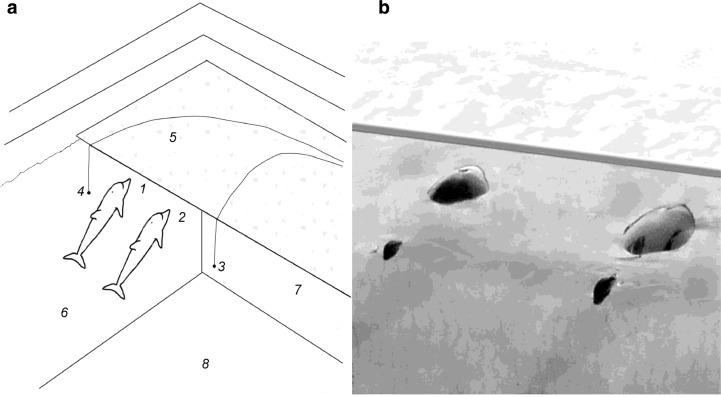 The dolphins, who has lived in captivity for 20 years, were recorded when they came to the surface of their pool and remained in a stationary position near the ledge. The dolphins took turns emitting different sounds in short pulses, recorded on hydrophones placed at either side. Having two hydrophones (one at each side) was essential to the study as it allowed researchers to track the origin of the pulse.
After researchers had analysed the recordings, they discovered that the dolphins took turns in producing 'pulse packs' and did not interrupt each other's voice. The distinct pulses give researchers a reason to believe that each of the dolphins listened to the other's vocalisation before producing its own.
In the image below you can see arrows next to the numbers in indicating the number of each pulse pack. The arrow mark the direction of message transfer (from Yasha to Yana or vice versa), showing an exchange of pulses. Essentially, this exchange resembles a conversation between two people.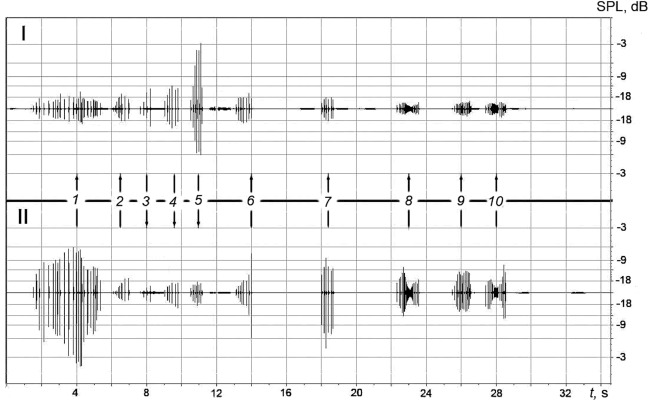 Lead researcher Dr. Vyacheslav Ryabov, said "each pulse in the packs that is produced by dolphins is different from another by its appearance in the time domain and by the set of spectral components in the frequency domain. In this regard, we can assume that each pulse represents a phoneme or a word of the dolphin's spoken language."
Dr. Ryabov examined the form and spectrum of 50 pulses. No identical pulses discovered suggesting that, most likely, each pulse is a word of the dolphin's spoken language, with pulse packs making up sentences.
With this new study, researchers are proposing that dolphins "exhibit all the design features present in the spoken human language" and that "this indicates a high level of intelligence and consciousness in dolphins". This discovery suggests that dolphins have a highly developed spoken language akin to the human language and it is now up to us humans to take the first step in establishing human, dolphin communication. [Science Direct]
So long and thanks for all the fish.