The NanoBox Wide Quad is the newest hand made LED aquarium light fixture from NanoBox Reef. As the name implies, the Wide Quad has four of NanoBox Reef's unique LED clusters arrange in a rectangular configuration, for better coverage of particularly wide reef tanks.
The NanoBox Wide Quad has the same unibody construction as all of NanoBox Reef's LED lights, machined out of one solid block of aluminum for maximum heat dissipation. The fixture is also actively cooled through vent channels which are covered by the interchangeable lid system which allows users to pick a color that best suits their taste.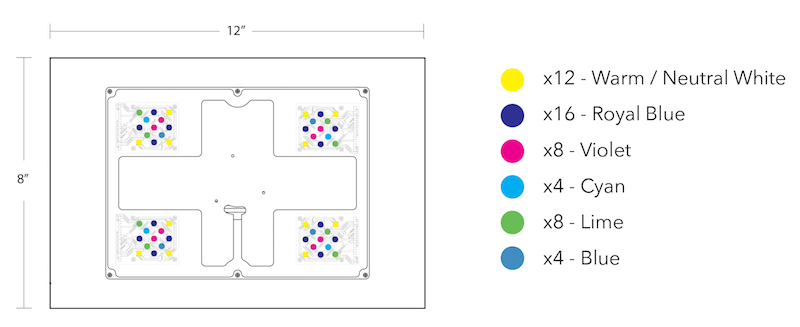 Speaking of colors, the NanoBox Wide Quad has plenty of them, opting for the more efficient colored LED chips of Philipps and Luxeon, with SemiLed on tap for the deep blue part of the spectrum. Each of the four LED clusters in the NanoBox Wide Quad have four royal blues, two violet, one cyan, two lime and one blue LED, with three warm/neutral white to help balance out the overall color rendition.
The wireless function of the NanoBox Wide Quad is built right into the driver box which now only uses one electrical cord to supply power to both the LED driver and cooling fan. Like all of NanoBox Reef's LED lights, the multiple color channels are independently controllable with the wireless Bluefish App, compatible with both iOS and Android.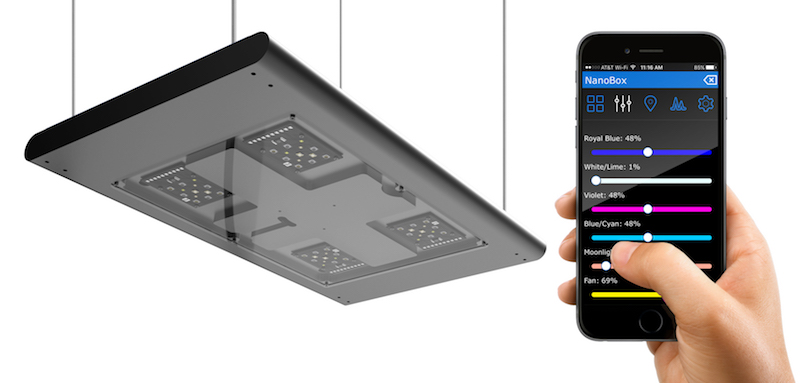 NanoBox Reef is offering the Wide Quad LED in five colors for the body and the lid, but custom colors are available upon request, and the lid will even be available in different materials such as metals, woods and carbon fiber. For now you'll only be able to hang the NanoBox Wide Quad with the included mounting kit, and a tank mount is in the works for early next year.
Being handmade in the U.S.A. and the customization features of NanoBox Reef's LED is very unique among aquarium LED lights. At $775 the Wide Quad is not the cheapest way to get 120 watts of power for your reef tank but if you're in the market for craftsmanship and customization features, you needn't look any further than NanoBox Reef.