Just in time for St. Patrick's day, we've come across a fantastic colony of snake polyps that totally knocked our socks off. These wildly colored orange and green Isaurus snake polyps are unlike anything we've ever seen before, despite being a longtime admirer of these wonderfully different species of zoanthids.
There's a ton of crazy colored corals these days with unbelievable fluorescence and patterns. The thing is, most of these corals are variations of more common corals, so to see something truly different you need to branch out of the coral taxonomic tree.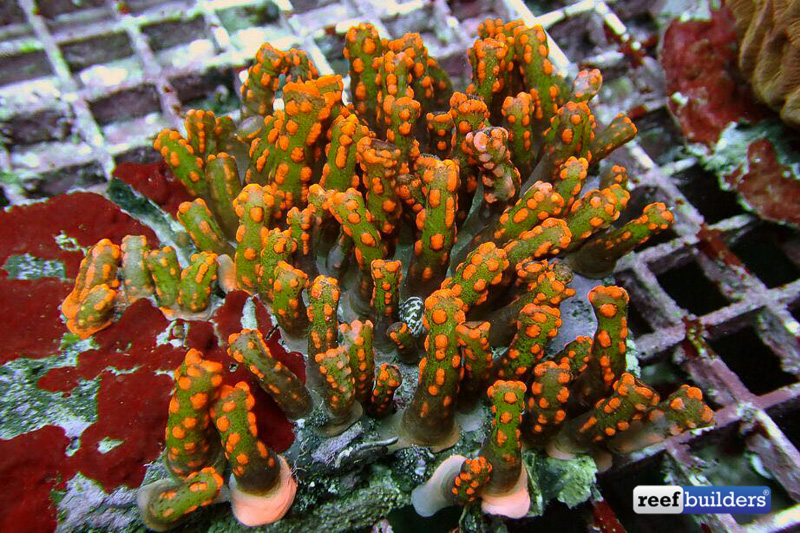 Diehard coral aficionados lookout for the truly bizarre corals like Indophyllia, Anacropora, Echinomorpha, Dampia, Cantharellus and many others. A good colony of Isaurus snake polyps can positively fit that description with a few species to choose from, and both the smooth I. elongatus and warty I. tuberculatus being occasionally seen in the aquarium hobby.
Even in the prime of health a good colony of snake polyps will only grab the attention of attentive coral collectors. We've seen them an attractive shade of green, sometimes with white whitish bumps but the Saint Patrick's Snake Polyps are on a completely different level.
Interestingly, this is not a freshly collected colony as it has been growing and conditioning in the coral holding systems of Reefmaster Indonesia for several weeks. The color has only increased over the past few weeks and it was recognized by Sea Dwelling Creatures' eagle-eyed coral scouts as a truly worthy exotic coral strain.
We've always loved a nice healthy colony of snake polyps but we never imagined that such a colorful variety existed. Hopefully the Saint Patrick's Snake Polyps look as good in person as they do in real life and we can't wait to see these wild zoanthids for ourselves.