Waterbox Aquariums is a new company making its debut next week at Global Pet Expo with the launch of their Platinum Series of all in one aquariums. The Waterbox Platinum AIO Aquarium is a fully modern and turnkey aquarium system that is geared at the reef aquarium with all the features you'd expect.
There's only four sizes in the line, ranging from an 18 inch cube 25 gallon, a two foot 50 gallon, three foot 75 gallon and four foot, one hundred gallon aquarium. All of these tanks are reef ready, drilled with multiple drains to the included sump in the cabinet stand; the 25 gallon has a very thoughtfully placed external overflow to preserve the volume of this smallest size in the Platinum line.
As you'd expect from any contemporary AIO aquarium, the Waterbox Platinum Series have high clarity glass in a modern, rimless design, held together by precisely applied silicone at the seams. The cabinets are pretty standard issue, with cutouts for the internal plumbing of the three larger aquarium sizes to fit right into the included sump.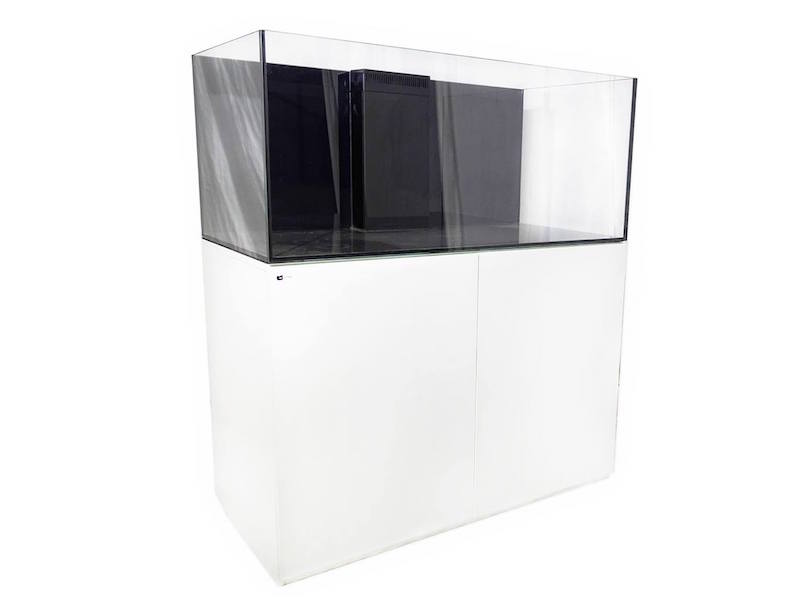 Interestingly, the Platinum Series will come with a Pacific Sun Sentry Auto Top Off but no return pump, probably to keep down the overall cost. These should be fairly affordable too since the 100 gallon tank with stand & sump will retail for $1950, hopefully this also includes a plumbing kit to make the whole product truly plug and play.
Waterbox Aquariums will be distributed exclusively by Deepwater Aquatics and shipping to dealers in North America in the next 30 days.